Discover Who Owns One Of These Star-studded Superyachts!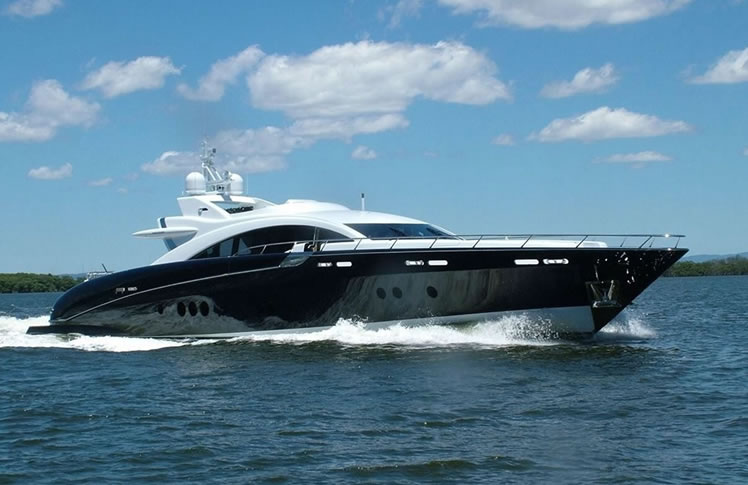 They say celebrities are just like us because they, too, go through what everybody else experiences. However, unlike us normal folks, they get so many more opportunities to do cool stuff like be in movies, work with beautiful people, have gigantic paychecks, and go on luxury cruises. The most lavish of them even have their own private jets and yachts to go wherever they please. They may have busy schedules just like a lot of us in the working class, but they do have their own transport services to get them where they need to be.
For example, if they want to go on extravagant vacations, these stars can just climb aboard the expensive yachts that they placed a big amount of investment money on. They can even have their own exclusive parties with their friends in the middle of the ocean. It gives them the opportunity to sail away from the paparazzi, the overenthusiastic fans, and all the work that they have to go back to. Can life get any better for these celebrities who seem to have it all? Here are our favorite idols and their totally enviable prized getaway ships and yachts.
Johnny Depp | Vajoliroja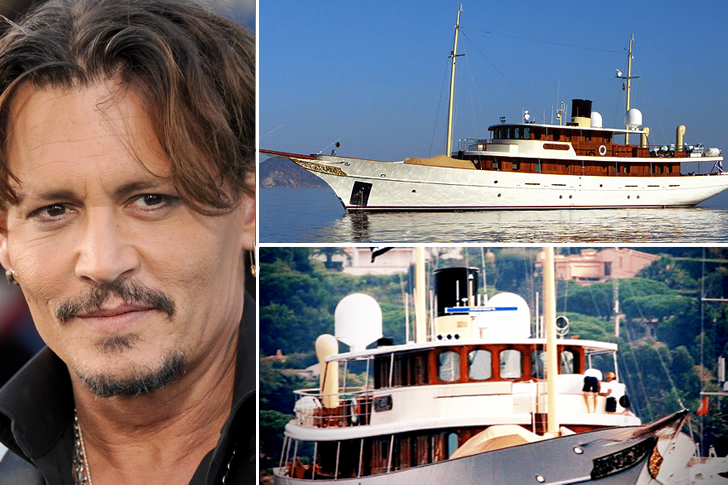 Pirates of the Caribbean star Johnny Depp is one of the most sought-after actors in Hollywood. Since Depp is already 57, he has a lot of great film credits to his name, such as Sweeney Todd: The Demon Barber of Fleet Street and Alice in Wonderland, but that also means he has a lot of work to do, so vacation time should really be in his schedule.
For his private getaways, he goes on his superyacht called the Vajoliroja after his family. "Va" came from his then-girlfriend Vanessa Paradis, "Jo" from his own name Johnny, "Liro" from his daughter's name Lily-Rose and "Ja" from his son's name Jack. The ship was made in Turkey and is 47 meters long. Depp probably fell so in love with Jack Sparrow that he just had to get his own modern version of the Black Pearl.
Tiger Woods | Privacy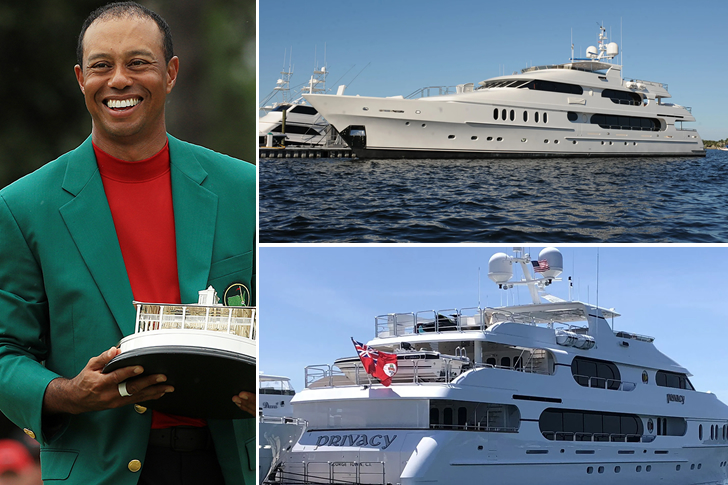 Tiger Woods is a outstanding golfer for his 15 grand slams which including 3-time the British Open, 3-time U.S. Open, 4-time PGA Championship and 5-time Masters Tournament. Between 1999 and 2002, Tiger Woods was named as PGA Tour Player of Year and Associated Press Male Athlete of the Year twice.Tiger Woods' personal superyacht cost him a vast amount of investment money! The luxurious cruiser had a hefty price tag of $20 million, but that did not stop him from purchasing it in all its glory.
The ship is 155 feet long and boasts a neat set of amenities. These include five guest rooms, a gym, a sky lounge bar, a refrigerator that you can walk into, a jacuzzi, a deck with a beautiful dining area, a water tank that could carry 2,000 gallons, and a total of two wall safes built in it. Woods flaunted his pretty boat during the US Open in the Montauk Yacht Club. Naturally, he was very proud, and a lot of people were clearly impressed by it.
JK Rowling | Amphitrite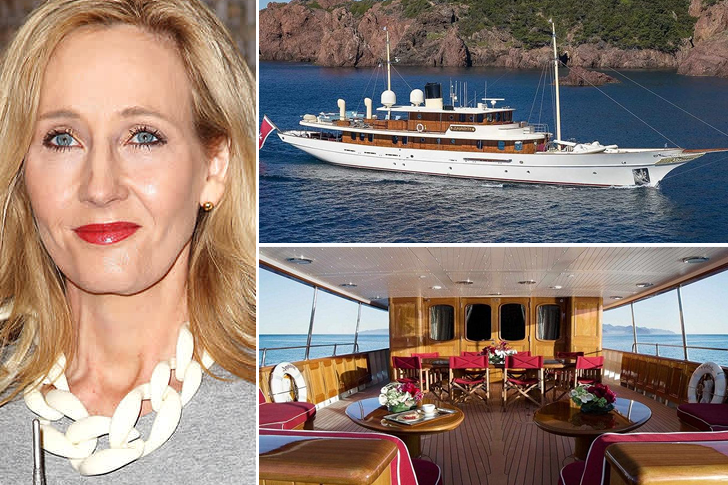 JK Rowling was famous for her fantasy novel Harry Potter, and her real name is Joanne Rowling. She began writing a new crime novel as the name Robert Galbraith in 2013. On October, 2010, The Guardian named JK Rowling the most influential woman in the UK.Previously called the Vajoliroja, the Amphitrite was the same boat that belonged to Johnny Depp. Apparently, he renamed it after marrying Amber Heard and sold it to J.K. Rowling in 2016.
The boat still had a whopping price of $20 million as it had great features, including five enormous cabins for the guests and another five cabins for the crew. The list of features doesn't stop there, though! The newly-named Amphitrite also carries saloons with a bohemian theme, entertainment spots, and provisions for water sports like kayaks and water skis. All the rooms had a wine bar and a pretty skylight for natural light to come in. Obviously a star-studded ship, the vessel surely delivers! Rowling's choice to make an investment in the colossal ship really served her well.
Robin Williams | MV Olympus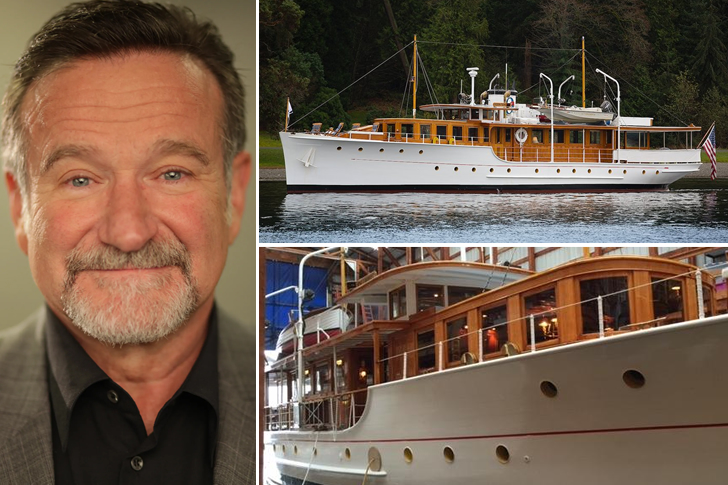 Robin Williams was born on July 21, 1951, in Chicago. He is a well-known American actor and voice actor. In 1997, he got Academy Award of Best Actor in a Supporting Role by Good Will Hunting. Robin Williams was one of the few celebrities who had the chance to go aboard the Olympus. The superyacht was originally called the "Junaluska" and was built for then-president of the New York Stock Exchange, George Heck.
It had such a colorful history as it was witness to the second World War and afterward served as a fisheries patrol. Governor Mon Walgren was the first person to use the ship as a superyacht; he also changed the name of the ship. Soon, it was renovated and created into a luxury vessel. Williams was seen aboard the yacht, enjoying himself on an important event. Certainly an expensive boat, the Olympus is available only to those whose investment planning schemes are properly in place.
Giorgio Armani | Main & Mariu
The Italian designer Giorgio Armani founded a fashion company under his own name in 1975. By this, he gained both fame and wealth. Most of us only dream about being able to get on a private yacht, but others can actually afford to get one of their own. Giorgio Armani takes luxury a degree higher, though, as he owns not one but two yachts!
Created in 2008, Main was his first luxury vessel. The 150-foot ship had features including six cabins, a gym, a home theater, a master stateroom, and eight additional cabins for the crew. Armani even designed the yacht's interior himself. The second yacht that he acquired was the Mariu, a 2003 built ship with quantum zero stabilizers and a Kaleidescope AMX audio-visual system. Named after Armani's mother, the yacht is 50 meters long and was designed by Italian builders Codecasa.
Samuel L. Jackson | Amadeus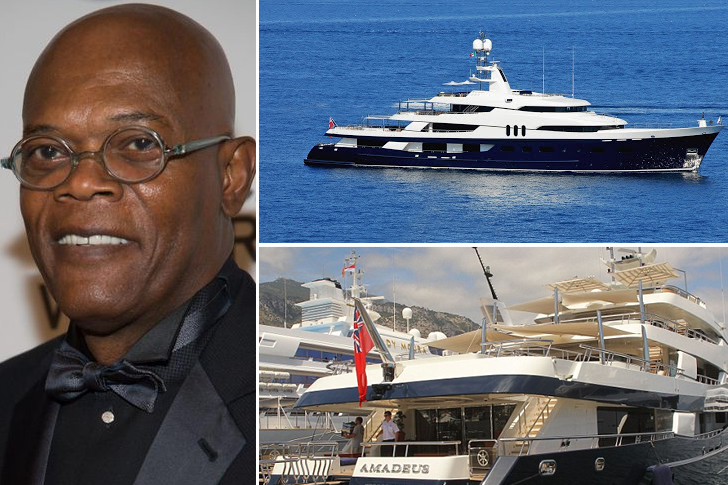 Samuel L. Jackson was named the Highest Box Office Star in History in the Guinness World Records in 2011 at the amount of 7.4 billion dollars. When celebrities see their friends to hang outside, they don't always mean going to the coffee shop. Samuel L. Jackson was spotted lounging out with Magic Johnson in the French Riviera. Johnson rented the Amadeus, a luxury vessel owned by tycoon Bernard Arnault, for a month and a half.
The ship came with a massive value of $527,000 per week! These people sure know how to go on a vacation! Jackson showed off the boat on his Instagram account and made a little remark about it being crowded with guests. They had a party filled with big names, including Ivanka Trump and Star Jones aboard the superyacht. With the size of the investment money Jackson put in, it would be a shame if he didn't invite people to have a good time!
Roberto Cavalli | Baglietto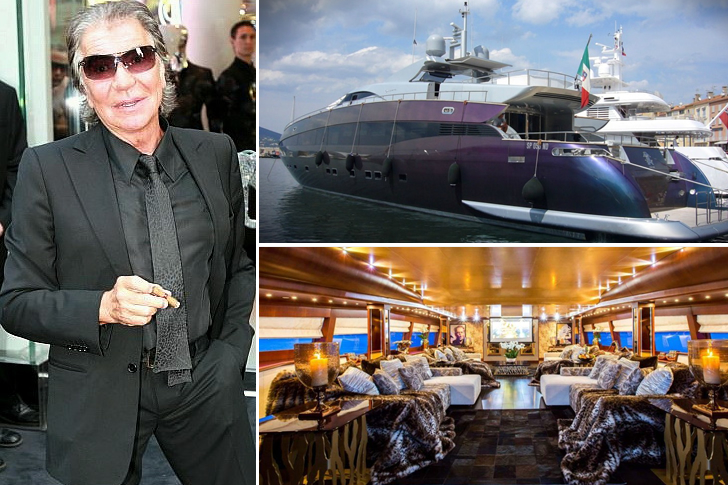 The next boat on this list, named Baglietto, is a 150-foot long vessel that has space for up to eight passengers and four crew members. The famous Italian designer Roberto Cavalli purchased the yacht for $50 million and sailed around with his friends, including David and Victoria Beckham. The intricate interior features a golden zebra-print door and a bathroom embossed with cheetah prints. Obviously a sucker for animal print, Cavalli's style shines through his choice of designs.
Otherwise, Roberto Cavalli's creation shows on exotic prints and the sand-blasted look. He opened his first boutique in Saint-Tropez in 1972. With a net worth like his, he and his ship are probably covered with the best insurance package. All the guests that he decides to bring over should be properly secured as well. Living the high life, they are guaranteed fun aboard the beautiful and stunningly fashionable superyacht!
Reinhold Würth | Vibrant Curiosity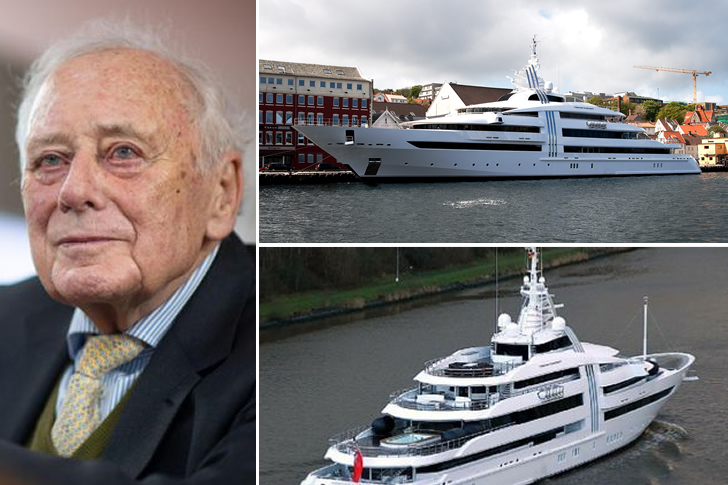 The Vibrant Curiosity is a 280-foot long yacht that boasts nine huge cabins for a maximum of 18 guests and can also house up to 26 members of the crew. Other neat feats include a speed of 20 knots and a stunning on-deck swimming pool. Because of this, the luxury ship is priced at $150 million. The skyrocketing amount is something only a select few can afford— and among those lucky enough is German billionaire Reinhold Würth, who placed a great deal of investment money on the lovely ship.
Together with his wife Carmen and children Bettina, Marion, and Markus, he can have private and dreamy getaway vacations whenever he pleases. The 2009 model has an interior that was designed by Nuvolari Lenard and built by Oceanco. Würth has brought the yacht everywhere, including the shores of Auckland, Curacao, Vancouver, and Florida.
Diane von Furstenberg | Eos
Given credit as the most expensive sailing yacht in the world, the Eos is owned by Diane von Furstenberg and her spouse Barry Diller. Diane von Furstenberg was born on December 31, 1946 in Brussels. She is a fashion designer, who is famous for wrap dress. Her company's annual sales amount was 150 million dollars in 1979. The famously wealthy couple spent $115 million to acquire the 304-foot yacht.
Built by Lurssen and designed by 2016 Favorite Interior Designer of the rich Francois Catroux, the boat flaunts room for up to 16 passengers and 21 people in the staff. It also has lavish amenities like a jacuzzi on the upper deck, a roomy glass staircase, and a number of speedboats. The famous vessel has had celebrities aboard it like Karlie Koss, Gayle King, Bradley Cooper, and former One Direction member Harry Styles. Imagine being on that ship partying with all those big names!
Nicole Kidman | Hokulani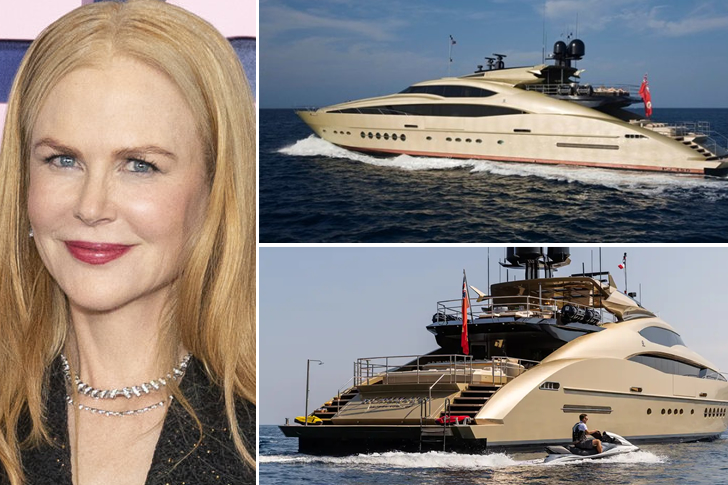 Nicole Kidman is an outstanding Australian-American movie star, and she won Academy Award for Best Actress in 2003 by the movie The Hours. Named after Nicole Kidman's Hawaiian name that translates to "heavenly star," the Hokulani is owned by the actress and her husband, Keith Urban. The yacht was certainly created for entertainment, as so many activities come with the build. It has a lot of water sports equipment with it, including water skis, wakeboards, snorkeling gear, tenders, and PWCs.
Inside the boat, an impressive state-of-the-art entertainment system is found, along with three whole stories. The roofing of the atrium includes a glass panel, and a jacuzzi is also available for guests to soak in. To top it off, the Hokulani can accommodate up to ten guests in five cabins and eight crew members with their own rooms. That truly does sound heavenly!
Alexei Mordashov | Nord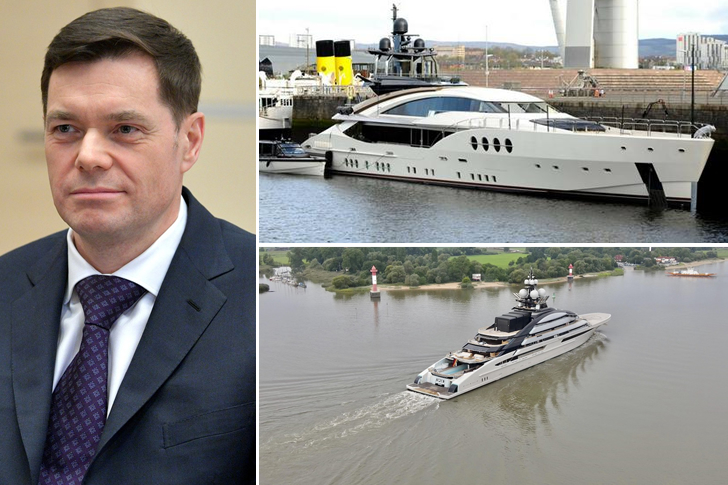 The Nord is a colossal superyacht that can accommodate up to 24 passengers and 40 crew members. With a size of 465 feet, a crowd can surely fit and party comfortably up there! Owned by Russian mogul Alexei Mordashov, the boat was built by Lurssen and designed by Nuvolari Lenard. It boasts a maximum speed of up to 18 knots and MTU engines.
Mordashov placed a dazzling $500 million of investment money on purchasing the megayacht for Project Opus. Consequently, he named the yacht after Nord Gold, his own company. As the chairman of Severdtal, Mordashov was reported that he was the fourth richest person in Russia in April, 2019. With a net worth of $20 billion, he certainly did not have any problems purchasing this great vessel. It does not surprise us either that he can afford such a thing!
Valentino Garavani | T.M. Blue One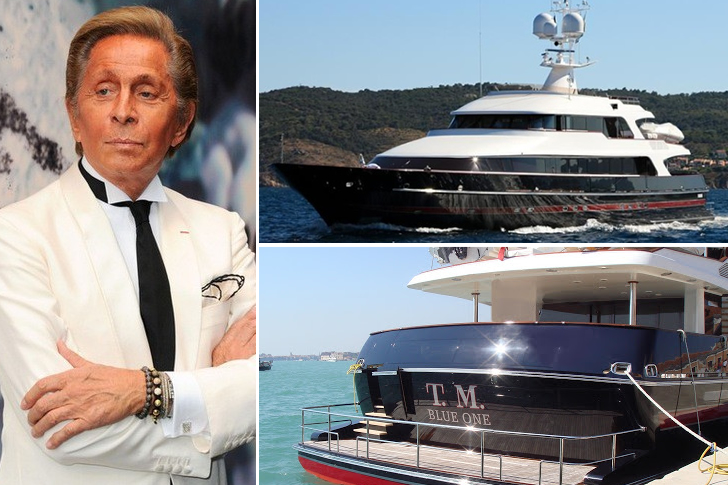 One of the perks of having your very own yacht is that you can host a great party anytime and anywhere in the world. This was probably one of the reasons why Valentino Garavani bought the beautiful and luxurious TM Blue One. Valentino Garavani is one of the founders of the same name's fashion company.
All summer long, all kinds of celebrities have been spotted aboard his huge superyacht. The most regular visitor of the vessel is apparently his colleague and dear friend Giancarlo Giammetti. Olivia Palermo and Anne Hathaway have been sailing across the oceans with their husbands aboard the ship as well. With a great view, good food, and the ocean breeze, they must have had a wonderful and romantic time. Perhaps, they didn't worry much about their safety as a gracious host would definitely cover their insurance on the yacht, too.
Elton John | Wabi Sabi
Elton John is a hot English rock singer who has nine hitsongs in US Billboard Hot 100. What's more, his records sold more than 300 million all over the world. This musical legend made an investment of $26 million on the gigantic yacht named Wabi Sabi. The boat has room for up to 18 passengers who can sleep in a total of 8 rooms complete with en-suite bathrooms.
A crew of 12 can also be accommodated to serve the guests. The astonishing features do not stop there, as the entertainment part of the ship includes a colossal TV of 50 inches, a library, a swimming platform, a BBQ, a massage room, and a jacuzzi. It also has a speed of 24 knots, so the impressive build of the ship will not disappoint. At this point, there isn't much else you would need aboard the superyacht – the Wabi Sabi truly has it all!
Oprah Winfrey | Trending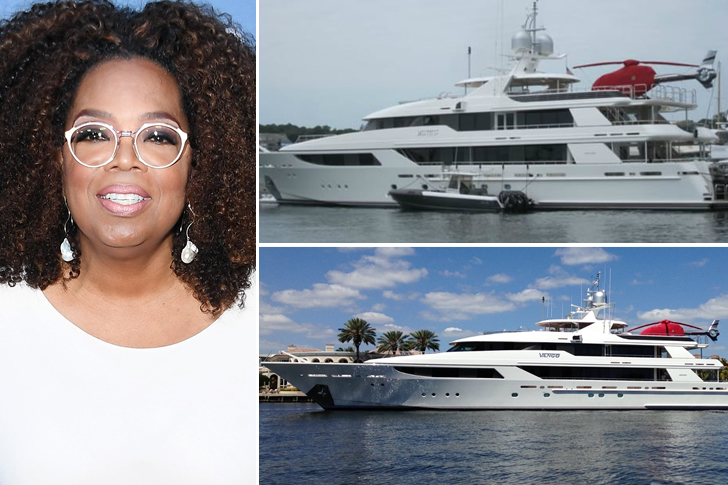 Oprah Winfrey is a billionaire philanthropist and TV personality, and she has been named as one of the 100 people who most influenced the 20th Century nine times. She sure knows how to live big. She purchased the superyacht Trending for $60 million and has brought on guests with the biggest names on the boat. Russell Crowe, Princess Beatrice, and Barack Obama's family have graced the ship with their presence.
Trending has a total of six rooms, which can accommodate up to 12 people. In addition, it has provisions for up to ten crew members. The boat has a jacuzzi, an elevator, a gym, a sky lounge, bars, and dining areas – not to mention a lot of gears for water sports! If you want to live like a star-studded celebrity as well, you can make an investment in renting Winfrey's yacht for $238,500 a week.
Bernard Arnault | Symphony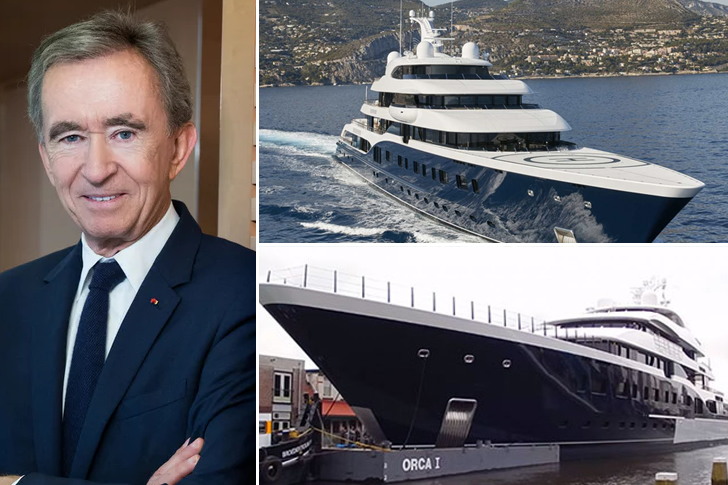 Given credit as the biggest luxury ship built in the Netherlands, the Symphony was purchased by the wealthiest man in France, Bernard Arnault, for $150 million. Bernard Arnault is the chairman and CEO of the top luxury company LVMH, and the second of The World's Billionaires.
The yacht is 102 meters long and has room for up to 36 guests. A luxury swimming pool 6 meters long with a bottom made of glass is one of the highlights of the yacht. It also sports an outdoor theater, a sun deck complete with a Jacuzzi, and a stylish design. Previously, the Symphony had a hard time sailing through the Dutch waters because it was too big to go through in 2015. Constructed by Feadship, this yacht is indeed one of the most enviable boats to sail through the blue European seas.
Dennis Washington | Collision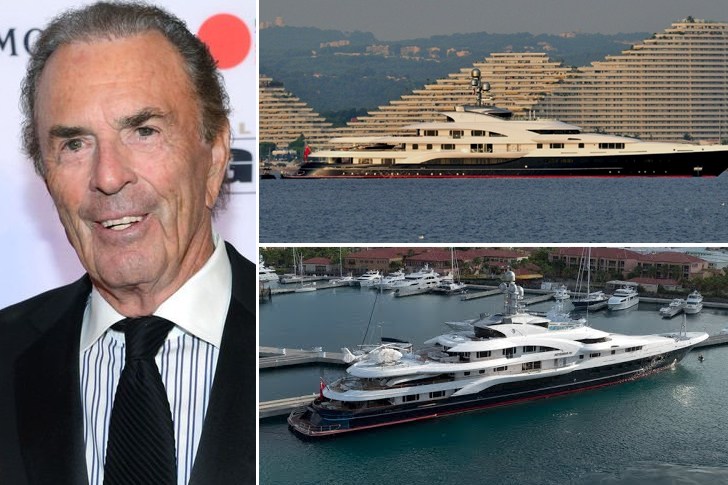 Dennis Washington, born in 1934, is an American billionaire industrialist whose parents separated when he was very young, so he did not grow up in a wealthy environment.A yacht is a source of entertainment and a relaxing getaway for people who can afford it. While others choose to charter a boat, the richer folks opt to get their own yachts so that they can travel in style and in private whenever they please. As a plus, they get to bring their family and friends along to their vacations.
This was what mogul Dennis Washington did when he bought an Attessa IV. He named the 332-foot boat Collision and made very good use of it. It can accommodate up to 28 guests who can sleep in up to 14 suites. The fast boat can go up to 23 knots as it has one of the best engines. $150 million was deducted from his credit report when he purchased this, but he sure isn't regretting it!
Floyd Mayweather | Super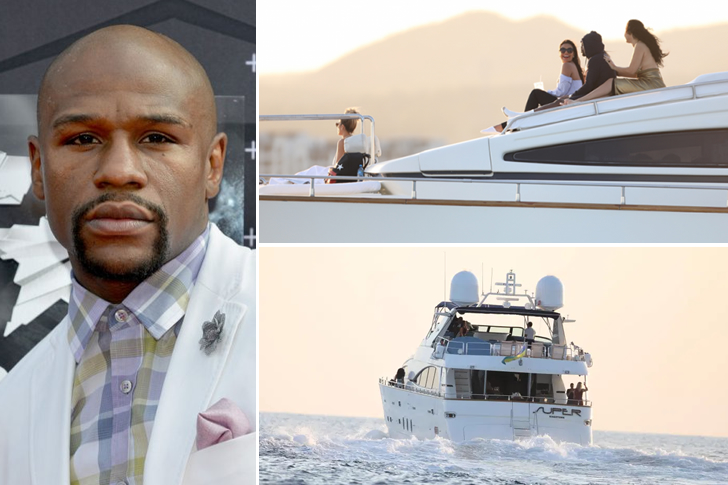 Floyd Mayweather is an American former professional boxer who has won five world titles. Influenced by his family as a child, he began boxing under the guidance of his father.And he is one of the most gifted boxers in the world and one of the world's greatest boxing champions. Boxing champ Floyd Mayweather was spotted aboard his yacht lounging around with some of his friends along the waters of Los Cabos, Mexico.
After retiring from boxing, he has been reportedly living lavishly, and it translated to his purchase of the Super. His boat had a total of three stories housing a gigantic seating area and an upstairs deck. With a net worth coming from a lifetime career in sports like Mayweather's, getting a yacht should not have been too much for him. Getting a great insurance company to cover him, his friends, and his stylish big ship was also necessary. With the nickname "Money," Mayweather really has lived up to his name and had become one wealthy man. If only the rest of us could get invited there too!
Leonardo DiCaprio | Rising Sun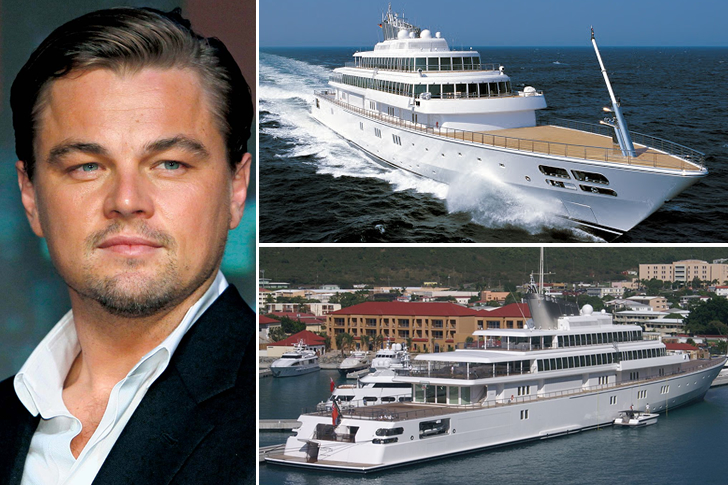 Leonardo DiCaprio is a famous American actor, film producer and promoter of environmental concepts born in Los Angeles. His career began in television commercials in the late 1980s. He gained international fame with the epic romance Titanic (1997), which became the highest-grossing film of its time. In 2016, he was named one of the 100 most influential people in the world by Time.
Only the greatest actors of all time can bring in up to a total of $7.2 billion of combined sales from their movies. Given credit for being one of the biggest and highest-earning actors in Hollywood, Leonardo Dicaprio apparently has a net worth that can afford him a great big ship. He bought the world's 11th biggest yacht called The Rising Sun for a jaw-dropping price tag of $200 million. The luxurious boat boasts great amenities that cannot be found in other vessels like a basketball court, a wine cellar, a cinema, and a helipad. It has room for up to 14 guests and 45 people in the crew. It was also reportedly custom-made for one of DiCaprio's blockbuster films Wolf of Wall Street.
Steve Jobs | Venus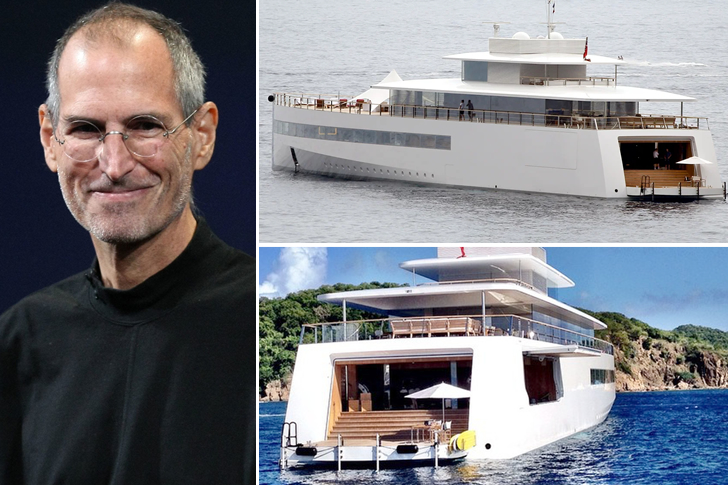 Jobs was born in San Francisco, California, and was adopted. He is an American business magnate, industrial designer, investor and media boss. Steve jobs and Steve wozniak founded Apple in 1976, a year later, two people together with Apple won the fame and fortune. But he died of respiratory arrest related to the tumor on October 5, 2011, at the age of 56. The late Steve Jobs had the vision of a great superyacht to his name before he moved on to a better place.
He worked with Phillippe Starck to make the luxury ship, but he did not get to see its completion. The boat had six suites that included state-of-the-art communication systems that were used in the entire yacht. Its interior's design was created with glass panels that were inspired by the Apple store look. Since Jobs was one of the sailors of modern technology, his boat is controlled by big-screen iMac computers! Now owned by his then-wife, Lauren Powell Jobs, the superyacht has a value of $120 million. With that much technology going on that ship, sailing in it would probably feel like a trip to the future!
Mansour Bin Zayed Al Nahyan | Topaz
The lives of public figures are not always open for the rest of the public to peer into. Exclusive meetings and places are important to them so that they can enjoy some peace and quiet from time to time. Their hectic and often social engagements are probably the reason why they retreat to secret locations. This boat makes it as one of those remote sanctuaries.
Owned by the Deputy Prime Minister of the United Arab Emirates Mansour Bin Zayed Al Nahyan, the beautiful and colossal superyacht named Topaz is 482 feet long and mysterious to a great degree. It is a luxury motor yacht built by Luisen in Bremen, Germany. The interior of the yacht was designed by Terence Disdale Design and the exterior by Tim Heywood. Though it is enormous, the interior of the ship has never been shown to the public, so most people just make guesses as to what is inside the massive ship.
Steven Spielberg | Seven Seas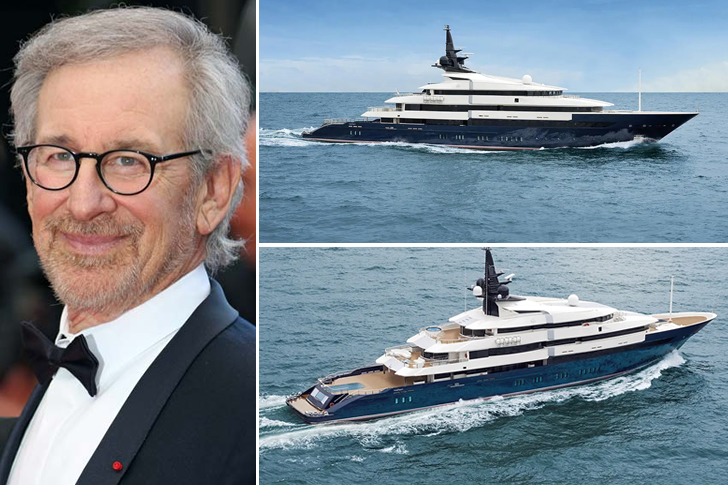 Billionaire filmmaker Steven Spielberg has certainly reaped the benefits of his hard work in the film industry. He has created so many masterpieces that left the audience wanting more. Both a director and a screenwriter, he has amassed a total net worth of $3 billion. With that kind of money in your credit report, a yacht would not be any trouble at all! He bought the superyacht called Seven Seas for his personal use.
The boat is 86 meters long and was built by the company Oceanco. Nuvolari Lenard is responsible for her beautiful exterior and interior design. Also can carry up to 26 crew members to ensure easy experience of luxury yachts. Inside, an entire cinema is located along with a beautiful infinity pool that looks out into the ocean through a glass wall that is 15 feet long. Imagine the luxury of staying on that cruise!
Billy Joel | Vendetta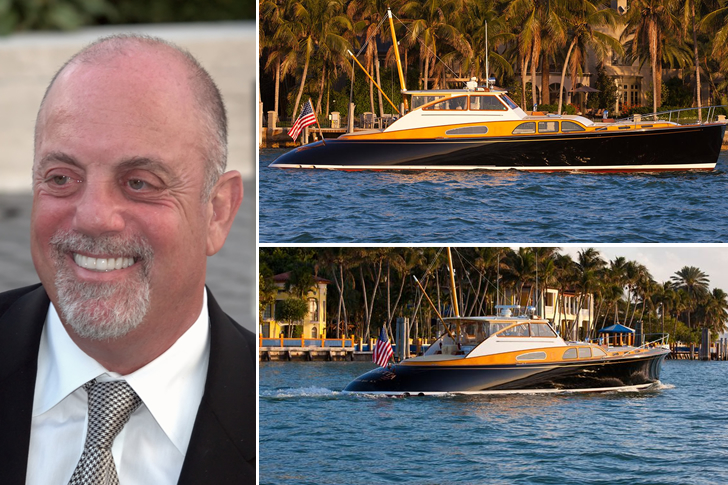 William Martin Joel, or more popularly known as the famous Billy Joel, is one of the best musicians that the world has ever seen. Other than his passion for music, he also has a great interest in boats! People know him for using his very own Vendetta to go around cities and attend his own concerts in. According to reports, Joel has had a total of 5 private yachts to his name at one point, but this gorgeous ship is his obvious favorite.
Since it may be the most fashionable among his fleet of superyachts, he loves cruising across Long Island and New York City in it.  He just pushed luxurious living a degree higher with his flashy transportation habits. Much lighter than any other yacht of its size, the Vendetta's exterior harks back to the days of long Island Canyon commuter boats, combining the performance and speed of Shelter Island Runabout.
Christiano Ronaldo | Aya London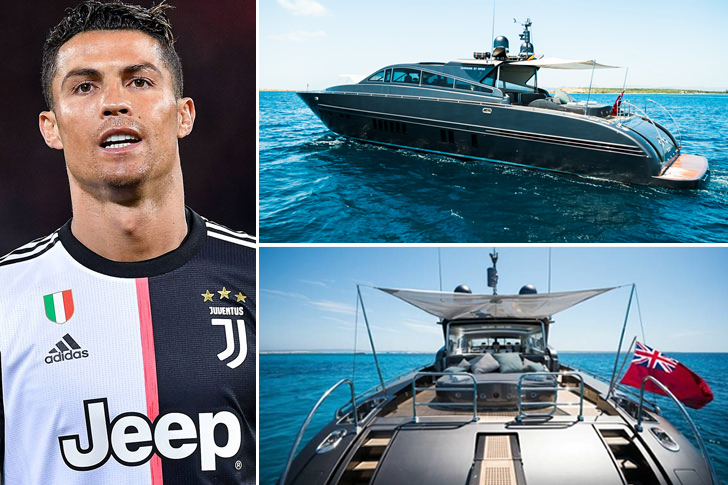 Who knew that even water transportation could earn a reputation? Cristiano Ronaldo's yacht is better known for the many issues surrounding it rather than the striking features of the yacht itself after it was raided by armed customs officials in 2017. The vessel named Aya London can house up to nine guests in its suites, including Cristiano's VIP room.
The elaborate design and engineering of the luxury ship was the work of Paolo Caliari. Built by Leopard in 2003, it was last modified in 2009. Among the amenities it can brag about are the many areas for tanning and a diving board. Cristiano and his family have also been seen playing on jet skis attached to the Aya London. Surprisingly, unlike literally every other yacht on this list, Aya London does not have a jacuzzi. The yacht is said to have cost around seven million euros or roughly eight million US dollars.
U2 | Cyan
The beautiful luxury ship Cyan is owned by the band U2. Specifically, Bono and The Edge both claim ownership of this yacht. Its elegant shape and dark hull as well as spacious deck areas are ideal for recreation. Given credit as one of the yachts with the best outdoor cinemas, Cyan has been entertaining its passengers quite well! It has room for up to 10 guests on top of a handful of staff working aboard the boat.
It had great amenities like a solid stereo system, a jacuzzi, Seabobs, a swimming platform, a luxury bar, some tenders, Waverunners, a gym, and a baby grand piano for its music-loving owners. The gigantic price tag of the ship is a whopping  €12 million! Only the most successful artists can afford such a luxury. No wonder a joint investment was necessary to acquire the ship.
Eric Clapton | Va Bene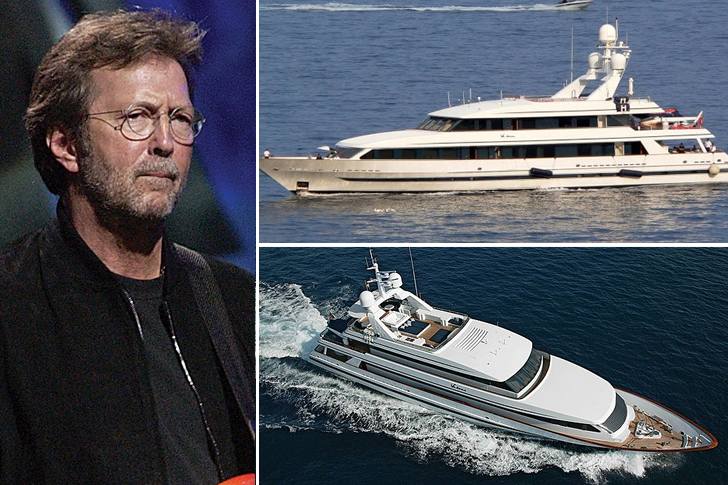 Given credit as one of the most famous singers and lyricists of the world, Eric Clapton has dedicated his life to making music for everyone. Naturally, his career in the music business has thrived, and so did his bank account! He was able to afford a luxury yacht named Va Bene, which was owned before by Bernie Ecclestone.
The Va Bene boasts a relaxing and comfortable living area, a spacious sun deck and an excellent crew In 2005, Clapton apparently chartered the yacht for a bit but fell so in love with it that he decided to put the money needed on it and take it for himself. The 47.8-meter boat can sleep up to 12 passengers and 12 crew members. It houses a water sports center, a barbeque, a Jacuzzi, a karaoke, and a classy dining room.
Bono | Kingdom Come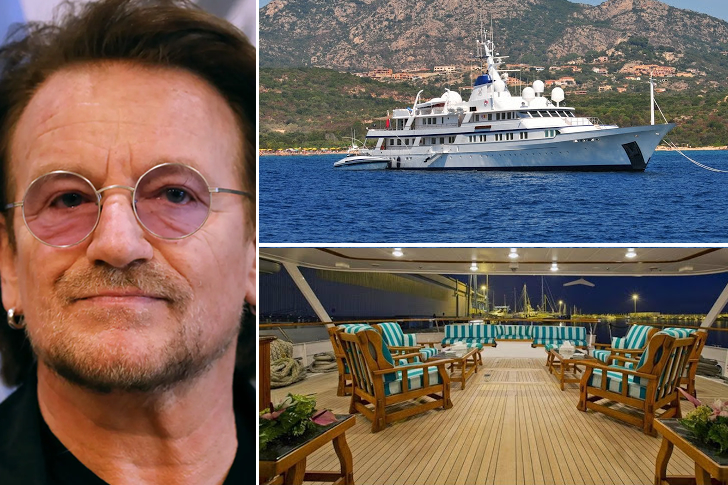 Paul Hewson, or more popularly known as Bono, U2's frontman, owns another ship called Kingdom Come. Being one of the key members of the band, he had cashed in quite a lot from his career. It is not surprising that the singer has managed to get luxury items as a part of his list of assets. He has traveled all over the world, and whenever he is on tour, he is reportedly aboard his beautiful superyacht.
The boat can accommodate up to 17 crew members who can dedicate all their time serving and pampering the guests. Kingdom Come is also equipped with a great Jacuzzi – perfect for relaxation after an energetic concert. Bono spent an investment amount of $11.5 million to acquire the boat, but that wouldn't have affected his net worth of $900 million too much.
David Geffen | Rising Sun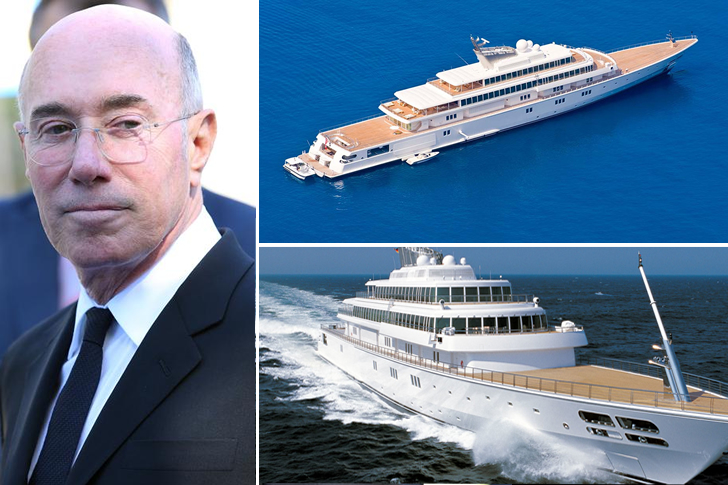 Dreamworks co-creator David Geffen definitely topped his way to success in his career. Because of this, he has made a grand investment with his $200 million superyacht, the Rising Sun. It's a motor yacht designed by Jon Banneberg, and built in 2004 by Lurssen, Germany, their Bremen shipyard Larry Ellison.Geffen's superyacht contains 82 rooms and jacuzzis found in each of the nine cabin bathrooms.
On top of that, the said cruiser includes a helipad, a basketball court, a wine cellar, and its own movie theatre. This upscale superyacht has been borrowed by prominent names like Julia Roberts and the Obamas. In fact, with the luxurious amenities found inside, the Rising Sun has easily made its way to be considered as one of the largest superyachts in the world. Included in that list is Pelorus, another superyacht of Geffen's property.
Richard Branson | Necker Belle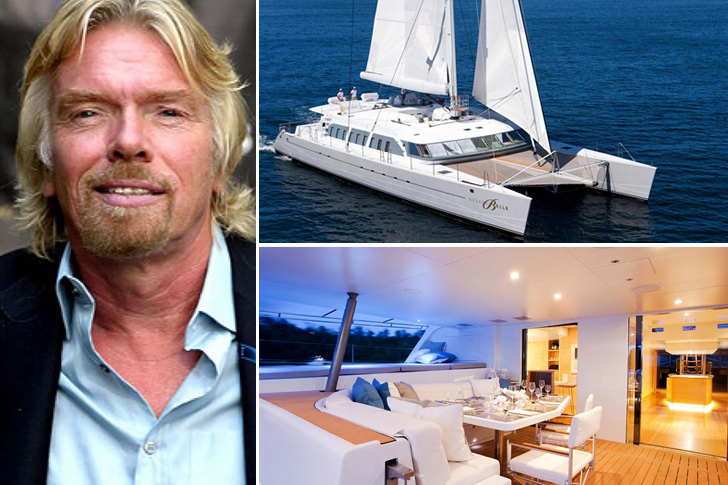 The Necker Belle of Richard Branson is known to be one of the fastest catamarans in the world and was designed with an ability to travel up to 20 knots while accommodating up to 10 people. Necker Belle is a 105-foot private charter catamaran, available through Virgin Limited, based at Necker Island Resort. The Bell Superyacht is one of the few luxury catamarans in the world.
The owner of Necker Belle is more often recognized as the guy in Virgin Airlines commercials. However, what people don't know is that Branson is also a multi-billionaire entrepreneur with over 400 companies under his name in the Virgin Group umbrella. Branson made an investment of over $5 million for his watercraft, and it even comes with an open-air cinema and submarine called the Necker Nymph. The Necker Belle continues to be hired out for guests to enjoy with the price of $100,000 per week.
Yuri Sheffler | Serene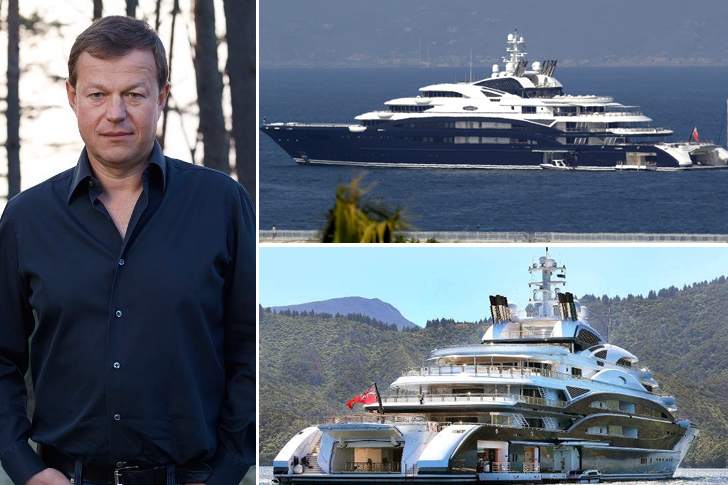 Serene is a 439-foot yacht that can accommodate up to 24 passengers in its 12 cabins and up to 52 crew members in its 25 crew cabins. It is one of the largest private superyachts in the world. The ship was owned by Russian vodka tycoon Yuri Shefler at a cost of $330 million, the boat was built by Fincantieri and designed by Espen Oeino.
With a hefty price tag of $400 million, the superyacht has a total of 8 MTU diesel engines, a speed of 18 knots, amenities like a seawater pool inside, a tender, two helideck platforms, and a heli hangar. It also houses a spa complete with a sauna, a climbing wall, a snow room, and a giant water slide. Given credit as one of the world's biggest yachts, Sheffler's luxurious and gigantic big will surely give its guests a grand time.
Leonid Mikhelsonhe | Pacific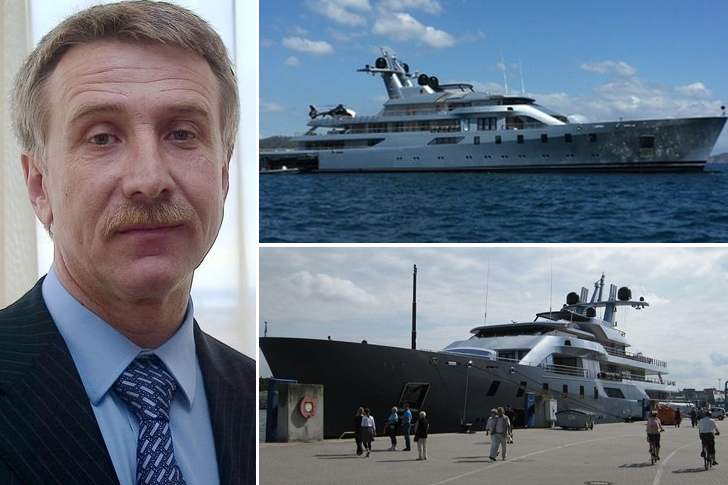 Being the richest man in Russia must really give Leonid Mikhelson the indulgence to own a great superyacht. He made an investment in the boat called Pacific. It is 280 feet long and can sleep up to 12 passengers and 28 staff members. There are six suites for the guests and 14 rooms for the crew. It has a top speed of 20 knots and a cruising speed of 12 knots .Made by Lurrsen Yachts, Pacific was designed by German Frers. Its stylish interior was designed by Bann Berg&Rowell Design.
This yacht is obviously not the only transportation owned by Mikhelson, so his boat also has provisions for his helicopters, which he uses when he wants to fly over the seas. The Pacific has seen the world as it has already sailed through Indonesia, Florida, Australia, Costa Rica, France, and Italy. In total, the price of the yacht is $150 million.
Reuben Brothers | Siren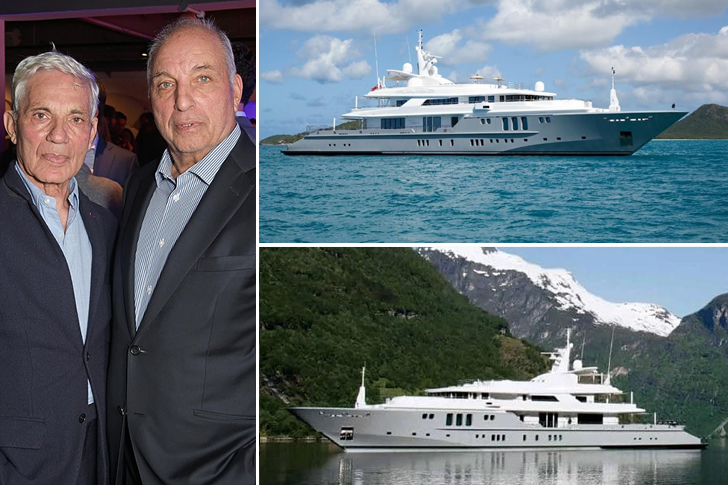 The Rueben Brothers are certainly from one of the wealthiest families in the world. They placed investment money on a total of five superyachts, but they sold four of them after some business transactions. They are currently left with the beautiful 240-foot boat called Siren. For $70 million, the ship boasts seven suites for up to 14 guests and nine cabins capable of housing a staff of 18. The impressive main salon is a popular lounge area, as well as spacious and stylish entertainment venues, with a long dining table for formal dinners.
Built by Nobiskrug and designed by Newcruise, Siren has a maximum speed of 18 knots and an MTU 16V400 engine. The siblings have a lot of businesses, including real estate, shopping and leisure places, coal and iron mines, and even the London Oxford Airport. Their company is also one of the largest producers of aluminum in the world.
Dolce & Gabbana | Regina d'Italia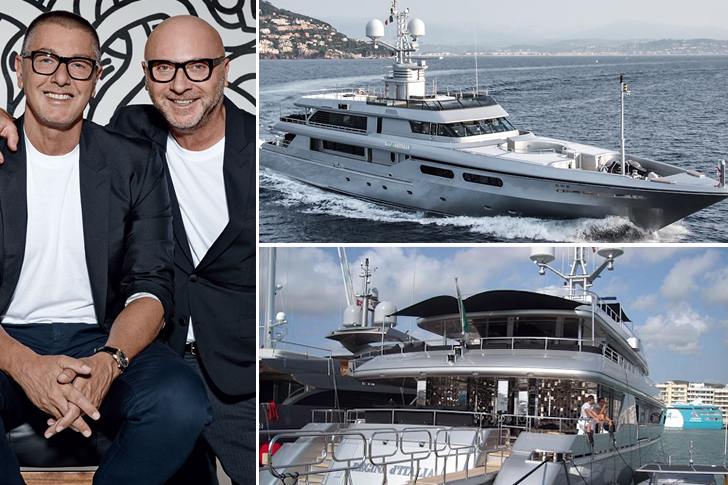 Being at the top of the list of fashion designers affords the fabulous Italian duo Domenico Dolce and Stefano Gabbana their own private yacht. The Regina d'Italia is now acclaimed to be a party central for celebrities and models alike, and the interior of the vessel proves just how creative and unique these designers are. Dolce and Gabbana's line takes credit for their high-quality products, including clothing, bags, watches, footwear, and sunglasses, yet their artistry doesn't stop there.
In their 51-meter luxury yacht, one can find golden doorknobs shaped like outstretched hands, gold-veined marble flooring, and exotic-animal-themed rooms. To add, the Regina d'Italia also has golden bathroom taps studded with sapphires and rubies and amenities such as a pool and a jacuzzi for guests to enjoy. With its spacious Spaces, it will be able to ensure maximum livability and privacy for owners and guests in all environments, both internal and external.
Jackie Chan | Jinlong 4601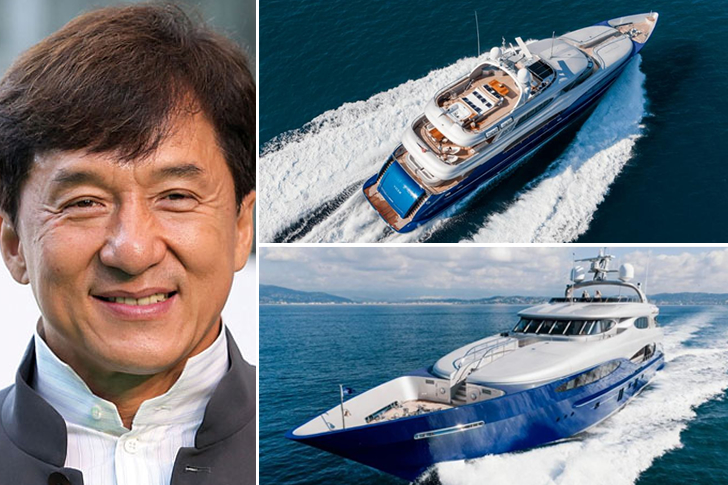 Hollywood celebrities really have it all! After some investment planning, Chinese action movie superstar Jackie Chan decided to spend on another luxurious and state of the art sports vessel after his superyacht purchase in 2017. He thought of collaborating with the best of the best. Thus, this new yacht is surely something worth noticing.
This time, he acquired the brand new Jinlong 4601, which was structurally designed by expert Dutch designers. It adopts the exterior Design of Mulder Design. It travelled at 22 knots and reached a top speed of 26.0km.It is built with an expanse of 46.48 meters and has amenities such as a movie theater, a gym, a sauna, a karaoke room, a dining area that opens out into the ocean, a sun deck, and gigantic comfortable bedrooms with king-sized beds. The Jinlong 4601 was crafted by Liaoning Jinlong Megayacht Manufacturing Company.
Sean "Diddy" Combs | Maraya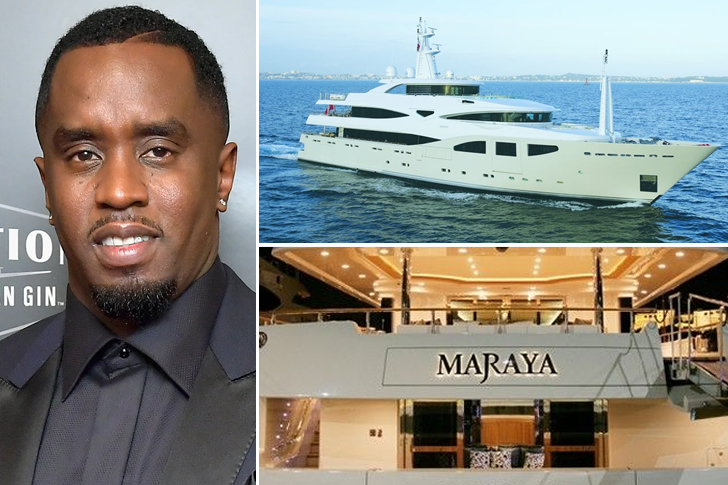 Diddy easily made his way to the list of prominent names who have made investments on hefty yachts. Maraya's impressive recreational facilities make her an ideal yacht for socializing and entertaining with family and friends. A cost of $65 million made it possible for the Maraya to have amenities like a nightclub with a bar, a stage, a projection booth, and a party floor on the top deck.
Along with these, there are miniature yachts and a ski boat open for anyone who wishes to explore the open waters. The expanse of the Maraya may accommodate up to 12 guests, and its five decks required the artist to hire ten yacht staff members, wherein their most important job would be to make sure that freshly baked chocolate chip cookies are always in place for the guests.
Calvin Klein | Vantage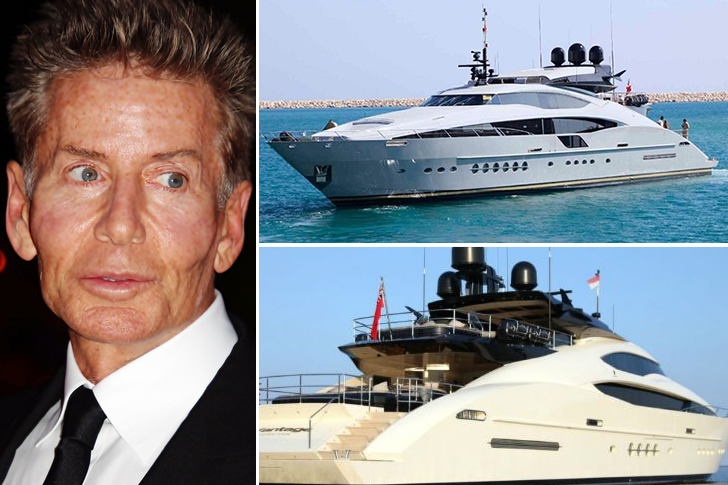 As a renowned name in the fashion industry who has achieved a lot in his line of work, Calvin Klein easily afforded himself the superyacht Vantage. This upscale investment was built by Palmer Johnson, who, like Klein, is also a prominent name in his own field of work. The beautiful ship has a length of 4.57 meters and a height of 150 feet. Thus, it may accommodate lavish and grand parties for up to 10 guests.
Vantage's impressive leisure and entertainment facilities make it an ideal yacht for socializing and entertaining with family and friends. In fact, celebrity parties such as that of the Cannes Film Festival were held in Vantage,where a lot of big names had the opportunity to have a good time with entertainment options such as the on-board barbecue, relaxation pads, jacuzzi, bar, and cabins.
Nicolas Cage | Sarita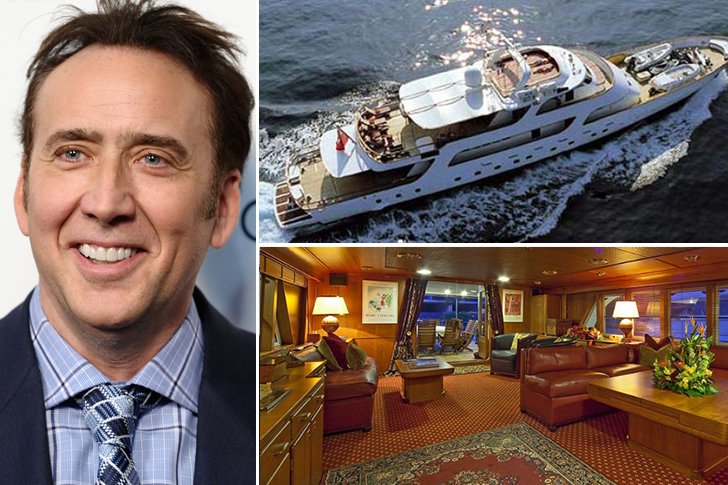 It looks like Nicolas Cage needs a serious degree of money management system since he just lost his amazing superyacht, Sarita. Cage declared bankruptcy after a series of unfortunate events regarding his money-spending spree wherein he cashed in four yachts, spending $20 million on Sarita alone. This exquisite yacht, designed with its elegant lines, incredible deck space, enthusiastic gentleman yacht interior, became a timeless masterpiece that will satisfy even the most discerning yachtsman.
The superyacht is arguably a bang for Cage's buck since it could accommodate twelve guests, house a fully furnished wet bar, and be decked out with water sports equipment. Cage also spent his money on nine Rolls Royces, and on top of that, a dinosaur skull to check if his bank account was still working. Nic continually proves that he's down to earth despite topping the celebrity lists every year by proving he, too, can be broke.
Graeme Hart | Andromeda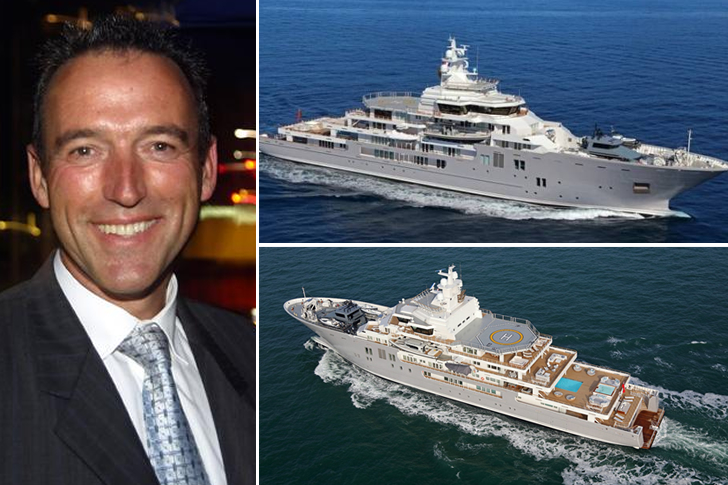 New Zealand's very private billionaire, also the richest person among the country, Graeme Hart just cashed in a $275 million paycheck on a one of a kind superyacht—the Andromeda. Bearing the old name of Ulysses, Andromeda is a luxury expedition yacht built for luxury and style while cruising through the seas. This yacht was built by Kleven Maritime AS.
This expensive stunner indeed turns heads with world-class amenities. The 107-meter yard monster is only second of it's kind with the sheer size and production investment put into the superyacht. It has a beam towering a shy of 60 feet, treading the seas with a top seed of 30 kilometers per hour. With a guess capacity of 30 and a crew capacity of 43, the Andromeda is a giant sea spectacle that one can't miss easily.
Beyoncé | Galactica Star
Obviously, a queen like Beyonce would not go missing on the list of people who live luxurious lifestyles. With the immense success of the entertainer, her wealth has afforded her an upscale private yacht. Someone as extra as Queen B will expectedly have a ship as grand as the Galactica Star because, inside the water transportation, guests may experience what it is like to be her.
The exterior part was designed by Omega Architects, and the interior was by Bannenberg and Rowell Design. Amenities such as a helipad, a jacuzzi, and a swimming pool can be found in the 213 feet ship. An investment planning involving leasing the yacht at a price of 900,000 dollars per week convinced a fugitive Nigerian playboy Kola Aluko to make a contract with the celebrity —an agreement that yacht enthusiasts greatly envy.
David and Victoria Beckham | Seafair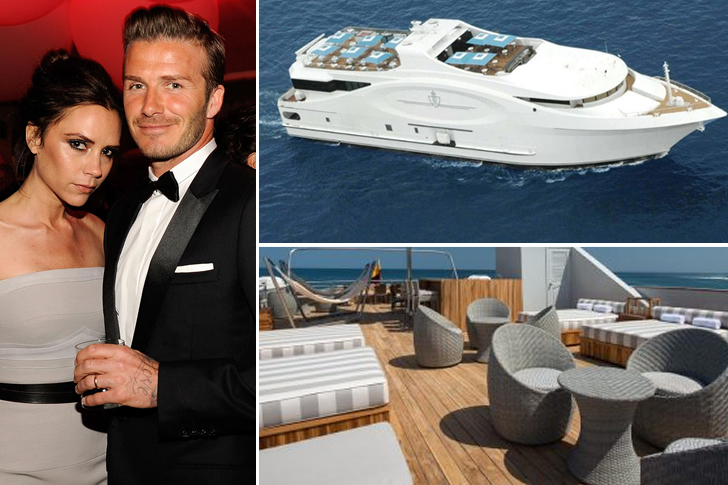 David Beckham is a famous English former professional soccer, and his is the first English football player who won league titles in four countries. The power couple David and Victoria Beckham have been known to have been living the high life. With their individually successful careers, they have both amassed an enormous amount for their net worths. It is not surprising then that they purchased their own private yacht.
They placed investment money on the beautiful ship called the Seafair. The superyacht flaunts four suites for the guests, two cabins for the staff on board, and a gym. Fondly called "The Sophisticated Lady," the Seafair is 94 feet long and has a price tag of $4 million. Superstar Elton John, their family friend, has been spotted sailing with the Beckhams several times. A cruise with this bunch sure sounds like a classy and entertaining time!
Kendall Jenner | Axioma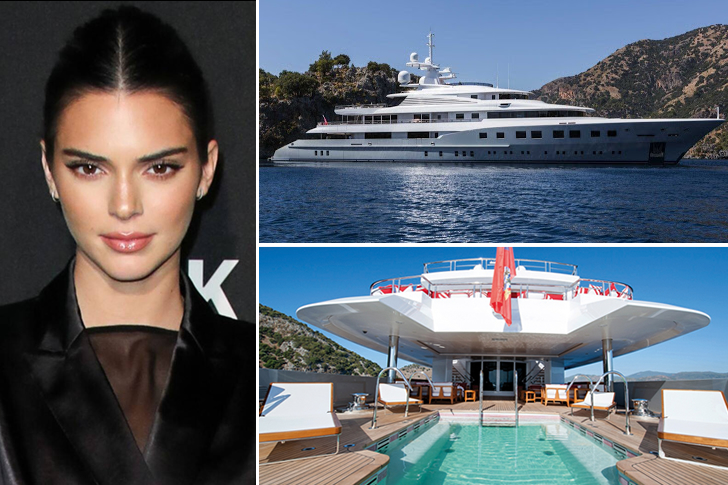 Though it doesn't really belong to American media personality Kendall Jenner, the Axioma is a beauty to behold. The young supermodel charters this superyacht whenever she wants to go on a cruise or to party on the ocean with her friends as well as her star-studded family. When she turned 19 years old, she got the vessel and had a blast with her model friends Hailey Baldwin Bieber and sisters Gigi and Bella Hadid.
She also took the ship out when she went to the Monaco Grand Prix. We don't blame Jenner for loving this yacht so much as it has a hot tub, a massage room, a steam room, an infinity pool, 3D cinema, a bar, a saloon, and a gym. A party in a place like this definitely a degree hotter than anything else in Hollywood!
Brad Pitt | Ghost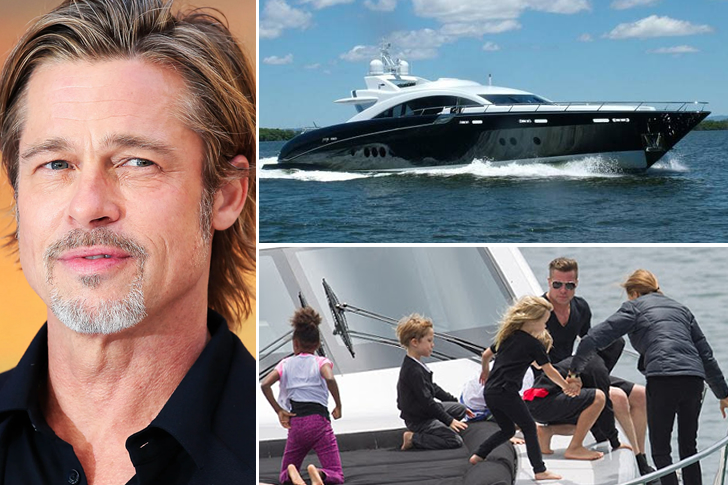 Brad Pitt is a American actor and movie producer, and he was born on December 18. 1963, in Shawnee. A lot of investment money was spent on the creation of Ghost. Former Hollywood A-list couple Brad Pitt and Angelina Jolie shelled out $320 million to build the yacht and $200,000 to have it decorated by Razzardi when they were still together.
Now living their own lives, the boat is still under Pitt's name. The expensive boat is equipped with a top-notch security system, including advanced technology that made paparazzi cameras trying to take snaps of them malfunction. The couple and their family were secretive about their cruises and private vacations. When they wanted to bond together, they took to the seas so as to leave all the noise as well as the hustle and bustle of the city behind.
Roman Abramovich | Eclipse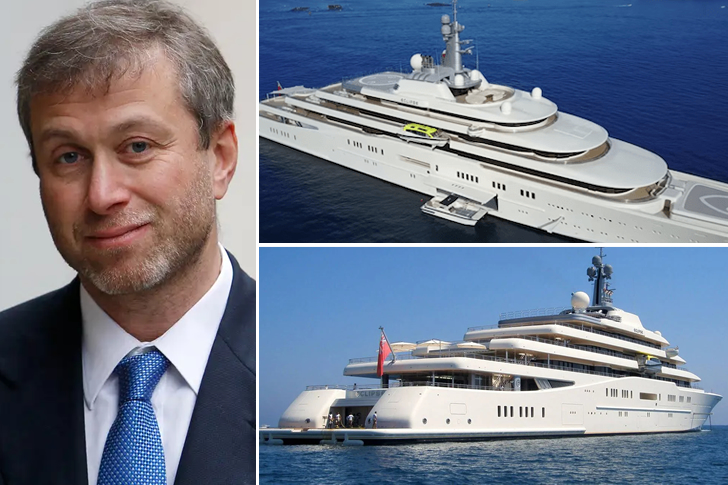 Another one of the wealthy Russians, Roman Abramovich, has a total of seven yachts to his name. Roman Abramovich is the 10th richest person in Russia and the boss of Chelsea Football Club. The degree of this man's luxurious life is simply unimaginable! Among his own private fleet of boats, his favorite, Eclipse, is worth $500 million and is as big as 163.5 meters in length.
The ship boasts excellent amenities like two pools, a disco, helicopters, nine decks, a beauty salon, a beach club, jacuzzis, and an atrium. Anything he or his guests might ever need or want to relax and have a good time is provided on deck. Created by Blohm + Voss, Eclipse is almost like a cruise ship that houses a carnival. A day full of fun activities and entertainment is promised on this boat.
Larry Ellison | Musashi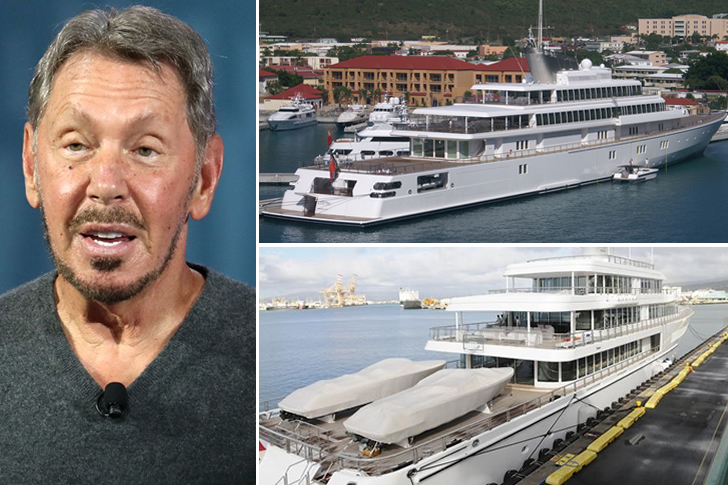 Creator and CTO of US-based software builder Oracle, Larry Ellison, who was born on August 17, 1944, in New York, takes credit for being the fifth wealthiest man in the world. He established BMW Oracle Racing after racing Maxi yachts successfully. Unsurprisingly, he has owned a lot of yachts in his lifetime, but Musashi is one of his clear favorites.
The boat is 288 feet long and caters up to 18 guests and 23 crew members. It was built by Feadship and was designed by De Voogt Naval Architects. Inspired by Japanese aesthetics, the design of the ship was themed after its namesake Miyamoto Musashi who was believed to be a legendary samurai during the early 1600s. The boat had a price tag of $160 million, but that amount did not even cause a dent in Ellison's bank account.
Jerry Jones | Bravo Eugenia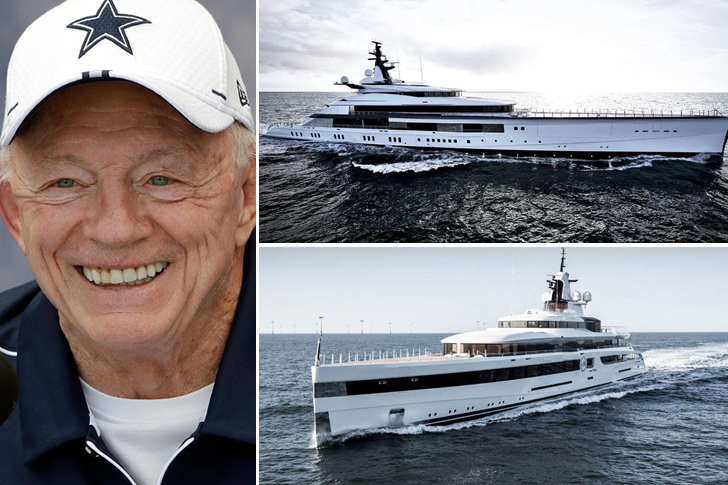 One of the few billionaires of the world, Jerry Jones also has a beautiful superyacht to boast. Jerry Jones was born on October 13, 1942, in Los Angeles. As the owner of the Dallas Cowboys that the five-time Super Bowl champion team, he had enough investment money to spare to get himself the Bravo Eugenia. Named after Jones' wife, the boat is worth $225 million and has world-class amenities on board.
It was created by Oceanco and was designed by Reymond Langton as well as Nuvolari Lenard. The exterior of the ship flaunted angular designs that made it look modern and sleek. One of the key features of the boat is that it is actually friendly to the environment. It was built in such a way that it would not harm marine life and is powered by fuel-efficient engines.
Gwyneth Paltrow | Silolona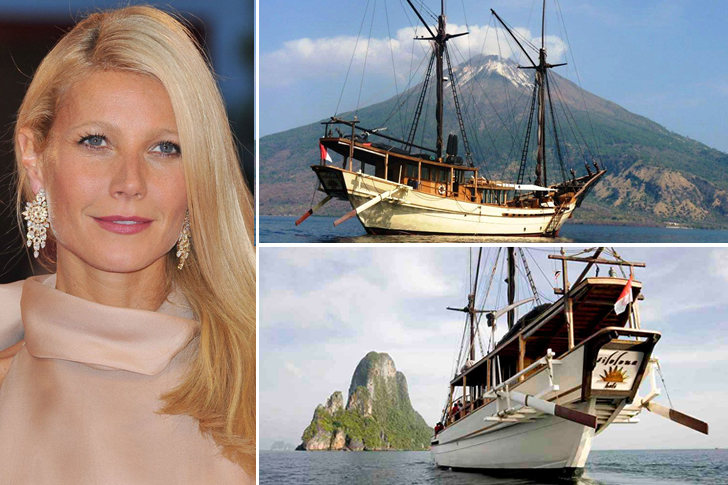 One of the movie stars who love to live large to some degree but doesn't want to invest too much in leisure is the beautiful Gwyneth Paltrow. She was born on September 27, 1972, in Los Angeles. Though it does not belong to her, the Silolona has found her on board quite a few times already. Worth $65 million, the elegant vessel can be chartered for $210,000 a week, and Paltrow has had no problem with this amount.
She wrote about her adventures of sailing across Indonesia and Myanmar on Goop, which is the celebrity's wellness and lifestyle company. The 164-foot boat has snorkeling gear, kayaks, water skis, a swimming platform, and even diving instructors available for guests. The chef assigned to the yacht creates great Asian cuisine, and some of his recipes were featured in Paltrow's blog.
Michael Jordan | Mr. Terrible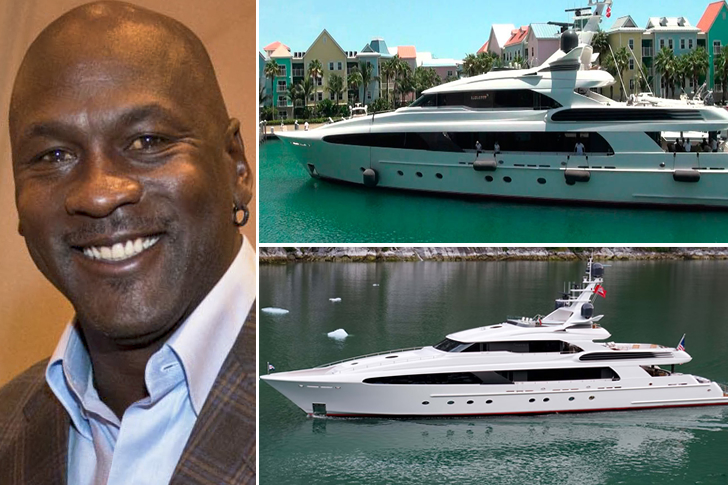 Michael Jordan was born on February 17, 1963, in Brooklyn. Given credit as one of the best athletes of all time, basketball player Michael Jordan, who brought six championships to Chicago Bulls, also likes to take it slow and sail through the oceans aboard his own private superyacht called Mr. Terrible.
Being 230 feet long, the ship carries a beautiful dining room with a chandelier, a complete gym, a bar, a jacuzzi, an audiovisual system including an underwater camera for him to see the marine life below, a full-sized basketball court, and its own satellite. Its design features an Art Deco – Tropicana theme and a Bubinga wooden staircase. The boat has up to four suites for the guests and four cabins for the crew.  Whenever Jordan isn't sailing away on vacation, he charters the yacht for $179,500 a week.
Mariah Carey | Capri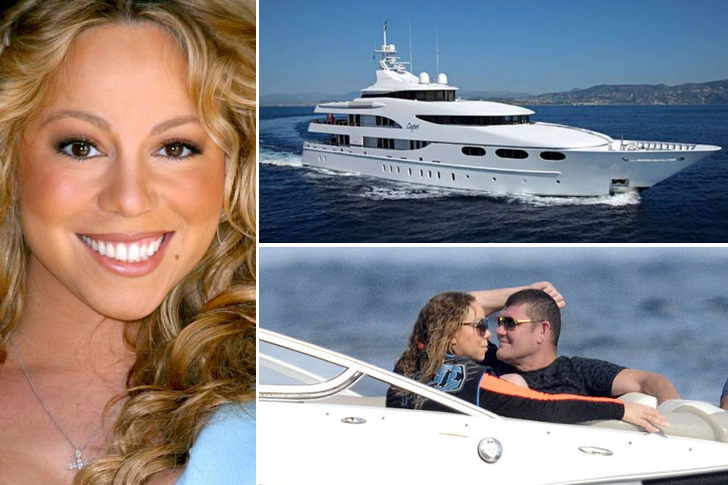 Being one of the most popular pop stars in the world certainly has its perks. Diva Mariah Carey has a 192-foot superyacht called Capri. Like the singer, the ship can also be considered world-class. It has features like a library, a jacuzzi, two bars, and a sundeck that can convert into a helipad. The list goes on with a sky lounge complete with a theater, a fancy dining room for formal dinners, and water sports gear like kayaks, scuba gear, fishing tools, water skis, and even a trampoline.
Capri has room for up to 12 guests who can stay in its six suites as well as a crew of up to 15. When she was working on the yacht, part of her investment planning was a full-time chef and a motor system that's supercharged so that she would never be stranded in the middle of the sea.
Leonardo del Vecchio | Moneikos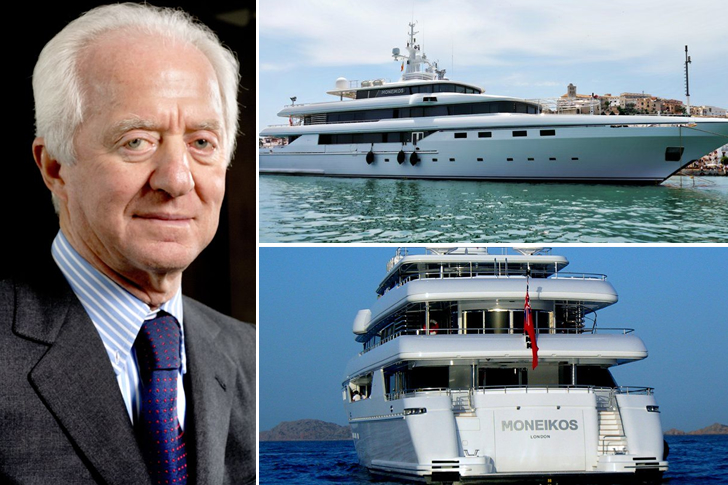 The Moneikos is a superyacht owned by the richest man in Italy, Leonardo del Vecchio, who was born on May 22, 1935, in Milan. It is 203 feet long and houses eight cabins that can sleep up to 16 guests and nine crew cabins that can accommodate up to a crew of 16. Built of steel and aluminum by Codecasa, the ship was designed by Anna Dellarole of Della Role Design. Del Vecchio made an investment of $40 million for Moneikos, and it has great features to brag.
A modern interior, an elevator, a humungous swimming pool complete with a continuous flow generator, a gym, and a maximum speed of 17 knots are some of the key highlights of the luxurious vessel. If only the rest of us could afford something as lavish as this, we would definitely cruise as often as we please!
Lawrence Stroll | Faith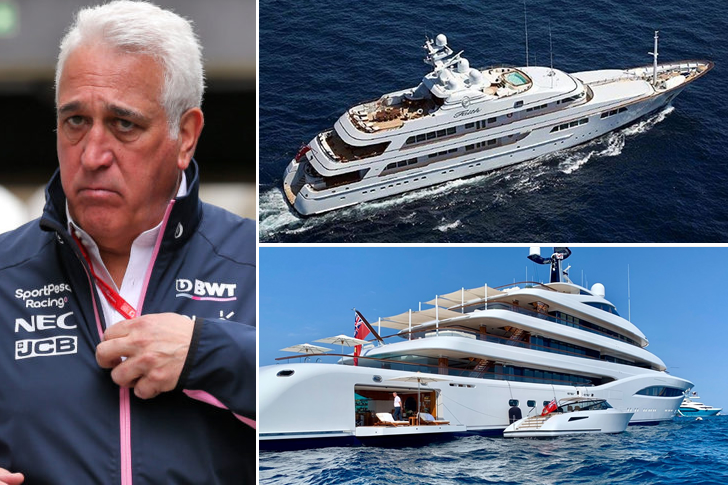 Faith is a superyacht owned by billionaire Lawrence Stroll, who was born on July 11, 1959, in Montreal. With a net worth of $2.6 billion, the business tycoon probably did not find it a big deal to make an investment of $200 million. The yacht that he bought is 317 feet long and has a maximum speed of 17 knots.
It was created by Feadship and designed by Chahan Minassian, Stroll's personal designer. The luxury ship can sleep up to 18 guests in its nine lavish suites and up to 34 crew members in its 17 cabins. Some key features of Faith are a steam room and a spa with a massage room, a gigantic swimming pool, a bottom made of glass so that the guests can admire the marine life below, and a heli hangar.
James Packer | Arctic P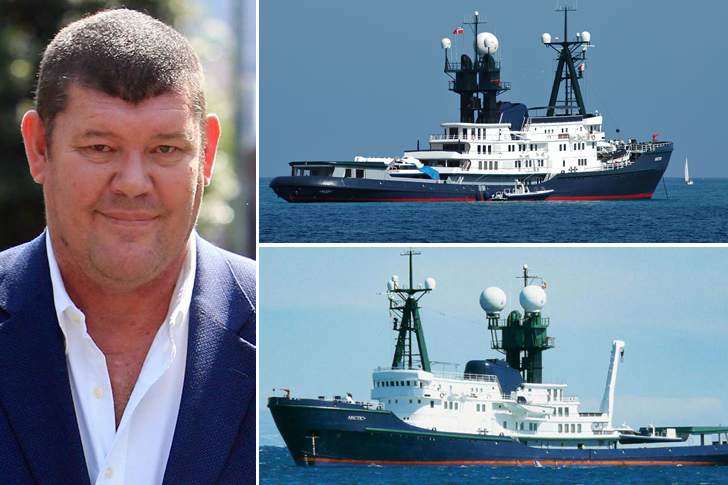 Celebrity James Packer was born on September 8, 1967, in Sydney. He is the main shareholder of Crown Resorts Limited, so he also has a gorgeous ship himself. He has a 297-foot long superyacht called Arctic P. It has received a lot of credit because it has been used by a lot of big names, including Miranda Kerr and Leonardo DiCaprio.
There's no wonder that the stars love the ship so much because it offers a lot of great features. It has its own amphitheater, swimming pool, jacuzzi, observation tower, a giant water slide, a spa bathtub inside the master suite, glass walls to see the view outside, a gym, and a library. It can accommodate up to 12 guests and a crew size of 25. There is also a beach club located inside the ship with another swimming pool.
Simon Cowell | Slipstream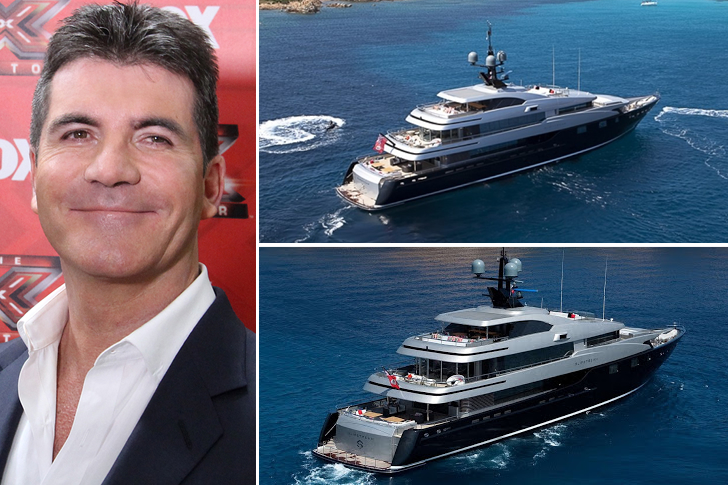 Simon Cowell was born on October 7, 1959, in London. With a net worth of $500 million, he is probably used to a life of luxury. The degree of influence he has had in the entertainment business is massive, and he is clearly respected in the field. With this kind of reputation, it is not surprising that he has his own luxury vessel.
The Slipstream is a superyacht that is 197 feet long and has room for up to 12 passengers who can sleep in the six suites. It flaunts a waterslide, an outdoor cinema, a smoke machine, a jacuzzi, a bar, an alfresco dining room, a bubble machine, a gym, a Nintendo Wii, a karaoke machine, and an X-Box. The boat is worth $73 million, but that surely did not create a dent in the American Idol judge's bank account.
Justin Bieber | Ecstasea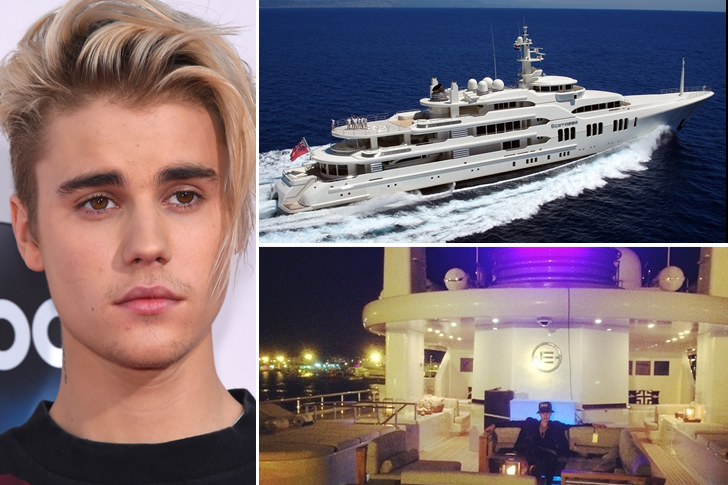 Superstar Justin Bieber has had his fair share of fame and fortune over his teenage years. He was able to afford himself the 282-foot superyacht called Ecstasea. For an investment amount of $120 million, Bieber's boat boasts fancy amenities like a jacuzzi, a gym, several bars, sauna rooms, and massage rooms. It also carries water sports gear like water skis, wakeboards, paddleboards, and kayaks.
Not to mention, mountain bikes and helicopters are also present. It can lodge up to 15 passengers in its eight rooms and up to 27 crew members in its staff cabins. Before his marriage, other celebrities have been spotted aboard the Ecstasea, including Selena Gomez, Sophia Richie, and Barbara Palvin. When he and his now-spouse, Hailey Baldwin Bieber, tied the knot, they probably decided to make the boat exclusive for their own romantic getaways.
Rihanna | Latitude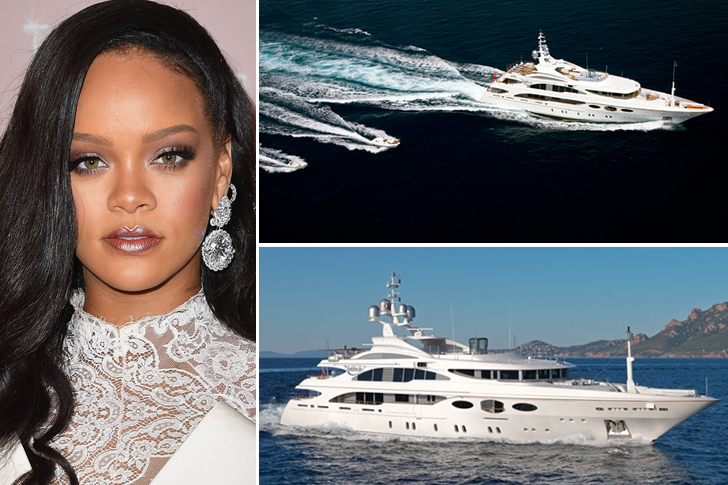 A lover of the tropics, singer Rihanna always makes an adventure on the water a good time. Her own superyacht called Latitude, is worth $23 million and is akin to a floating luxury hotel. Equipped with whatever you might want, the ship promises a relaxing and eventful vacation. It has room for up to 12 passengers and 13 crew members, but that's just the tip of its amazing slew of amenities.
Latitude also has a gym, a jacuzzi, a helipad, outdoor decks and dining areas, water sports, an elevator, a wet bar, a freshwater swimming pool, a spa and a beauty salon, a private studio, and a sundeck. The boat was created to be sailed internationally, so the degree of customization of the build was impeccable. It was reportedly chartered for a three-year trip to explore the Pacific in 2015.
Bill Gates | Serene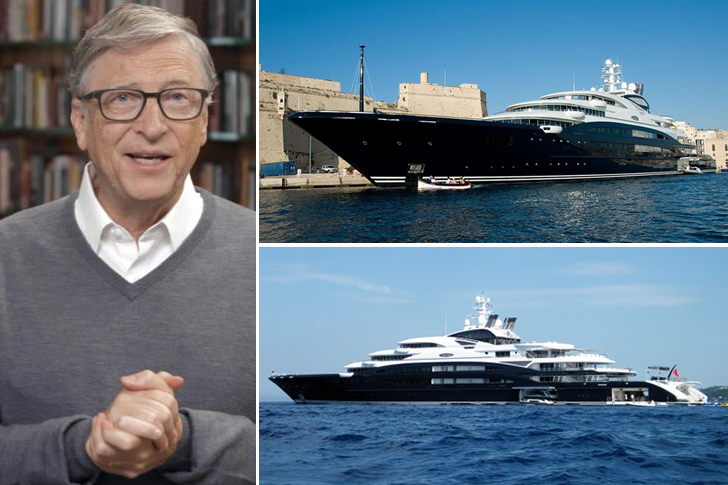 One of the most famous and the most wealthy people in the entire world, the co-founder of Microsoft, Bill Gates has a net worth of $91.8 billion. It is expected that his own superyacht called Serene, would impress spectators. Bought with investment money amounting to $330 million, the vessel is 439 feet and can accommodate up to 24 guests in its 15 suites and a huge crew size of 52.
It has lavish amenities like a helicopter hanger, two helipads, a cinema, a submarine garage, a grand piano, a bar beside the swimming pool, a stone fireplace, a jet stream pool on the sundeck, another saltwater pool, a gym, a kitchen with a full-time private chef and an elevator. The ship sounds like a dream! To sail it, you can pay $5 million to sail for a week.
Andrey G. Guryev | Alfa Nero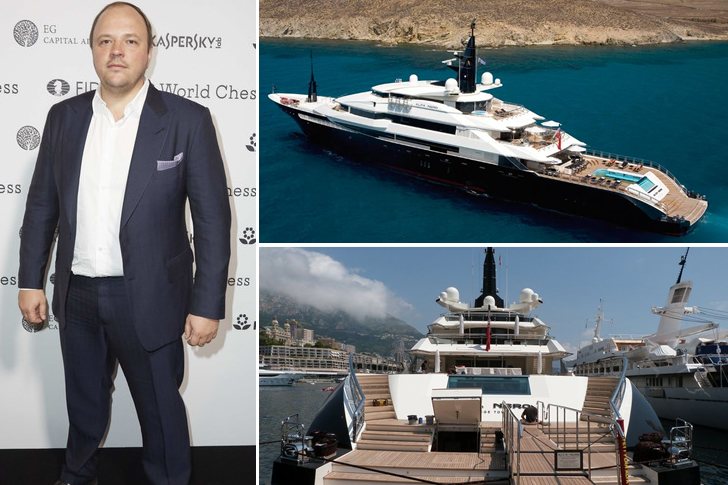 The Alfa Nero is owned by Andrey G. Guryev, a  billionaire and the former leader of PhosAgro. It is 269 feet long and can house up to 12 guests in its six cabins and up to 18 crew members in its 14 staff rooms. It was built by Oceanco and was designed by Nuvolari Lenard in 2007. It has a swift maximum speed of 20 knots and MTU 16V595 engines.
One of the main features of the ship is the swimming pool on the main deck, as it can transform into a helipad or a dance floor when needed. It also features an elevator, custom build tenders, and a private office. Given the recognition it deserves, the Alfa Nero won the Boat International Yacht of the Year award.  The ship is worth $120 million off Guryev's credit card.
Tony Parker | Kando 110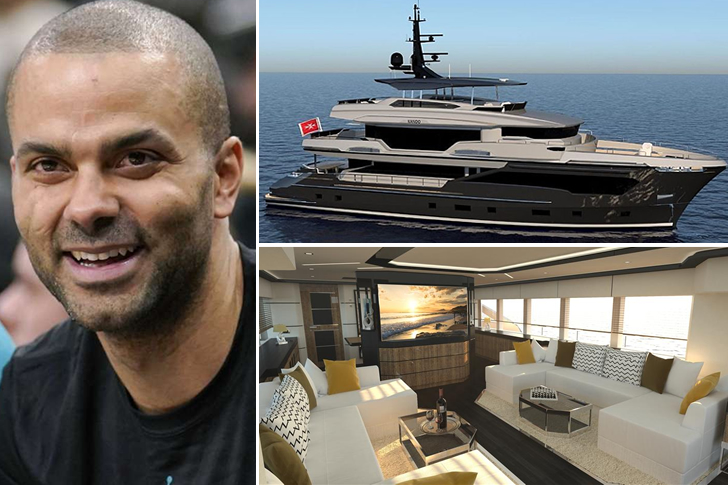 Tony Parker was born on May 17, 1982, in Bruges. Given credit as an important member of the San Antonio Spurs, Tony Parker became famous for his MVP award and his successful career in the NBA. He got a total of $165 million from his professional basketball career, so buying a superyacht was really a part of his investment planning scheme.
He and his wife went through a tedious process when they were shopping for luxury vessels. They finally decided on the gorgeous Kando 100. The ship wad built by Atilla Kucukdiker, and it had four decks and can sleep up to 12 passengers. The boat is relatively new as it was only delivered this year. We're hoping Parker and his family would have a grand time aboard their new ship. They truly deserve the time away from the city.
David Gilmour | Astoria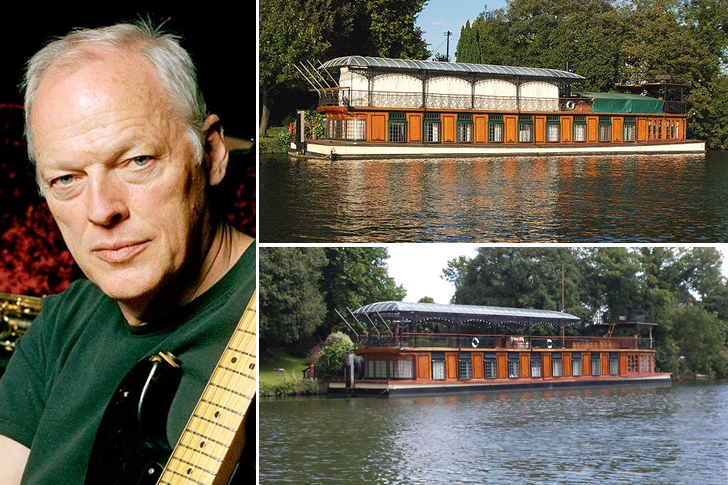 One of the pillars of the iconic band Pink Floyd, David Gilmour has been in the rock and roll scene since the 1960s. His hugely successful career led him to a whopping net worth that allowed him to buy the Astoria in 1986. Built in 1911, the ship was originally made to hold an entire orchestra on its deck. Much to his credit, the classic and vintage aura of the ship was what probably attracted the musician the most.
Mainly built for the purpose of recording his songs, Gilmour put up his recording studio in it, and some of his albums were actually recorded aboard the ship. It is permanently in the Hamptons when it is not sailing through the seas. The yacht is 88 feet long and has a total of 3 cabins for its passengers.
Sir Philip Green | Lionheart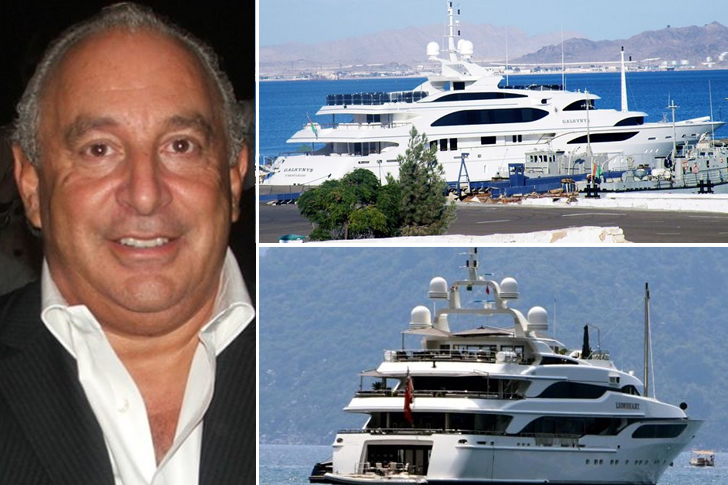 Mostly famous for being the owner of top brand TopShop, Sir Philip Green surely amassed a massive sum from his business as he made an investment in a superyacht named Lionheart. It is the third yacht that Green commissioned from The Benetti Yacht Company.
The ship has a total of 6 staterooms to accommodate up to 12 passengers and more rooms to sleep a crew of 16. Luxury features are also available on the yacht, like a swimming pool, hot tubs, a helipad, an advanced and high-class sound system, and a bar. The boat cost up to $41 million, but Green surely didn't mind as this was already the third yacht he has purchased. Known always for flaunting his wealth, the business mogul also made the headlines when he hired Beyoncé and One Direction to perform at his son's and his nephew's bar mitzvahs, respectively.
Dennis Rodman | BurgerFi Lamborghini Hyper Boat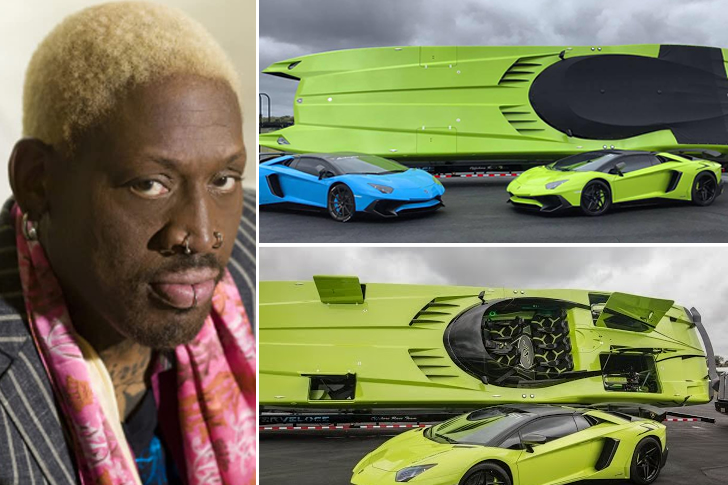 NBA Superstar Dennis Rodman also takes credit for investing in one of the fastest and most advanced performing boats to be ever made. His 52-feet Marine Technologies G6 Super Veloce catamaran has the ability to travel at over 180 mph because of its specialized Mercury racing 1350/1550 hp twin-engine setup with Mercruiser #8 Outdrivers. This purchase was made after the vessel was listed with a custom trailer and a matching 2016 Lamborghini Aventador SV Roadster, which overall accounted for about $2 million.
Rodman had also participated in bidding charities spearheaded by fanatics, particularly the All In Challenge, where he offered up an entire day with him on-board and on his Lamborghini, the experience includes a two-night hotel stay and a signed souvenir. In short, Dennis Rodman (Dennis Rodman) go to great lengths to provide a fan forever a lifetime experience,in exchange for proceeds being given to different organizations.
Ron Howard | Imagine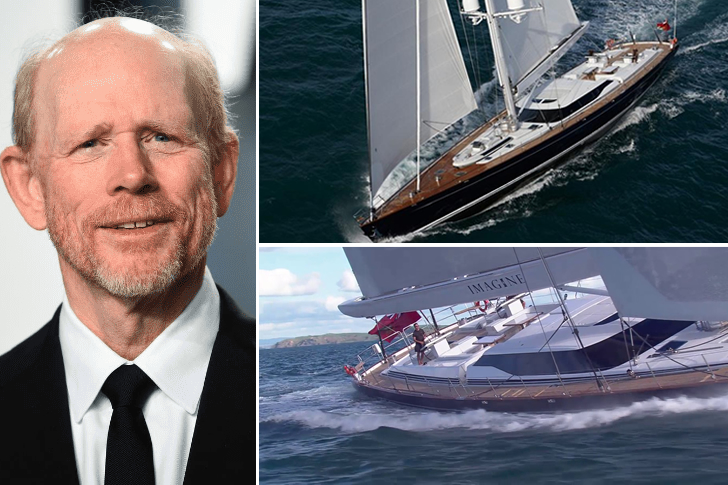 American artist Ronald Howard does not only explore the art of acting and filmmaking but also explores the seas with his gorgeous Imagine D Sail Yacht. This artist hailed from Oklahoma is best remembered for taking on roles in 2 sitcoms during his youth and directing numerous feature films later on. The versatile celebrity currently goes by a net worth of about $160 million.
Although not as extravagant as the other yachts, his hefty 44-meter investment is still something one wouldn't miss easily. Imagine D has a diesel-powered engine that can reach up to a speed of 14 knots and a 12-knot cruise speed. It can accommodate six crew ship members and eight guests, as designed by the Dubois Naval Architects. Internal use light color wood paneling and navy and white furniture, the sailing yacht refreshed on modelling of the eternal.
Paul Allen | Octopus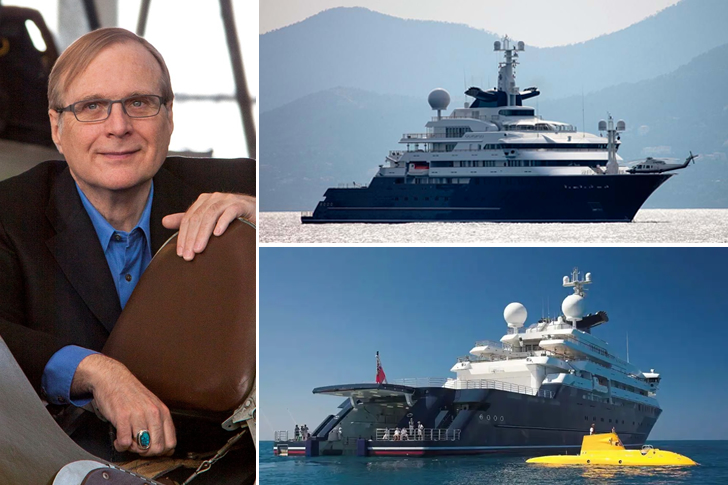 Another yacht that may top the lists is the enormous 414 feet stunner of Paul Allen, known as Octopus. The businessman had a $20.3 billion net worth obtained from his career in Microsoft and the sports industry, and so this naturally gets him a spot among the wealthiest people on earth— the 44th to be exact. With that amount of wealth, it would be a no-brainer for Paul to make investments on a luxurious $325 million superyacht as if it were a cheap shot.
Octopus has two helipads, it can accommodate 26 guests in 13 cabins,and the luxury feel of the superyacht can be experienced with its splendid amenities consisting of swimming pools, jacuzzis, game rooms, movie rooms, a recording studio, a spa, and even two submarines. OCTOPUS underwent an 8-month refit at Blohm + Voss and was in excellent condition, thus remaining the benchmark for exploring yachts.
Shaquille O'Neal | Free Throw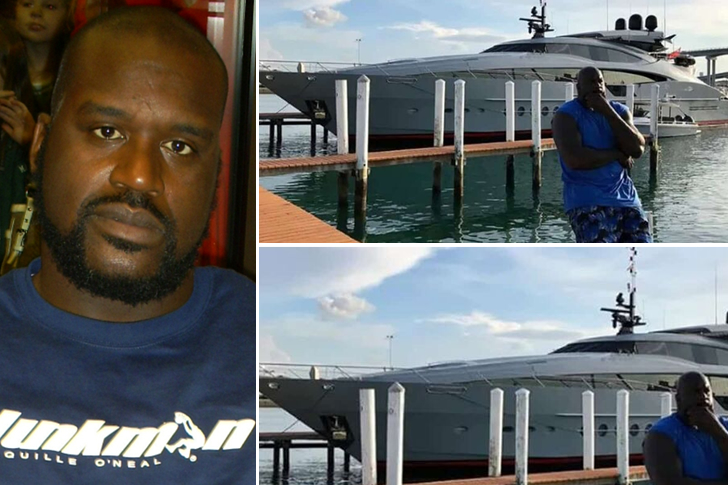 Shaquille O'Neal was selected by the Orlando Magic as the no.1 overall pick in the 1992 NBA draft. His career includes a total of 28596 points and 15 in the all-star game. O 'Neal was inducted into the Naismith Memorial Basketball Hall of Fame in 2016. Athletes can have a great sense of humor too. On top of his big fat bank account, Shaquille O'Neal can have a comedic streak.
When he purchased his private yacht, he didn't know what to name it. In turn, the basketball pro went on social media to ask for suggestions from his fans. One of them said that he should call the boat Free Throw so that "you won't ever sink it." O'Neal probably thought it was a great way to personalize the boat and to keep his humor in its name, so he took it on. He really gives credit to his fans, so it isn't surprising that he shares a lot of his life, and not just his career with them.
Rafael Nadal | Beethoven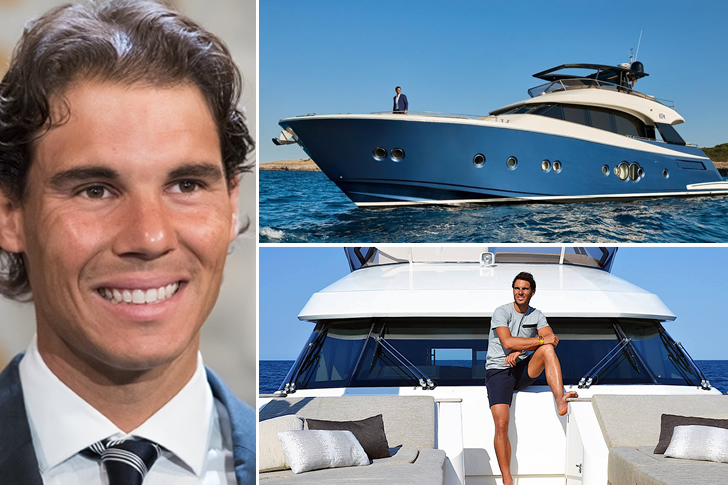 Rafael was born in June 1986 and is a Spanish professional tennis player. Nadal is one of the best players to break the serve. In addition to playing tennis, Nadal has opened a tennis academy in his hometown and is an active philanthropist. Given credit as one of the highest-paid athletes during his time, Rafael Nadal has an impressive track record and a long list of titles.
Winning 19 Grand Slams, he is one of those who have made history. Since the tennis player has a strong love for fast and expensive cars, you shouldn't be surprised if his choice of water transport falls more or less in the same category. He owns the Beethoven, an MCY that is 76 feet long. He bought the boat for $3 million and it came with nifty facilities like multiple bars and entertainment areas, a swimming pool, and a spa. Only the ultra-rich can afford that kind of luxury! Now, all that's left is for Nadal to get something swift for air travel in order to complete his transportation collection.
Eddie Lampert | Fountainhead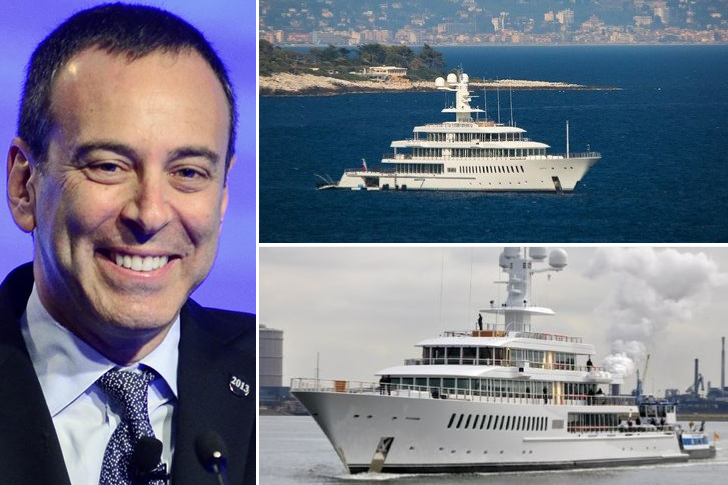 Boat International gave credit to the Fountainhead for being the 72nd biggest boat in the world. In it is a recreation room, a library, a gym, and a contra-flow swimming pool. The boat is owned by tycoon Eddie Lampert and has a market value of $130 million. The Fountainhead's exterior was designed by De Voogt Naval architects while her interior was designed by Sinot Exclusive Yacht Design.Usually lazing around the Island Gardens Deep Harbour Marina, the Fountainhead is 288 feet long and has been rumored to belong to Shark Tan star Mark Cuban for a while.
It was cleared, however, by the New York Post that the CEO of Sears was the actual proprietor of the luxury ship. The confusion caused quite a stir among the regulars at the Miami Port, but no one can deny that the magnificent superyacht is truly enviable.
Alisher Usmanov | Al Raya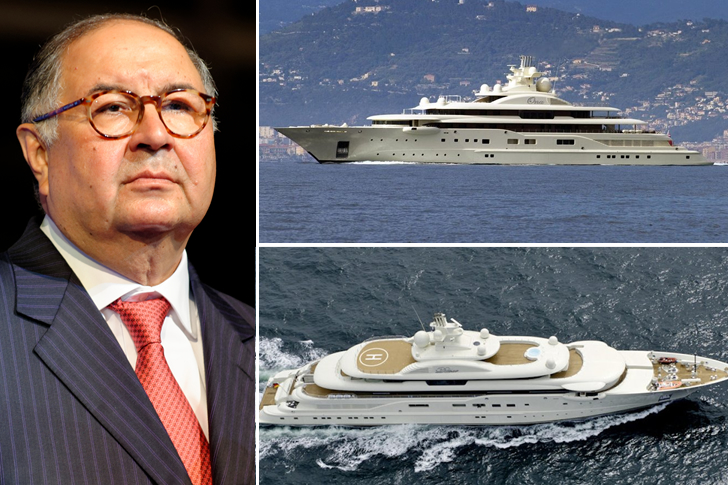 Clearly one of the richest men in the world, Alisher Usmanov has a net worth of $13 billion. With this kind of money in his bank account, one would not doubt his capacity to possess his own luxury superyacht. The Russian oligarch is known for his sound financial decisions, and it would not be surprising if he had consulted his financial advisor for this purchase. He bought the Al Raya, a 369-meter long mega yacht named after his own mother.
The ship can house up to 48 crew members to wait on its guests day and night. Worth $250 million, the vessel surely will impress anyone who has a thing for boats. Even those who are just lovers of tropical getaways and luxury vacations would want a ride in his envy-worthy boat. Of course, Usmanov takes his family and friends aboard the ship whenever he pleases.
Andrey Melnichenko | A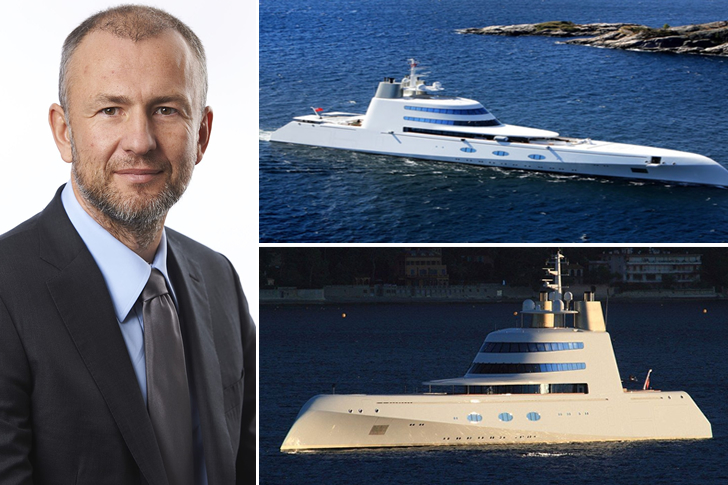 Another wealthy Russian graces our list. Andrey Melnichenko is one of the richest people in the world and he is a board member of two companies, and he owns a superyacht called A. The boat is 400 feet long and has room for up to 14 guests who can sleep in its six suites.
The rooms can also be transformed into staterooms when needed. When used as a bedroom, the rooms are equipped with king-sized beds that have the machinery to change angles according to which view the guests want to see. Three swimming pools are also found aboard A. The one at the very bottom has a glass floor so that the passengers can see the marine life underneath. Melnichenko probably got his team who installed his home security system to work on his boat as well because its security is just as top-notch.
Alisher Usmanov | Dilbar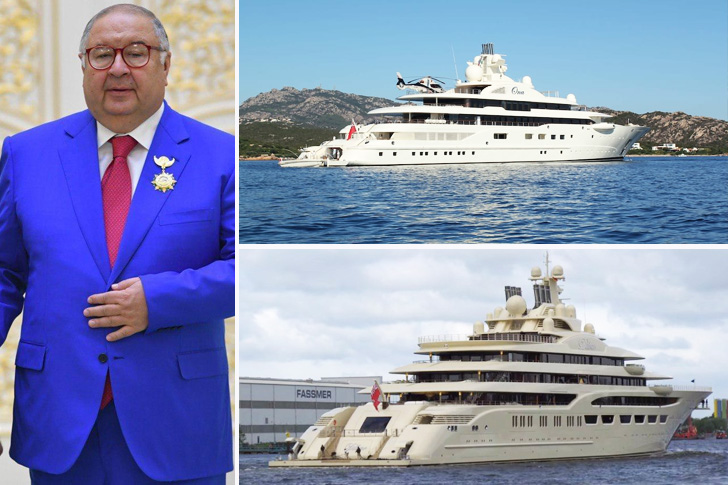 As an oligarch, Alisher Usmanov can do anything he wants, from travelling to staying in high-end places, and even eating luxurious or exotic food. Alisher reportedly has a net worth of $11.68 billion that he built thought his metal and mining investments. He also owns a publishing house and co-owns Russia's second-biggest telco, MegaFon.
Alisher is also the proud owner of a superyacht reportedly worth around $263 million. German-built Dilbar is known for its strength due to its steel frame. The yacht weighs more than 4,000 tons! Alisher is not all about extravagance, however, as his superyacht is also environmentally-friendly. The exhaust was designed to reduce its carbon footprint. After all, gas emissions are the biggest cause of air pollution all over the world. Well, if one wants to travel in style, might as well make sure it's also easy on the environment.
Abdulla Al Futtaim | Radiant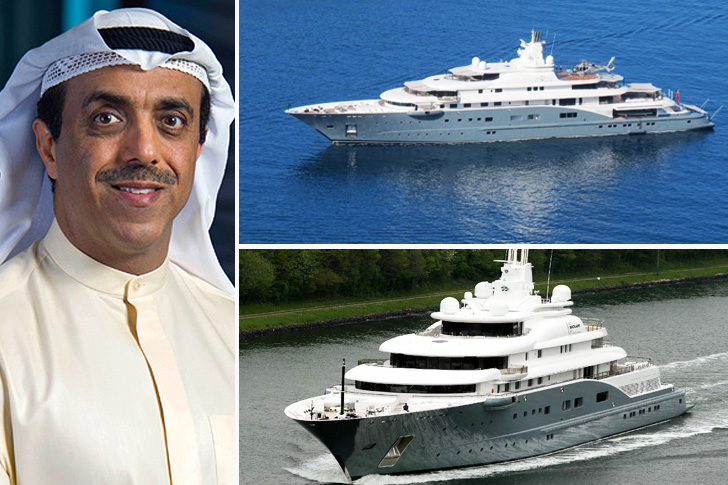 Emirati billionaire Abdulla Al Futtaim is the owner of the Al-Futtaim Group and the cousin of another billionaire, Majid Al Futtaim. This group of companies were established as a trading business almost 100 years ago and it boasts of having a people-first approach in all its dealings.  Abdulla accumulated his wealth from venturing into a combination of retail, real estate, and automotive businesses.
He is the owner of a superyacht named Radiant. The motor yacht was built by Lürsen, a German shipyard. Given its size, it is reasonable to expect that it has an elevator, a helicopter landing pad, and a swimming pool. Visitors would be able to enjoy a massage room, a gym, and even an on deck Jacuzzi. Lawyers were involved initially as the previous owners failed to pay the broker fee, but it was all settled and Abdulla took ownership following it.
Amancio Ortega | Drizzle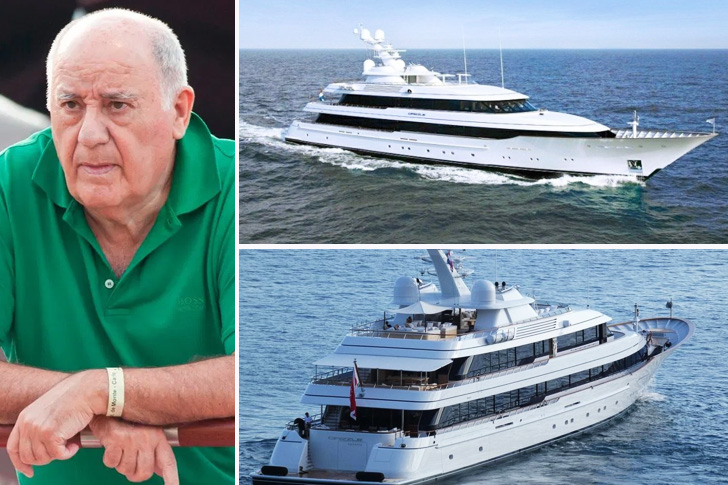 As founder of the Inditex fashion group, Amancio Ortega is one of the richest and most powerful men in the business. Inditex gave birth to brands like Zara and other high-street brands. He reportedly has a net worth of $68.3 billion, making him among the richest in the world. His investments certainly paid off. He also heads the Ortega family and is the second richest among retailers in the world.
Amancio is the owner of a superyacht named Drizzle and it is the very definition of fashion and style—as you might expect. The 55-meter yacht was purchased for $80 million and has a length of 67 meters. The interior is an excellent complement to the yacht's majestic exterior. It is powered by two MTU-branded engines and can accommodate up to 10 people. Following this purchase, Amancio also bought a bigger yacht he named Drizzle 2.
Al Waleed Bin Talal | Kingdom 5kr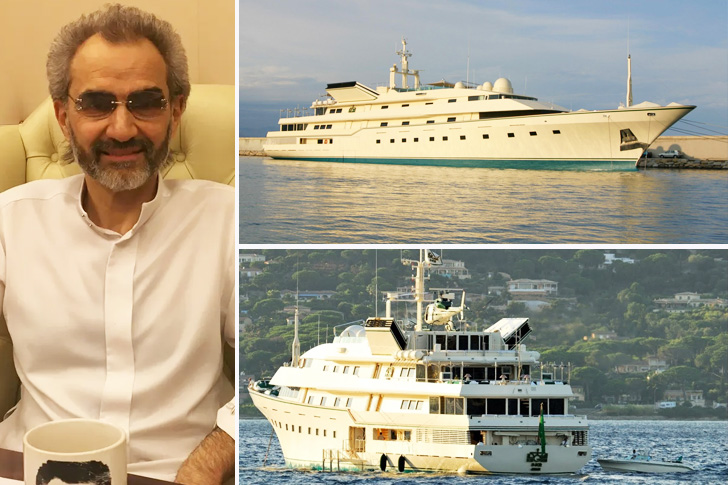 The Saudi Royal Family is known for their wealth and Prince Al-Waleed bin Talal is no exception. However, apart from being a royal, he also made his own wealth as a businessman and an investor. He was once listed among the top most influential people in the world according to Time magazine. Most of his influence and wealth comes from being the CEO, founder and 95% owner of the Kingdom Holdings—with investments in mass media, retail, agriculture and aviation, among others.
He owns Kingdom 5KR, a 281-feet yacht that was formerly owned by another Saudi billionaire, Adnan Khashoggi. The yacht is relatively used and was built in 1980, but it has been properly maintained and is in pristine condition. The yacht's original interior was designed by renowned Luigi Sturchio. The yacht is also quite famous as it was featured in Never Say Never Again, a James Bond movie.
Carlos Slim Helu | Ostar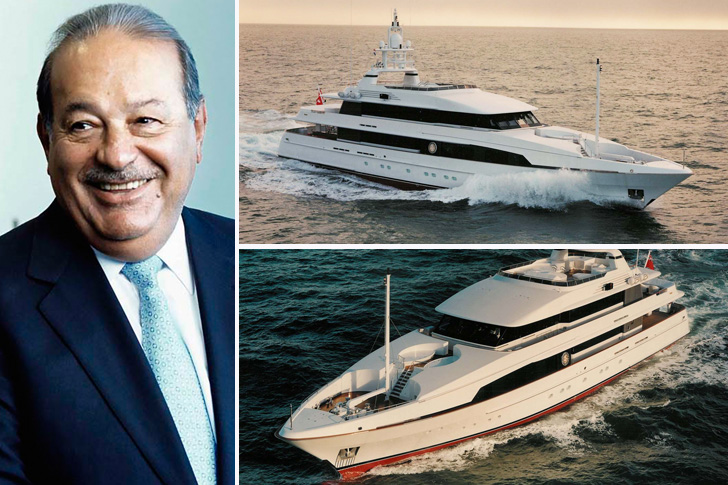 Before Elon Musk and Jeff Bezos became the top richest people in the world, there was Mexico-born Carlos Slim Helu. He was the richest person on Earth from 2010 to 2013 according to Forbes magazine. As of 2020, his wealth is estimated to be at $68.9 billion. While he may have fallen in the world ranking, he still is the richest man in Latin America. He derives his wealth mainly from making investments in education, industrial manufacturing, media, real estate and health care, among others.
He is the current owner of Ostar, another yacht built by famous yacht-maker Feadship. It is 52 meters long and has a shell hull, reinforced by an aluminum superstructure. With its five cabins, the yacht can comfortably accommodate 11 guests. Powered by Caterpillar engines, the yacht has a cruising speed of 15.5 knots, but if need be, it can reach a maximum speed of 16.5 knots.
Carl Icahn | Starfire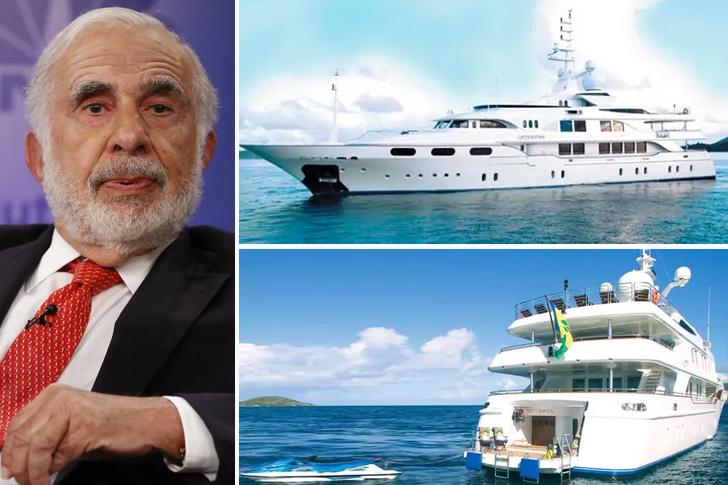 Carl Icahn had a rather negative reputation back in the 1980s due to his hostile takeover of the now-defunct Trans World Airline. His lawyers must have been paid handsomely after, but Carl's brand as a "corporate raider" has stuck. He also served briefly as an economic advisor to former US President Donald Trump in 2017. He likes taking risks and in 2015, he poured $100 million into Lyft, a ride-sharing service similar to Gran and Uber.
The business magnate is the current owner of the 54-meter superyacht named Starfire. The yacht was made by Benetti, with its exterior design handled by Stefano Natuci. Its interior features an Art Deco theme. It can also accommodate as much as 12 guests with its stateroom, one VIP and two generous cabins, along with two twins. For friends with a helicopter, there is a touch and go helipad. Its price? $13.9 million.
Charles Butt | Rebecca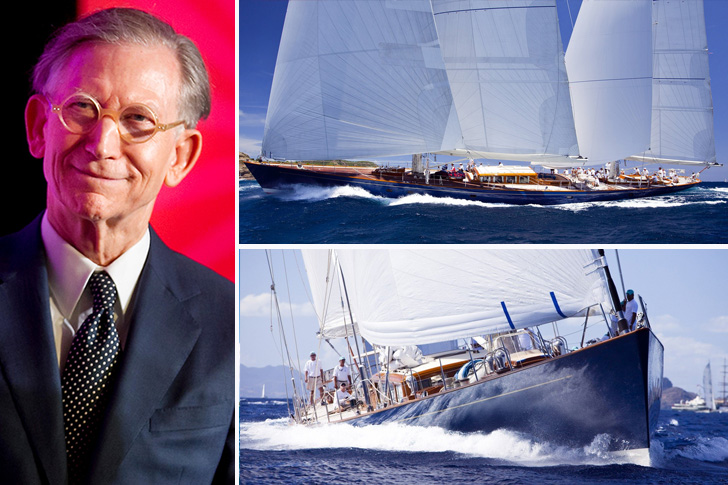 American billionaire and heir Charles Butt inherited the H-E-B supermarket chain back in 1971. This chain currently has over 300 stores and more than $20 billion in sales annually. Being born into a business-oriented family, it follows that Charles received a finance degree and an MBA after earning his bachelor's from Wharton School. When he inherited the supermarket chain he became its CEO, Chairman and President. Recognizing the importance of charity, he also gave financial support to the Hurricane Harvey fund in 2017 and pledged money to various causes as well.
Charles owns Rebecca, a superyacht that was launched in 1999 and was built by Pendennis.  The yacht reportedly cost $15 million and has a length of 42 meters. It is fitted with MTU engines and has a maximum speed of 12 knots. The yacht can accommodate 8 guests, on top of a crew of 8.
Eric Schmidt | Oasis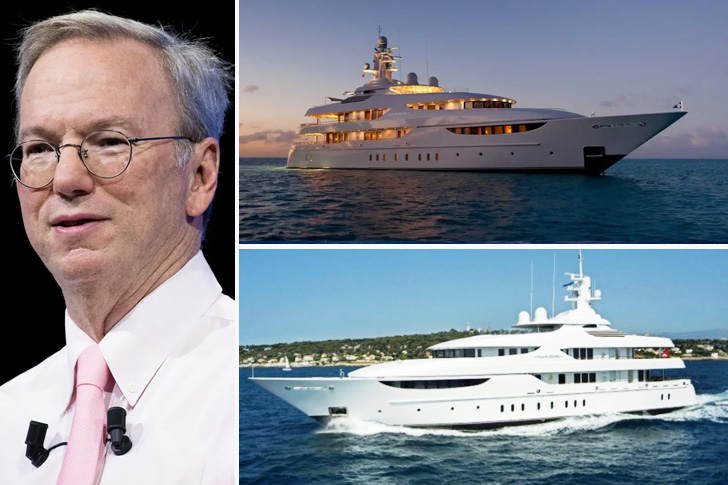 Software-engineer Eric Schmidt was the CEO of Google for ten years, from 2001 to 2011 and its executive chairman from 2011 to 2015. The American businessman started out as an intern back in 1975 at Bell Labs and managed to become the CEO of Novell from 1997 to 2001 through hard work. He has also served on the various boards of trustees at different universities. His expertise was also recognized by the US government, when he was tapped to be an adviser at the Department of Defense.
He purchased a stately yacht for $72 million, which he renovated to suit his lifestyle. It was built by Lurssen Yachts in 2006 and has a length of 195 feet. It can accommodate 12 people inside its six well-designed staterooms. It also has a Jacuzzi, a gym and barbecue facilities. It likely consumes a lot of electricity, but it is not an issue at all for the billionaire.
Eugene Shivdler | Le Grand Bleu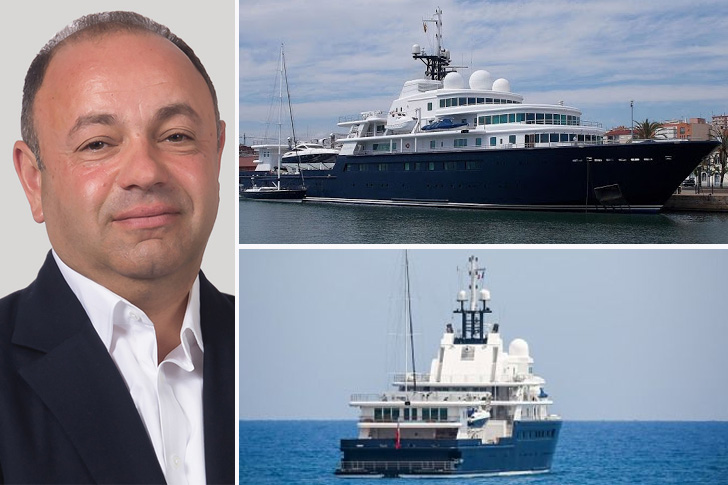 They always say that the money is in oil investments. Eugene Shivdler is a living testimony to that. The Russian-American billionaire struck gold during the privatization of state-owned industries, in his case, oil, after the USSR was dissolved. Apart from the oil business, he has real estate properties and in 2008, he purchased three homes in Snowmass Village, Colorado. The price for all three amounted to $62 million.
Eugene also owns a yacht of his own. At 113 meters, it can accommodate 20 visitors on top of a crew of 65. Stefano Pastrovich took care of designing the yacht's interior. From the outside, it looks sleek and elegant, as well as sturdy, a trademark of its builder, Kusch Yachts. It was previously owned by Roman Abramovich, before their lawyers drafted and signed the deed to sell it to Eugene for an estimated $150 million.
Gianluigi Aponte | Amo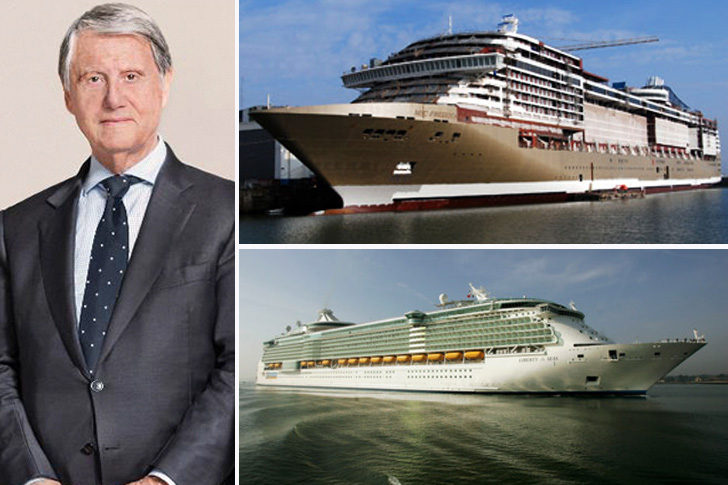 Billionaire Captain Gianluigi Aponte is an Italian who founded the Mediterranean Shipping Company (MSC). It is considered the second-largest container shipping line, next to Maersk. The sea has always fascinated Gianluigi and he was, at one time, a boat captain. With credit to his contribution to the industry, Italian President Giorgio Napolitano conferred him a knighthood.
The billionaire is the owner of a 47 meter yacht that was launched just this 2019. It is categorized as an expedition boat and was built by famous shipyard, Sanlorenzo. It is fitted with a helipad, the first for a Sanlorenzo manufactured yacht. It can reach top speeds of 15.5 knots, and is powered by Caterpillar and Azimuthin engines. Should Gianluigi and his family invite some friends, the boat can accommodate as much as 10, excluding the crew. Its interior features contemporary designs and uses high quality wood.
Hamad Bin Jassim | Al Mirqab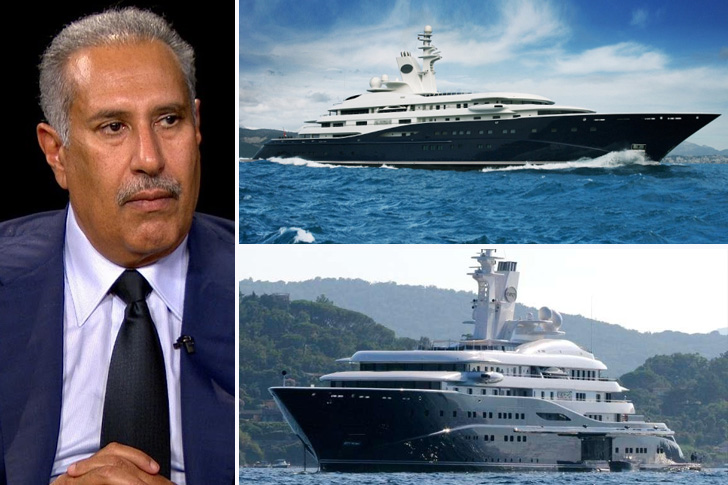 Former Qatari Prime Minister Haman Bin Jassim is one of the world's wealthiest people and was dubbed "the man who bought London." He received this reputation for managing Qatar's sovereign wealth fund and having holdings and investments in various London-based companies like Harrod's and The Shard. He is also the owner of Paris Saint-Germain, a football club.
Among the many things he possessed is a superyacht called Al Mirqab. It was known as Project May during its construction by the Wewelsfleth yard in Germany. The yacht has a length of 133 meters and can reach a maximum speed of 23 knots. Its interior designer? Andrew Winch. It has won the "Best Interior Design" award for being one of the classiest yachts ever made. The exterior and its interior design definitely reflects Haman's style and taste. The vessel also boasts a steel hull and a generous beam 19.5 meters long, and a 4.9-meter draft.
Jim Ratcliffe | Hampshire II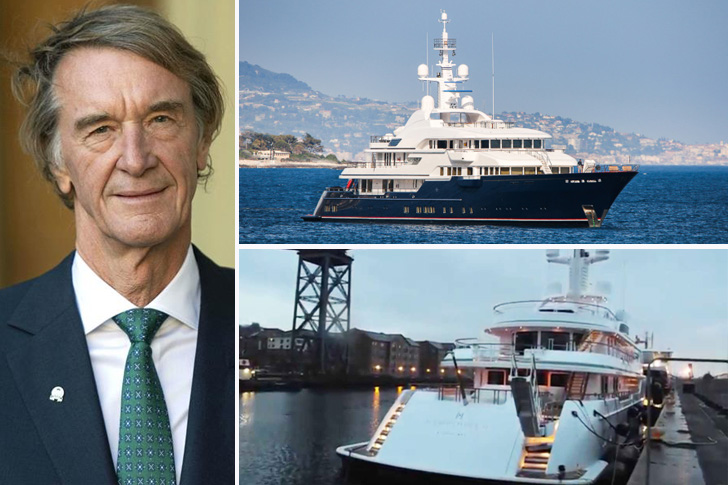 Chemical engineer-turned billionaire Jim Ratcliffe is a known industrialist and financier. He helms the Ineos chemical group as its CEO. The company has a presence in many parts of the world and is estimated to have an $80 billion turnover annually. According to people closest to Jim, the billionaire is shy in public and doesn't give off much information about himself. However, we know that he owns FC Lausanne-Sport, so he might have some inclination for sports. It appears he had a buying spree with sports teams as he also holds ownership over the Team Sky cycling franchise, which he rebranded as Team Ineos.
He also owns the Feadship-built Hampshire II. It has a length of 78.5 meters. The yacht's design is said to be suited for those who seek adventure and are sporty. It can reach a top speed of 16 knots and can comfortably fit up to 12 guests. The yacht got fitted with two MTU 1520kW engines. Redman Whiteley Dixon receives credit for designing the boat's interior.
Jan Koum | Mogambo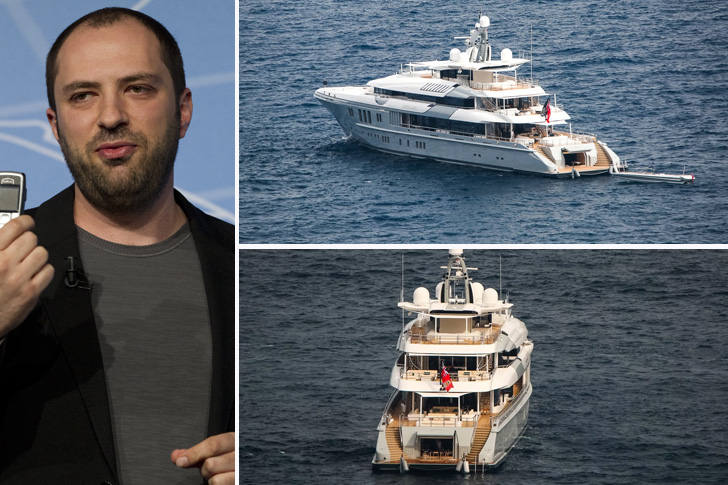 The name Jan Koum might not sound familiar, but the app he was a CEO of is gaining popularity recently—WhatsApp. The app has gained notoriety in recent months for updating its privacy policies, making people fearful of having their data exposed to others. Jan entered the Forbes list of wealthiest people in 2014 after having $7.5 billion in net worth. He dislikes the title entrepreneur because business people, to him, are often driven by money, while he is not—he just wants to create useful products. He also is an active donor for various causes.
The WhatsApp co-founder is the owner of a 241.3-feet yacht that could accommodate up to 12 guests, excluding the 20-man crew. The vessel was built in 2012, with the exterior and interior designed by Reymond Langton Design.  Guests and family members can enjoy various amenities like a spa, a gym, an elevator, and a deck Jacuzzi.
Jorge Paulo Lemann | Anawa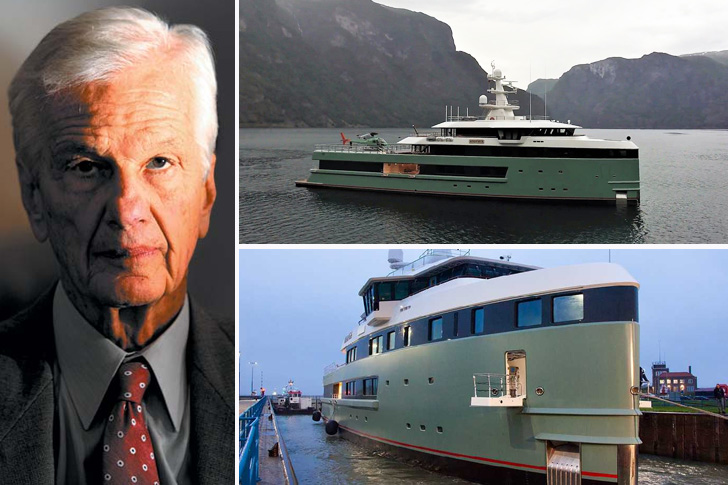 Ranked 37 among the richest in the world, Jorge Paulo Lemann is a businessman interested in investment banking. He used his economics diploma to the best of his knowledge and co-founded the firm 3G Capital. He had a health scare in 1994, but that did not stop him from pursuing his business interests. In fact, people best remember him for acquiring H.J. Heinz Company in 2013 for $28 billion.
Jorge also acquired a SeaXplorer yacht named Anawa built by Damen Yachting. It has a length spanning 62 meters and a gross tonnage of 1,850 kilograms. Monaco Yacht Temptation lived up to its name when it designed the interior. The yacht is indeed tempting and reeks of class and style. It can comfortably sleep up to 12 guests.  The hull is made of steel, while the superstructure is aluminum. It has three diesel engines, all made by Caterpillar.
Khalifa Bin Zayed Bin Sultan Al Nahyan | Rabdan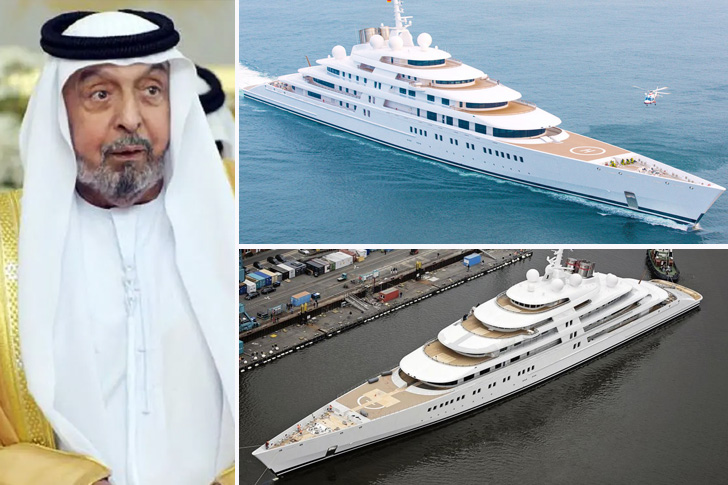 Just like the emir of Abu Dhabi and the de facto head of the United Arab Emirates, Khalifa bin Zayed bin Sultan Al Nahyan gets to enjoy some perks and responsibilities, too. He is the current chairman of the Abu Dhabi Investment Authority, the capital's sovereign wealth fund with $875 billion in its arsenal. While he has scaled back in his duties to the state starting 2014, he retained the ceremonial powers due to being the country's president.
With some of the time freed up, President Khalifa could now enjoy commandeering his yacht, Rabdan. It was built in Australia by SilverYachts and received by the new owner in 2007. The exterior is Espen Oeino's work, while Khalifa Bin Zayed left the interior design to the capable designers of Silvestrin Design. The yacht boasts 2 MTU diesel engines and is capable of up to 27 knots. It also has a range of 5,182 nautical miles, and it is capable of storing 30,000 liters of freshwater—making it capable of long-range travel.
Lakshmi Mittal – Amevi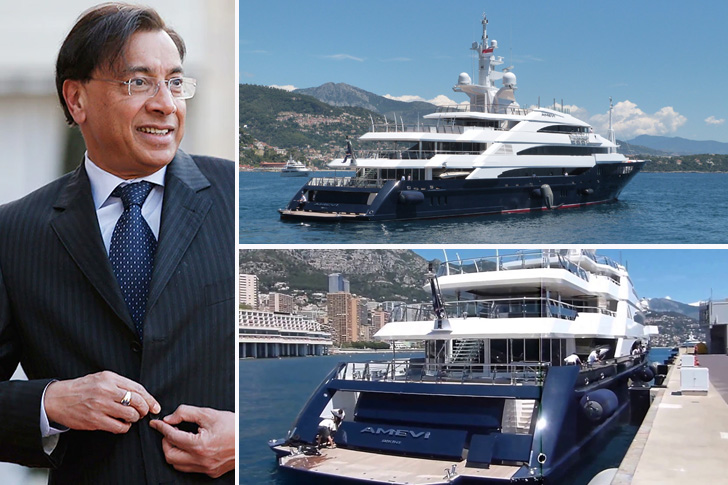 Indian steel magnate Lakshmi Niwas Mittal is based in the United Kingdom and is the CEO and chairman of ArcelorMittal, the largest steelmaking company globally. As of 2020, he has a net worth of $18 billion, so having a yacht is no big deal for the guy, right? The $125-million ship owned by Lakshmi wouldn't even make a dent in his multi-billion dollar fortune.
The Amevi was built in the Netherlands by the Oceanco shipyard. Having investments in this type of luxury is what defines a man's wealth. The ship can reach a maximum speed of 34.3 km/h or 18.5 knots, with 9,100 horsepower. Experts regard the Amevi as one of the world's biggest yachts, with 80 meters long, a 14.20-meter beam, and 2,310 tons. We bet parties thrown aboard this ship are extra lavish.
Mikhail Prokhorov – Palladium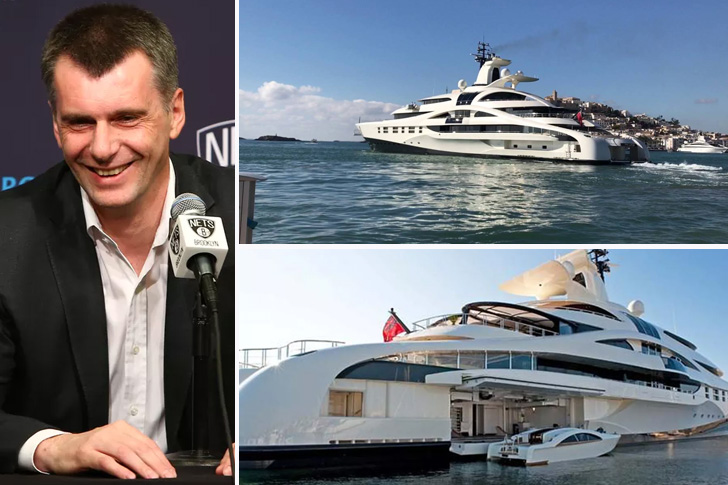 Russian politician, former owner of the Brooklyn Nets, and billionaire Mikhail Dmitrievitch Prokhorov worked in the financial sector and subsequently became one of Russia's leading industrialists. Prokhorov has a total net worth of $11.4 billion and owns a yacht called Palladium. A rich guy like him doesn't have to be a yacht enthusiast just to own one, right? It's just that he can afford this luxurious vessel and only spends a few weeks each year on it.
The ultramodern superyacht is estimated to be worth around $230 million, which Prokhorov purchased back in 2011. You can just imagine how amazing the flooring and the futuristic-looking exterior look on this multi-million yacht of Prokhorov. The Palladium has a length of 95 meters, can accommodate 24 passengers in 12 cabins, and has an impressive maximum of 19 knots. Being extremely rich really does have its perks, doesn't it?
P. Diddy – Double Down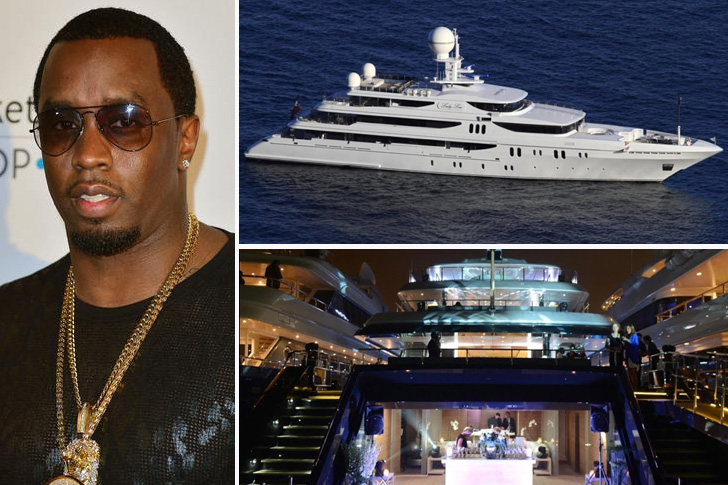 American rapper, record producer, singer, and songwriter Sean John Combs or professionally known by his stage name as Diddy, Puffy, P. Diddy, or Puff Daddy, is a world-renowned musician with numerous awards and accolades, including two MTV Video Music Awards and three Grammy Awards. Currently, Puff Daddy has a total net worth of $740 million, and he owns a $46 million superyacht. We are pretty confident he doesn't have to worry about any personal loans. He truly enjoys the luxurious life.
While onboard the Double Down, he records music tracks, enjoys a few drinks on board, and goes jet-skiing with his children. Refitted and delivered by Codesca in 2016, the superyacht can house up to 12 people in nine different cabins, together with a crew of 18 persons. Combs and his guest can rest and relax on Double Down's Jacuzzi found on the deck near the drinks bar and lounge area.
Ronald Perelman – C2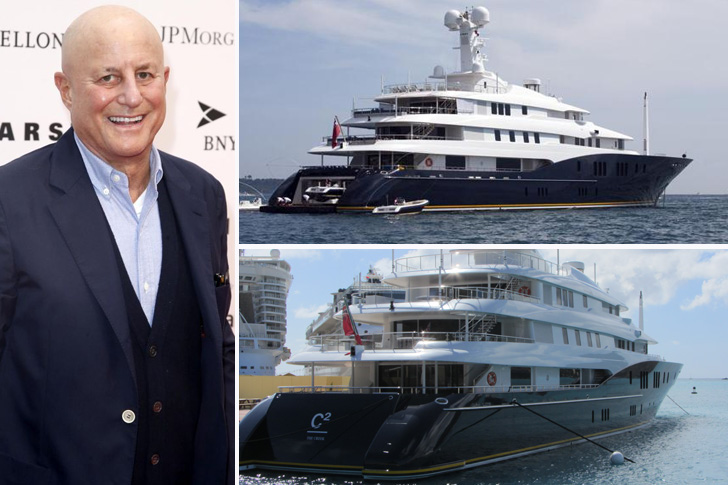 American businessman, banker, and investor Ronald Owen Perelman is the owner of MacAndrews & Forbes Incorporated. Perelman's company has made investments in various companies with interests in licorice, makeup, groceries, cars, gaming, jewelry, among others. His total net worth as of 2020 has reached $4.3 billion, and it's no surprise that he owns a German-made yacht built by Abeking & Rasmussen back in 2009 for $106.4 million, which he calls C2.
The superyacht can accommodate 31 guests and 27 crew members. It is 85.6 meters long, with 15 cabins, and includes an outdoor retractable movie screen and a swimming pool. Why do yachts have pools if water surrounds them, right? Anyway, the superyacht can reach a maximum speed of 16 knots and 14 knots while cruising. It runs on 2,000 horsepower, two Caterpillar Inc. 3516 DITA main engines.
Rupert Murdoch – Vertigo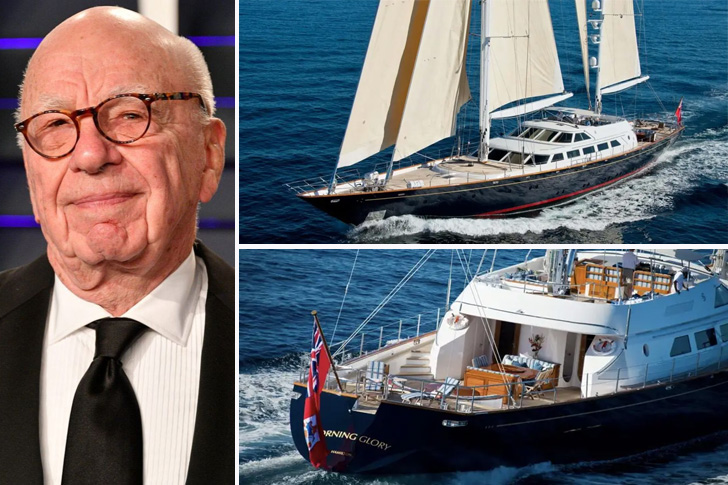 American media mogul Keith Rupert Murdoch is the owner of numerous national, international, and local publishing outlets worldwide, including The Times and The Sun in the UK, The New York Post and The Wall Street Journal in the US, and The Australian, Herald Sun, and The Daily Telegraph in Australia. Murdoch has a total net worth of $16.3 billion as of 2020. With his excellent money management skills, we'll probably see an increase in his net worth in the following years.
He is also the proud owner of the biggest yacht ever built in the Southern Hemisphere — Vertigo. Launched by Alloy Yachts in New Zealand, the Vertigo weighs in at 837 tonnes and is the winner of the Year's 2012 Yacht at the World Superyacht Awards. Even though Vertigo's price is undisclosed, we can still safely guess it's millions of dollars, considering the sheer size of this beauty.
Raymond Thomas Dalio – OceanXplorer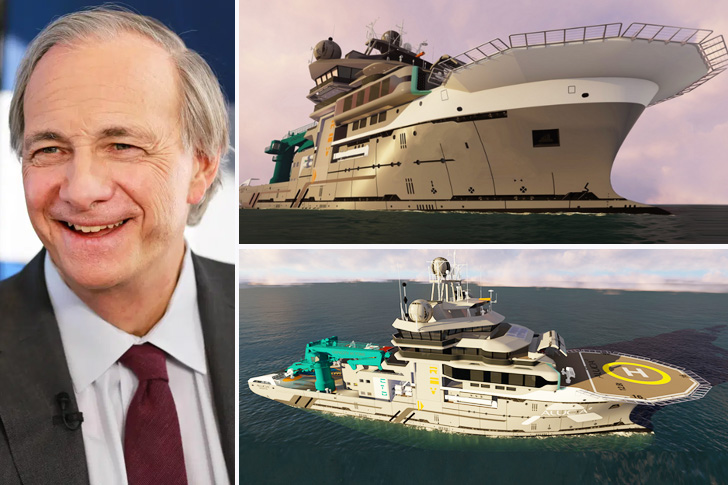 American philanthropist and hedge fund manager Raymond Thomas Dalio served in the world's biggest hedge fund, Bridgewater Associates, since 1985 as the co-chief investment officer, which he founded back in New York in 1975. In ten years, he infused the World Bank's retirement funds with $5 million in investments. According to reports, Dalio is now worth $18.8 billion as of February 2020.
The owner of OceanXplorer, previously codenamed as Alucia2, is now proclaimed the world's most advanced research and exploration vessel. You'll also find a couple of impressive features inside the yacht, including a Hollywood-level media production studio developed in association with world-renowned film director James Cameron and an ultramodern scientific research station. The superyacht is also the flagship of the fleet OceanX, a non-profit media company and ocean exploration led by Dalio and his son, Mark Dalio. The OceanXplorer can now map ocean depths with sonar arrays, a dedicated ROV deployment bay, and a series of submersibles.
Steve Wynn – Aquarius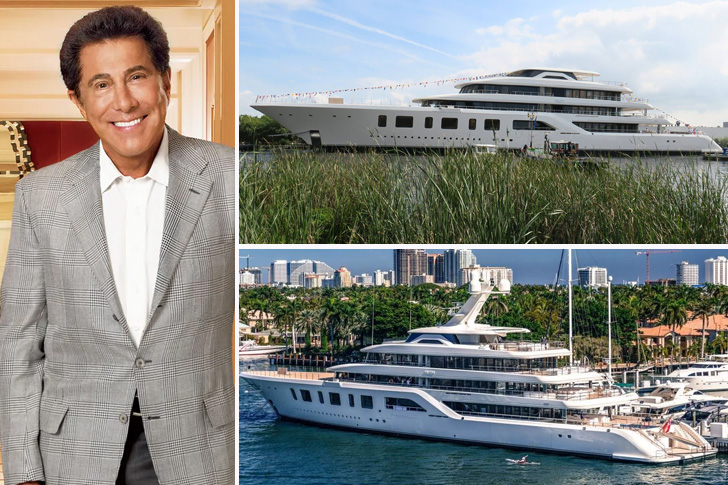 American art collector and real estate businessman Stephen Alan Wynn are famous for his investments and involvement in the American hotel and casino industry. He supervised the operation and construction of numerous notable Atlantic City and Las Vegas Hotels during his career, including The Mirage, the Bellagio, Golden Nugget Atlantic City, and Treasure Island. As of writing, Wynn has a total net worth of $3.1 billion and is far away from ever worrying about any type of debt.
Wynn's 32-meter superyacht called the Aquarius was designed by the Dutch design company Sinot Exclusive Yacht Design and launched at the Feadship yard in Aalsmeer, Netherlands. The Aquarius runs on two MTU engines and can reach a maximum speed of 18 knots, 12 knots while cruising, and an estimated range of 6,500 nautical miles. It can accommodate a limit of 14 persons in seven staterooms, including the 30 crew members it needs for its operation.
Sergey Brin – Dragonfly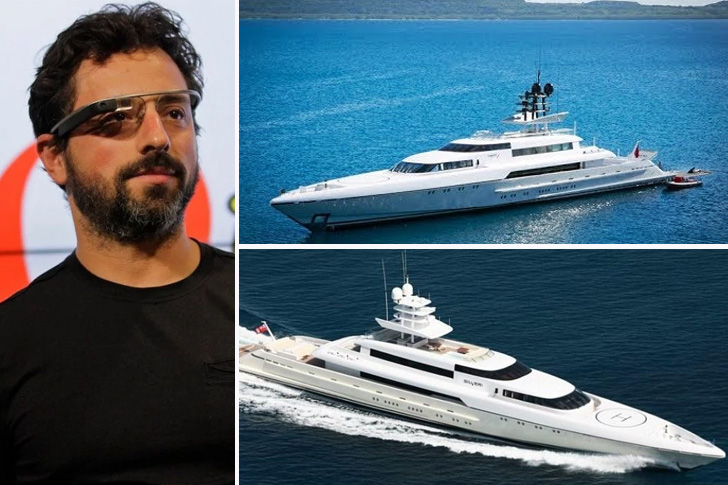 American Internet entrepreneur and computer scientist Sergey Mikhaylovich Brin is the co-founder of Google. He was Google's president in the parent company, Alphabet Inc., until he stepped down in early December 2019. Brin's family moved to the United States from the Soviet Union when Sergey was still six years old. In college, he went to the University of Maryland, College Park, and earned his bachelor's degree in computer science and mathematics.
Stepping up one spot higher in the world's richest list, Brin is now the ninth richest man globally with a total net worth of $75 billion. Considering his wealth, it's no surprise that he owns an $80 million superyacht and is even considered the fastest superyacht globally. Powered by two MTU engines, the Dragonfly can reach a top speed of 27 knots and has a range of 4,500 nautical miles at 18 knots.
Sheldon Adelson – Queen Miri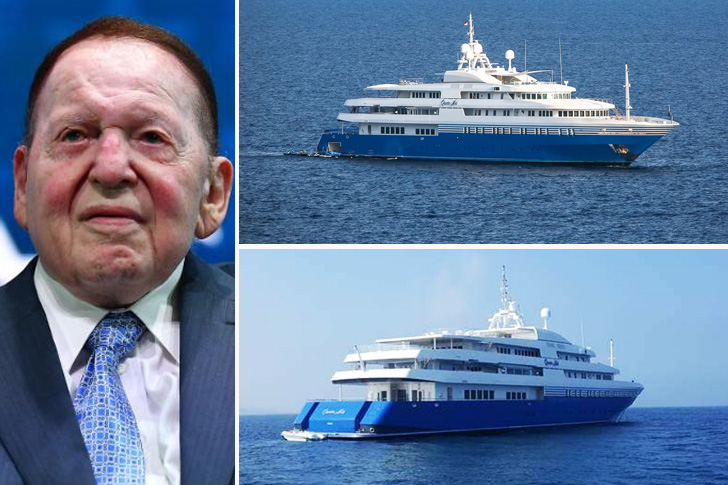 American investor, philanthropist, political donor, and businessman Sheldon Gary Adelson was the chairman, CEO, and founder of Las Vegas Sands Corporations, which also owns the Marina Bay Sands in Singapore. According to a Forbes listing in September 2020, Adelson has a fortune worth $33.5 billion, making him the 28th world's wealthiest person. If anything, this only proves that Adelson has a reliable and impressive financial advisor.
Adelson was also the owner of the 27th largest yacht back in 2008. The private 92-meter superyacht Queen Miri is named after Adelson's wife and was initially named Annaliese. Queen Miri got its design from the luxurious interior designer Studio Massari and Alpha Marine for its exterior styling. Both the superstructure and hull are made of aluminum and steel and run on two Caterpillar diesel engines, with a total power of 5520 bhp. It can reach a maximum speed of over 17 knots with its controllable-pitch propellers.
Tom Brady – Viva a Vida
American football quarterback Thomas Edward Patrick Brady Jr is the star quarterback for the Tampa Bay Buccaneers of the NFL. He played 20 seasons for the New England Patriots and participated in nine Super Bowls, where he won six of them (XXXVI, XXXVII, XXXIX, XLIX, LI, and LIII). He has the record for most Super Bowl participation and wins in the history of the NFL.
Brady took delivery of a recently launched 55-foot yacht from the Netherlands. Viva A Vida, the light blue-hulled Wajer 55S yacht's price is undisclosed, but experts suggest that it costs around several million dollars. It's not like Brady is worried about any insurance since he has a total net worth of $200 million. One of the numerous high-end cruiser brands from the Netherlands deemed fashion statements in U.S. and European marinas. Indeed, Tom Brady knows how to live in style.
Vagit Alekperov – Galactica Super Nova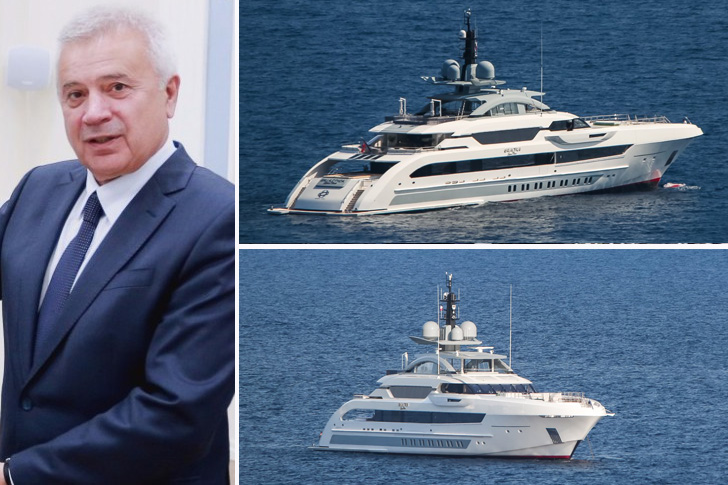 Vagit Yusufovich Alekperov is a Russian and Azerbaijani businessman and is the leading Russian oil company, LUKOIL. He is the world's 65th wealthiest person, with a total net worth of $15.2 billion. He started working at the tender age of 18 years old, and even after graduating in 1974, he continued working as a drilling operator in Kaspmorneft, a Caspian regional production company.
Upon looking into Alekperov's investments, it revealed that he purchased an $80 million superyacht, which has an annual running cost between $5 million to $8 million. The Galactica Super Nova is a 70-meter superyacht with a maximum speed of 30 knots and an endurance of 3,000 nautical miles. It can accommodate up to 12 persons, and including the 16 crew members. It features a waterfall on a glass-bottom swimming pool, a large beach club, an elevator, and a helipad.
Vladimir Potanin – Barbara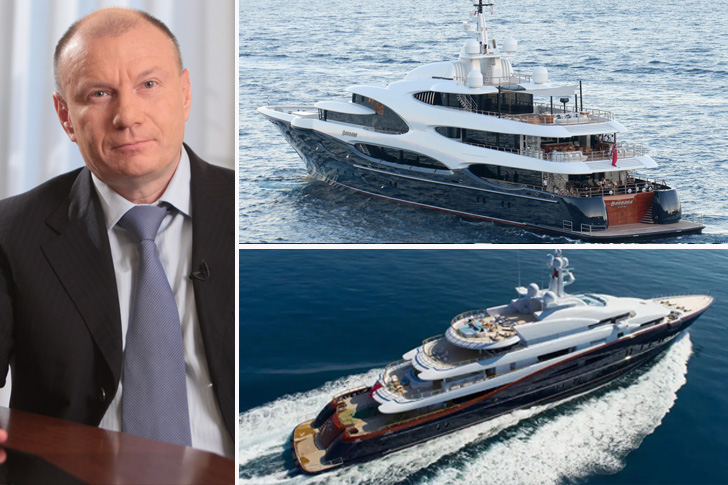 Russian oligarch, entrepreneur, and billionaire Vladimir Olegovich Potanin acquired his riches through the disputed loans for shares program during the '90s in Russia. According to the 2020 Forbes' The World's Billionaires list, he is worth $24.7 billion, making him the richest man in Russia.
Potanin owns an 88.5-meter long superyacht called Barbara, which was built in 2018 by Dutch yard Oceanco. The $150 million superyacht is trademarked with clean and straightforward interiors and exteriors by Sam Sorgiovanni Designs, granting the superyacht the Best Interior Design Award in 2018. Barbara runs on two MTU engines, giving her a maximum speed of 19 knots, an endurance of 4,500 nautical miles, and a 12-knot cruising speed. It can accommodate 12 persons in six of its staterooms and operates on a 20-person crew. Barbara was listed for sale via Fraser in August 2018.
Vladimir Lisin – Socrat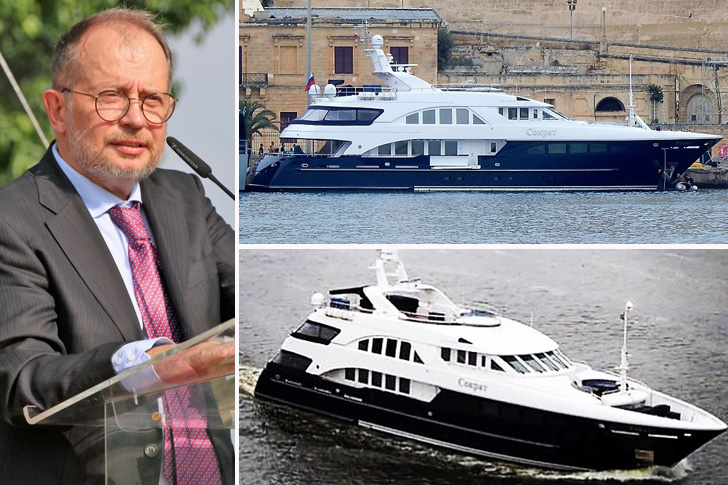 Russian billionaire businessman Vladimir Sergeyevich Lisin is the majority shareholder and chairman of Novolipetsk (NLMK), one of the four biggest Russian steel companies. Lisin is a leading world authority on metallurgical processes published and holds numerous patents on more than 100 articles on economics and metallurgy. Lisin got listed as the 48th richest person globally and the richest man in Russia in 2013. As of November 2020, he lost the richest man in Russia title but gained three spots higher as the 45th richest person globally, with a total net worth of $23.6 billion.
Considering how rich Lisin is, he must have numerous investments, right? One of which is his superyacht called Socrat, built at Timmerman Yachts in Russia. Ken Freivok took charge of the interior, but the overall design was by Vripack. Socrat runs on a top speed of 12.5 knots, with an endurance of 1,500 nautical miles, and is powered by two Caterpillar Engines.
Viktor Vekselberg – Tango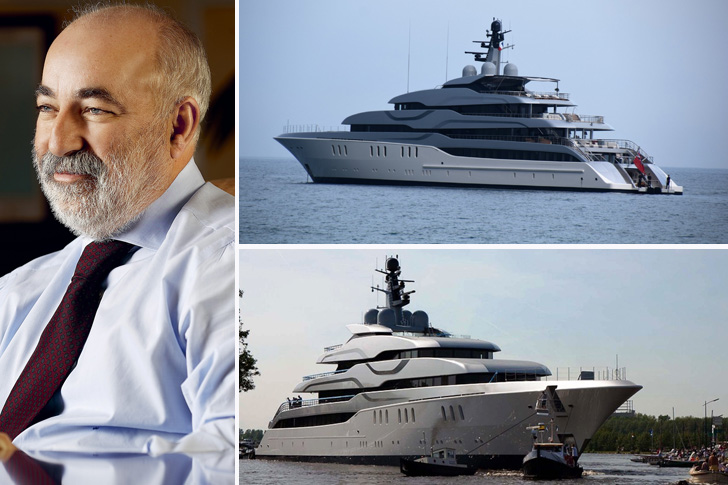 According to Forbes, in October, President, and owner of a Russian conglomerate, the Renova Group, Viktor Felixovich Vekselberg, became the 199th wealthiest person of 2019. He has a total net worth of $11.4 billion. Due to his investments in the Republic of Cyprus, he was offered citizenship in March 2017.
Vekselberg is the proud owner of Tango, a superyacht which was designed by Eidsgaard Design. It has a one-of-a-kind styling with a metallic gray superstructure and white hull. It is powered by four MTU 1,730 hp diesel engines, which gives Tango a maximum speed of 22 knots, a cruising speed of 10 knots, and an estimated endurance of over 5,000 nautical miles. It received the 2012 World Superyacht Awards, and it has a 9-meter custom-built limousine yacht tender, which was built by Compass Tenders.
Viktor Rashnikov – Ocean Victory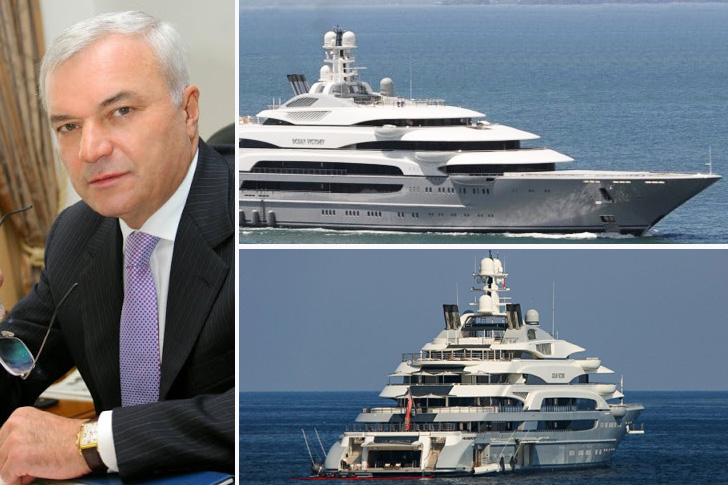 Russian billionaire businessman Viktor Filippovich Rashnikov is an oligarch who made his wealth through steel and iron industry investments. He is the majority owner of Magnitogorsk Iron & Steel Works, one of the world's leading steel producers.
Rashnikov is the superyacht Ocean Victory owner, which was the 10th largest yacht in the world during its construction. Ocean Victory features six pools, seven decks, and a helipad. It can accommodate up to 28 guests and has a total of 56 crew members. It runs on two MTU marine engines, a top speed of 19.5 knots, a cruising speed of 11 knots, and a range of 5,000 nautical miles. The 140-meter superyacht was built by Italian shipyard Fincantieri back in 2014. It's composed of a steel hull, expansive teak decks, and an aluminum superstructure. Not only is this multi-million dollar vessel safe and secured, but it is also incredibly stylish. It is indeed well-suited for the Russian billionaire.
Betsy DeVos – SeaQuest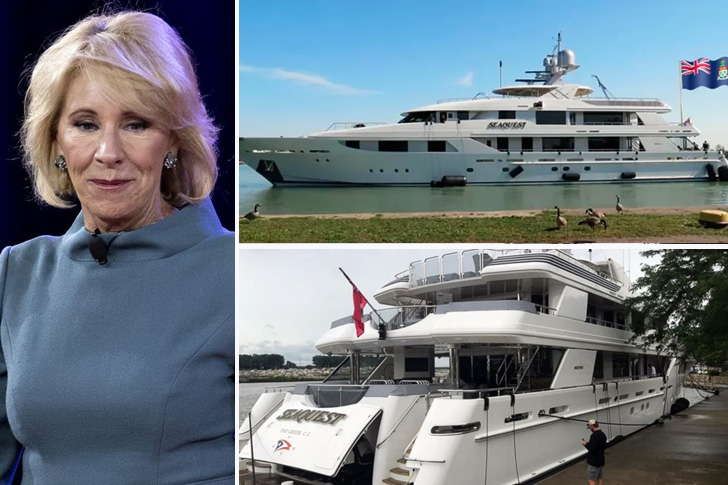 Betsy DeVos is a politician and a former Secretary of Education of the United States under former President Donald Trump's administration. She is known for her support for school choice, school voucher programs, and charter schools. The former secretary also hails from one of Michigan's most affluent families. With their immense wealth, the DeVos family was able to support conservative political campaigns and social causes.
However, aside from social causes, Betsy's family also like to spend their cash on lavish purchases, like this yacht. The family bought the 5-meter superyacht called SeaQuest for a jaw-dropping $40 million. The luxury motor yacht has powerful engines giving her a maximum speed of 24 knots and a cruising speed of 20 knots. It can also accommodate 12 guests in cabins. Unfortunately, SeaQuest was recently damaged by unknown muggers who untied the yacht, causing it to drift apart from its moor. With its enormous price tag, perhaps the right insurance place would help avoid future problems.
Colin Firth – Sunliner Yacht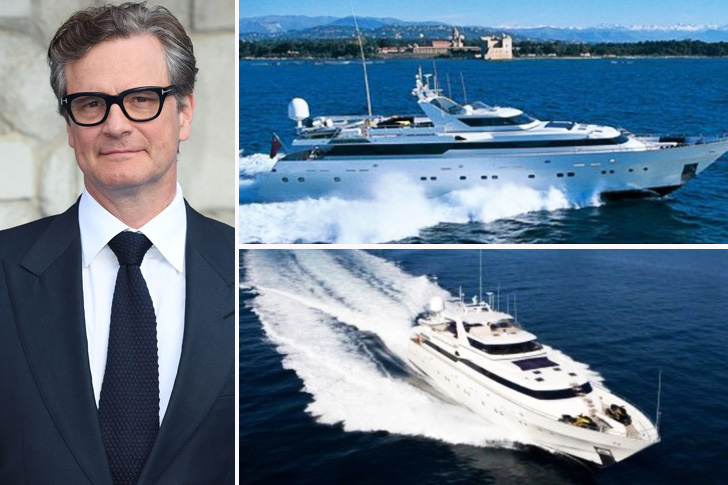 The Academy-Award winning British actor Colin Firth, who rose to fame for his impressive performance as King George VI in the film The King's Speech, lives like a true king in his luxury superyacht called Sunliner. Firth has had quite a successful career since he first started in the entertainment industry during the 80s. His films have grossed more than $3 billion in box-office sales across 42 countries worldwide. He cemented his popularity even further when he finally received a star in the Hollywood Walk of Fame.
Therefore, it's not so surprising that the talented star has amassed a considerable amount of wealth, which is enough to take himself and his wonderful family to the seas aboard the Sunliner. He has reportedly paid $57K per week to operate the yacht smoothly. However, we are sure that the cost didn't even bother him. We just hope that he was also able to acquire an insurance plan for his luxury yacht.
Dr.Dre – Naia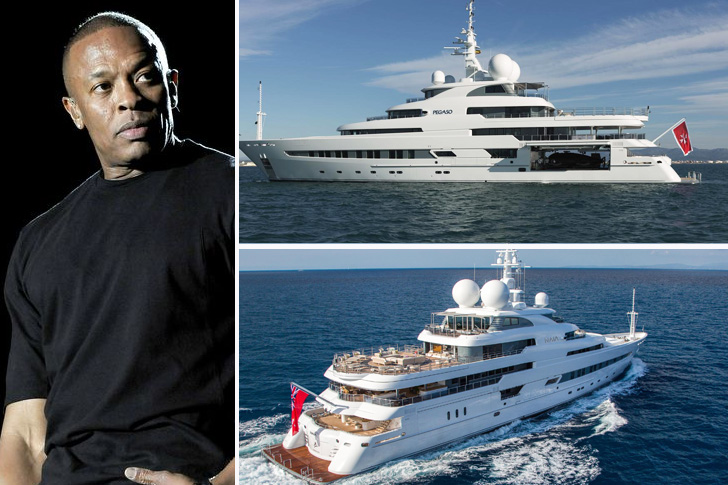 Dr. Dre is a rapper, producer, record executive, and entrepreneur. Fans and critics alike regard him as one of the most important and influential figures in Hip Hop music's history. His reputation is so well-established that he became one of the few artists who successfully transitioned from being a mere rapper to one of the industry's most successful business moguls. He takes the credit for popularizing other eminent rappers such as Eminem, Snoop Dogg, and 50 Cent.
He's also founded the company Aftermath Entertainment and Beats Electronics. With a massive net worth of $880 million, it's a no brainer that he also lives a luxurious lifestyle. In fact, whenever he gets the chance of unwinding from his hectic schedule, he usually takes a vacation and rents the same yacht, the Naia, which reportedly costs him a cool $580 thousand a week to operate. 
Elle Macpherson – Mad Summer
Elle Macpherson is an Australian model who also serves as the executive producer of NBC's Fashion Star. She is known for appearing a record-breaking five times in the Sports Illustrated Swimsuit Issue cover in the early 1980s. Her popularity and sexy figure led people to give her the nickname "The Body," invented by Time magazine in 1989. As the brains behind multiple business ventures, she has numerous income streams that have allowed her to amass a massive net worth.
As such, it's not surprising to know that she could afford herself the luxurious yacht Mad Summer, which she bought for over $32 million. It boasts a spacious area and cabin that can accommodate up to 10 guests and 14 crew members. Certainly, her credit score would allow her to purchase and maintain more luxury items in the future. We wonder how many more luxurious properties are in her portfolio.
Heidi Klum – Nirvana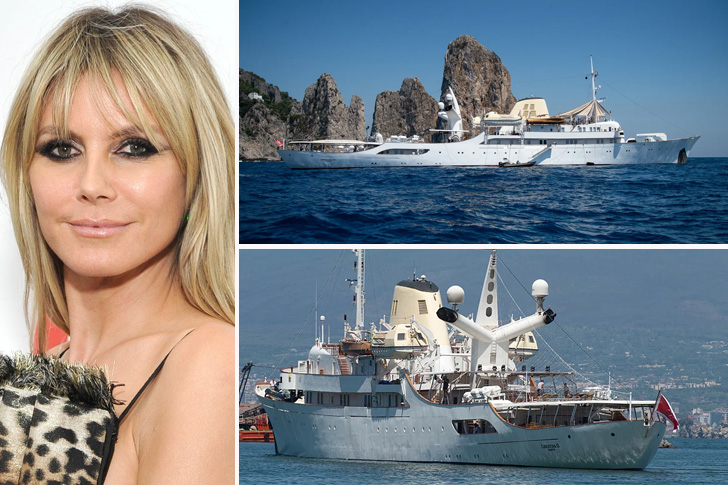 The ever-gorgeous Heidi Klum is a German-American model, host, producer, and entrepreneur. You may know her for being the first German model to appear on Victoria's Secret runway. After her modeling career, she became an award-winning television host, appearing in hit reality shows such as Project Runaway. She earned an Emmy for Outstanding Host for a Reality Show. Interestingly, she's also an occasional actress who appeared in major films such as The Devil Wears Prada and Ocean's 8.
Therefore, it comes as no surprise that she also leads an extravagant lifestyle worthy of a supermodel! Indeed, she was recently spotted on a luxury yacht in St. Tropez with her boyfriend, Vito Schnabel. Sources have reported that the couple rented it for $100 thousand, which was a hefty amount for sure. We just wonder if she ever employs a financial advisor to keep track of her expenses.
James Cameron – Triton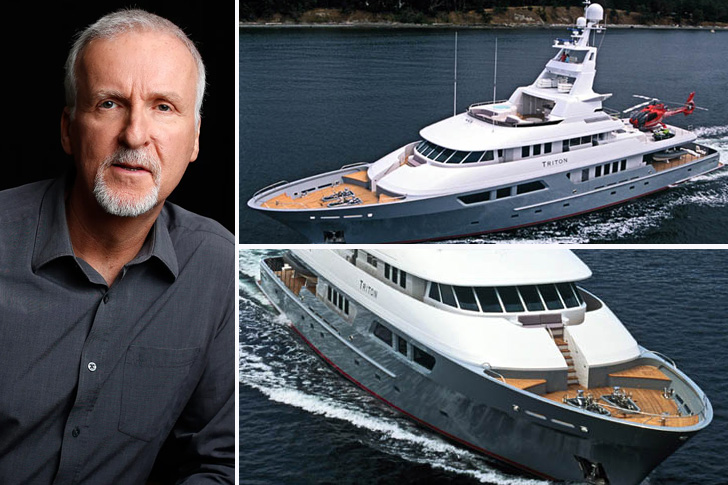 It is an understatement to call James Cameron a successful director, for he just directed what is considered the most successful film ever made, the classic romantic period drama Titanic. And, as if that's not enough, he is also the man behind the hugely successful 2009 film Avatar, which recently surpassed the former with over $2 billion of ticket sales worldwide. He simply is the blockbuster king of Hollywood. He also has a wide array of investments under his belt, including a vineyard and a $2.7 million winery. With his massive wealth, he seems to enjoy a lavish lifestyle and buys luxury items like toys.
In fact, you might be surprised to know that most of the underwater sequences of James Cameron's movies got shot using his own fleet of submarines. And his most priceless possession is the Triton Submarine, which he bought for a mind-boggling $3 million. 
Jamie Foxx And Katie Holmes – Utopia III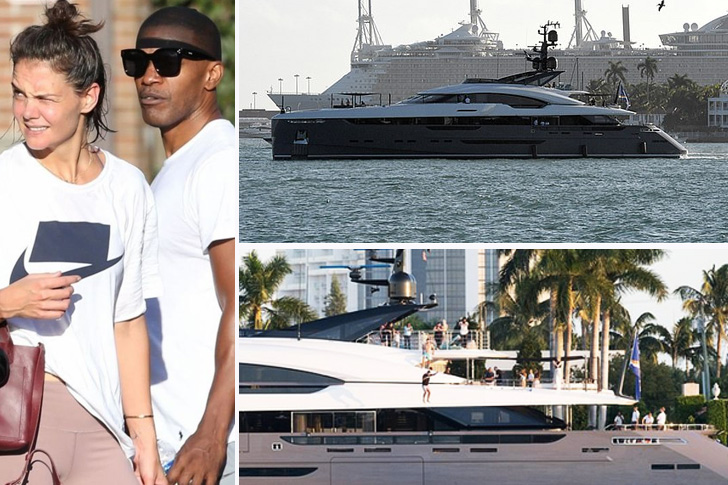 Jamie Foxx and Katie Holmes used to be a power couple in Hollywood. Unfortunately, the two stars called it quits after six years of dating. Nevertheless, they shared beautiful memories in many places, and some of those were aboard this luxury motor yacht called Utopia III. Indeed, with their celebrity status and Hollywood-grad paycheck, they can afford any luxury item that their money can buy. The former couple was once spotted spending time together on the $8 million, 150-foot yacht.
The spacious ship features five staterooms, two bathrooms, walk-in wardrobes, a vast sundeck, and ten crew members. Although they're no longer together, we're still happy to see them doing well in their respective careers. Holmes was recently seen in the blockbuster film Ocean's 8, while Jamie Foxx recently had a credit role as a voice actor for the 2020 Pixar film Soul.
Jeff Bezos – The Flying Fox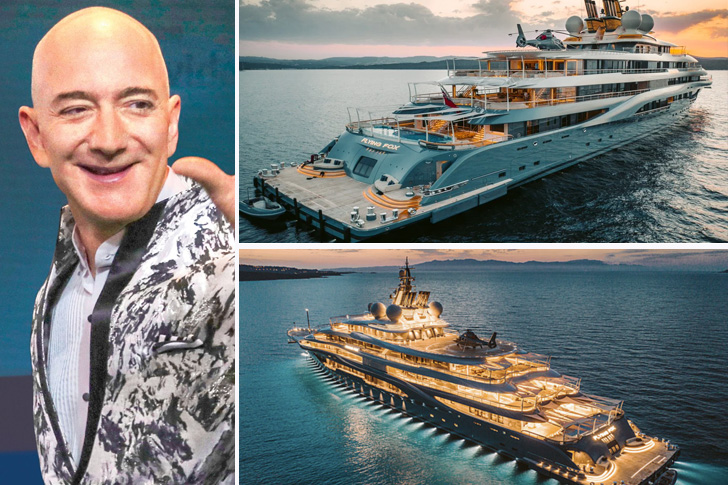 As the second-richest person in the world with an estimated net worth of $182 billion, buying hundreds of millions worth of luxury items is what ordinary shopping looks like for Jeff Bezos. Seriously, "massive" is a puny adjective to describe his net worth. Indeed, when the Amazon founder goes on a shopping spree, he doesn't hold back. That was certainly the case when he bought the superyacht called The Flying Fox for an unbelievable amount of $400 million.
The superyacht is the 14th largest yacht on Earth, boasting 136 meters in length, and features a strikingly eye-catching hull and interior. It also has a powerful engine of 12,000 horsepower, and the maximum speed it can develop is 20 knots. The luxury superyacht is so huge that it serves up to 86 people with 11 private cabins and 25 standard rooms. How's that for a lavish investment? 
Judith Scheindlin – Triumphant Lady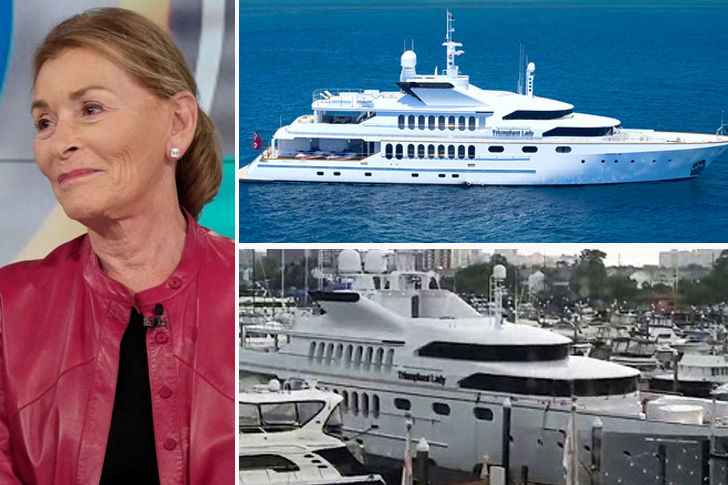 Judith Scheindlin, who's affectionately known in the professional legal world as "Judge Judy," purchased the luxury motor yacht called Triumphant Lady for $6.9 million. The 154-foot-long vessel was manufactured in 1985 and designed by Sterling Yachts. Cindy Mason designed the interior while the exterior got its design from Bannenberg & Rowell. Judge Judy had no qualms shelling out money on the yacht as it is truly a sight to behold. Besides, what else can you think of doing when you have a net worth of $420 million on your bank account?
Judge Judy deserves all the fruits of her hard work, and she should enjoy every cent of it. We just hope that she takes care of her health by acquiring a sound health insurance plan that she can surely buy so that she should not have to worry about the future.
Katy Perry – OSCAR II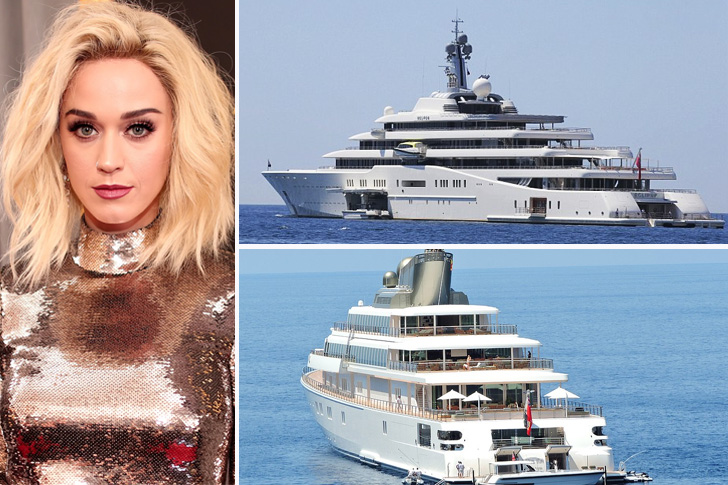 Katy Perry is an American singer-songwriter and performer known as one of the last decade's best-selling pop stars. She is known not just for her quirky on-screen persona but for her other public exploits as well. As such, she's a superstar who doesn't shy away from the paparazzi. In fact, she embraces it as her crazy lifestyle, which only attracts nosy photographers even more. She was once spotted enjoying a vacation with her husband Orlando Bloom, spending some quality time on a luxurious 103.41-foot superyacht called Oscar II, which cost the star a whopping $80 thousand a week.
However, with a net worth of $280 Million, money is probably the least of her worries. We haven't heard anything from her recently, but maybe that's because she's already a mom. She must be enjoying the time of her life. We're confident that with the wise investments she has made, her daughter will probably have a comfortable future waiting.
Kirsty Bertarelli – Vava II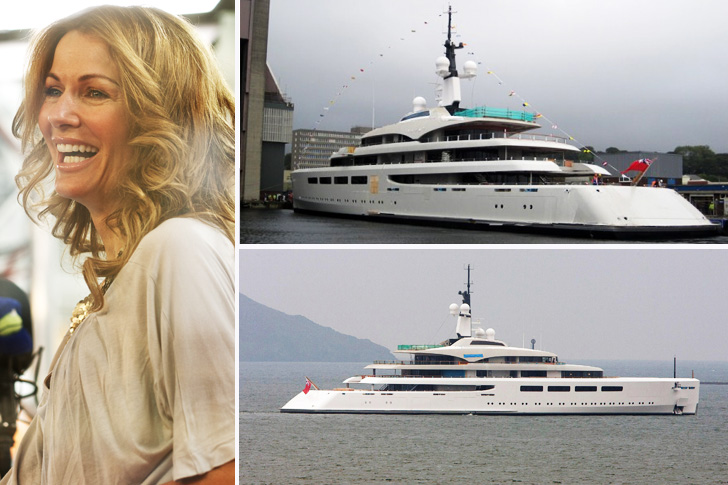 Kirsty Bertarelli is a British singer-songwriter who wrote hit songs such as "Black Coffee." She's also the former Miss UK, placing second runner-up in the 1988 Miss World pageant. She is also among the richest woman in the UK. Indeed, being married to a wealthy businessman, Kirsty and her husband consistently rank high among the UK's wealthy list. Apart from that, Kirsty also serves as a trustee of The Bertarelli Foundation, which works primarily in neuroscience research and marine conservation and science. Given her affluent background, it comes as no surprise that she also has a taste for expensive and luxurious items such as the massive superyacht called Vava II, which has a price tag of $130 million.
The yacht is said to be the 33rd largest in the world. Although we know that she doesn't bother herself much with money, we think it's still a good idea to get this massive yacht an insurance plan so there wouldn't be unnecessary costs in the future.
Kris Jenner – O'Ceanos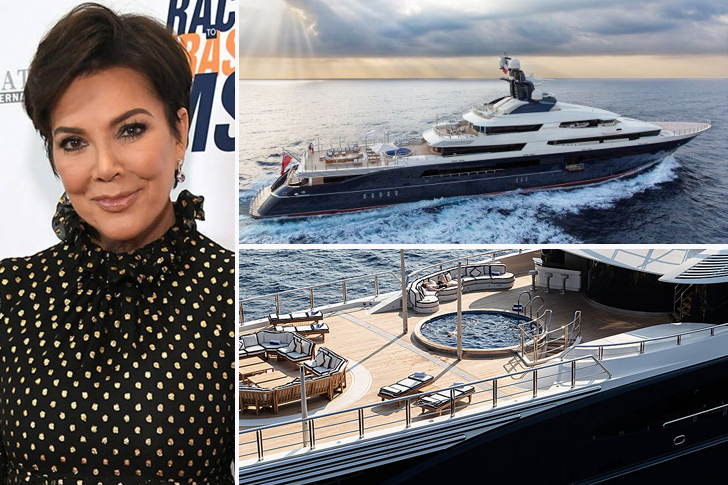 Kris Jenner is an American TV personality and socialite whose claim to fame is being the mother of hugely popular and successful daughters. She is widely known for her credit role in the reality television series Keeping Up with the Kardashians. Aside from her work in the entertainment industry, however, she is also a successful producer and entrepreneur. She runs her own production company, Jenner Communications, which is based in Los Angeles. As the matriarch of the family, she also serves as the manager of her daughters Kim, Kourtney, Khloe, Kendall and Kylie's lucrative career.
As such, it goes without saying that she has amassed a significant amount of wealth. They were once spotted enjoying a vacation aboard the luxurious private yacht called O'Ceanos. As a family of superstars, it is understandable that they would want some privacy. Indeed, the staff on board are trained to be very discrete, and the yachting industry has a code that client confidentiality be strictly maintained.
Larry Page – "Senses"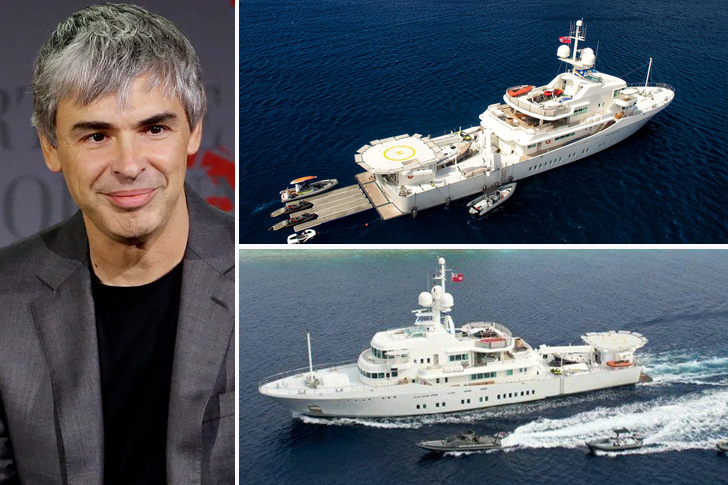 The co-founder of Google, Larry Page, is no stranger to ultra-expensive items. As the current 10th richest person in the world, he can easily afford to buy himself literally anything without breaking a sweat. And this is certainly the case when he bought the superyacht Senses for an outstanding $45 Million from a Kiwi businessman in 2011. The yacht is equipped with a helipad, gym, multi-level sundecks, ten luxury suites, a crew of 14, and an interior designed by French designer Philippe Starck.
It may appear very lavish and costly, but Page must have seen it as a wise investment that he can earn money from in the future. Of course, when it comes to business, we're not going to doubt the man behind the engine that gives us most of the information in the world, are we? — no, of course not.
Lindsay Lohan – Oasis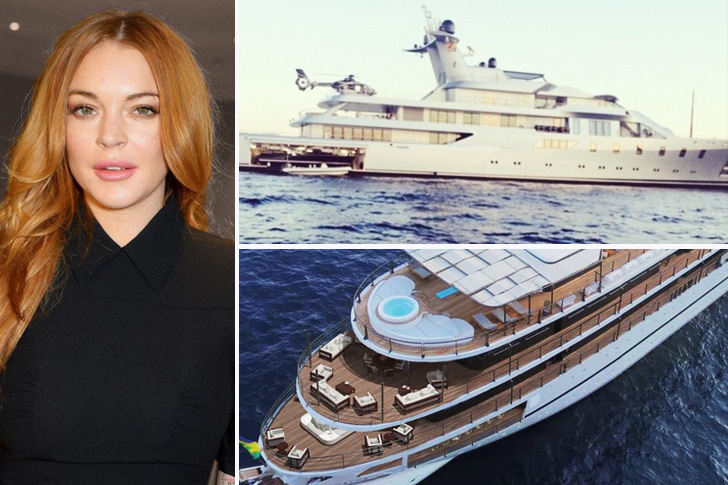 Lindsay Lohan is an American actress who was put on the map for her role in hit comedy film The Parent Trap and has been equally infamous for her excessive partying. Although she appears to have quieted down recently, she still prefers to spend lavishly from time to time. In fact, she was last seen renting this overly extravagant 193-foot yacht called Oasis in Cannes, which cost her $400 thousand a week. The yacht offers everything from contemporary art galleries and a mega piano to some plush interiors.
We aren't entirely certain how she was able to afford such a luxurious expense, as her total assets reportedly dwindled to $500 thousand. If I were her, I would talk to my financial advisor immediately so that I could get all the help I need to get my finances back on track and live comfortably in the future.
Michelle Rodriguez – Ecstasea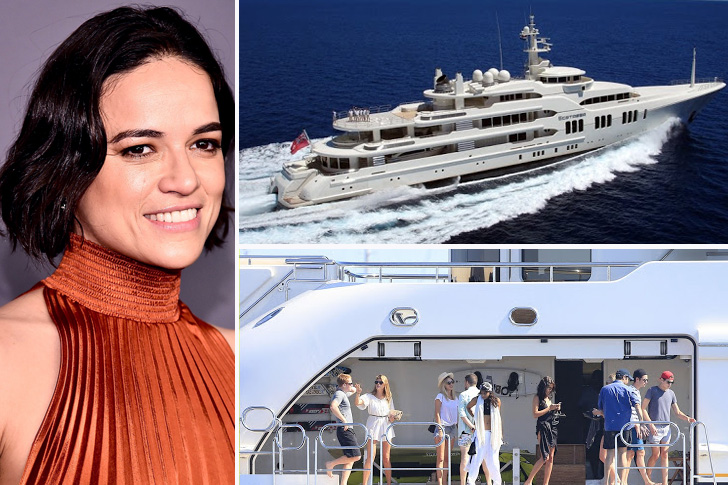 Following the success of the blockbuster The Fast & Furious franchise, it's not so shocking to see that the movie had made Michelle Rodriguez extremely wealthy. However, it seems that Michelle is a natural for anything lavish as she has been seen many times spending vacations aboard the 282-foot yacht Ecstasea that costs $500 thousand a week to rent. Indeed, she has already gotten used to the life of the rich and famous, considering the amount she's spending for such an extravagant lifestyle.
But the strong female star has a net worth of $30 million, so she probably has no problem buying such luxuries. And it is indeed a luxury in every sense of the word. The super yacht is reported to have a full massage room and spa facility, a huge gym, jet skis, and two helipads. We just hope that she also has an insurance plan in check to complete her awesomeness.
Neymar – Azimuth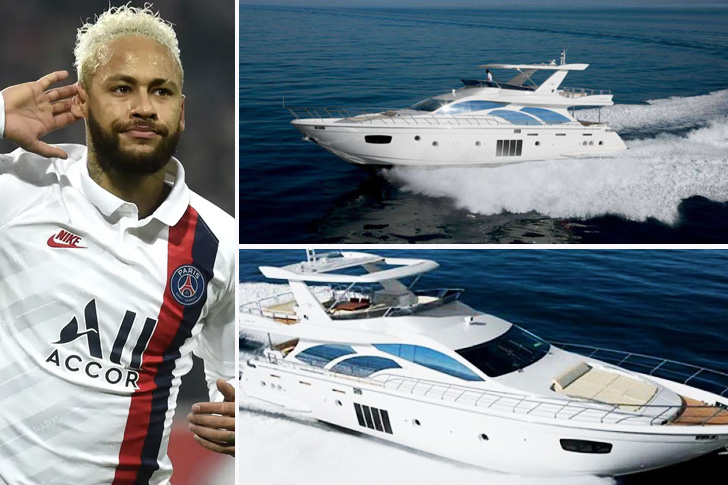 Neymar is one of the most recognized athletes in the whole world today. The 28-year-old football superstar already has a long list of accolades and achievements in the realm of football. He has also been able to represent his country, Brazil, in numerous World Cup matches. With an Olympic and club schedule, it is only right that he enjoys his vacation time in a luxurious manner.
Neymar uses his luxury yacht from Azimuth for his private getaways. In turn, this luxury is yacht worth around 3.5 million to 4 million Euros. His financial advisor certainly didn't bat an eye when Neymar purchased this luxury yacht that has a ton of amenities. He certainly has the fortune and net worth to pay for it, around $95 million to be exact. With a flourishing sports career, expect Neymar's fortune to increase over the next few years. Perhaps we'll see another superyacht from Neymar soon.
Pitbull – Arianna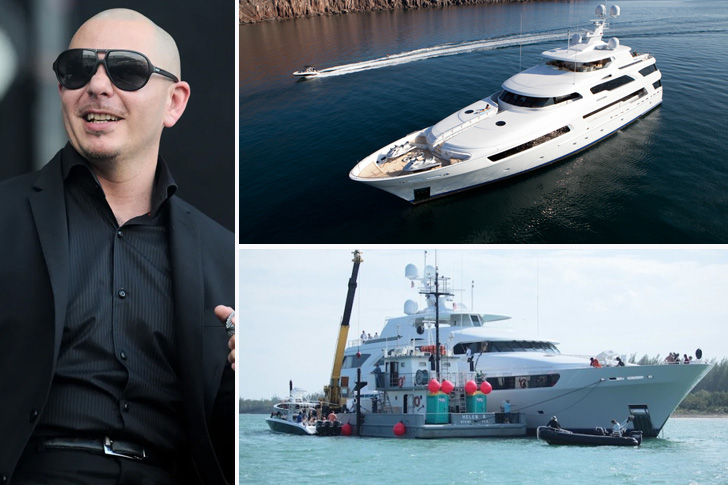 There are definitely perks that come with being one of the most popular musical artists in the whole world today. For Pitbull, it's his Arianna luxury yacht. It's only right that he travels in style after a busy schedule filled with recordings and touring. You'd have to think that Pitbull's Arianna has all the amenities inside of it. After all, it's billed as the world's largest 50-meter luxury yacht. There's plenty of space to put any amenity that Pitbull wants with 7,500 square feet of interior and living space!
Pitbull's financial advisor must have given him the "OK" as the price of this yacht doesn't even compare to his $100 million net worth. Pitbull's also an entrepreneur and a brand ambassador for a long list of brands. If he ever wants to travel in style, he can always take his Arianna along with him.
Sheikh Hamdan Bin Mohammed Al Maktoum – Smeralda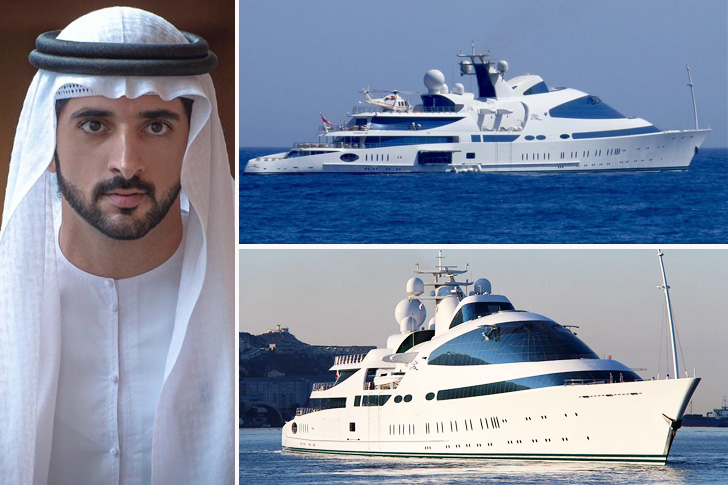 The next personality on our list is an Emirati businessman and politician. He's Sheikh Mohammed bin Rashid al Maktoum, and he currently has a net worth of $14 billion. He certainly made good use of his fortune by owning a fleet of luxury yachts. One yacht in his collection is the $70,000,000 Smeralda Silver Yachts 2012. The Emirati royalty and Vice-President can certainly bring anyone he wants along with him in the Smeralda as it can accommodate a crew of 24 and around 12 guests. Sheikh Mohammed certainly loves to cruise in style along the Persian Gulf!
Mohammed Sheikh deserves credit for those enticing man-made palm islands in the Persian Gulf. He also serves as the Prime Minister of the United Arab Emirates. Certainly, he's all for luxury upgrades and luxury living. No wonder Dubai and the UAE always looks so lavish!
Bruce Dickinson – Boeing 757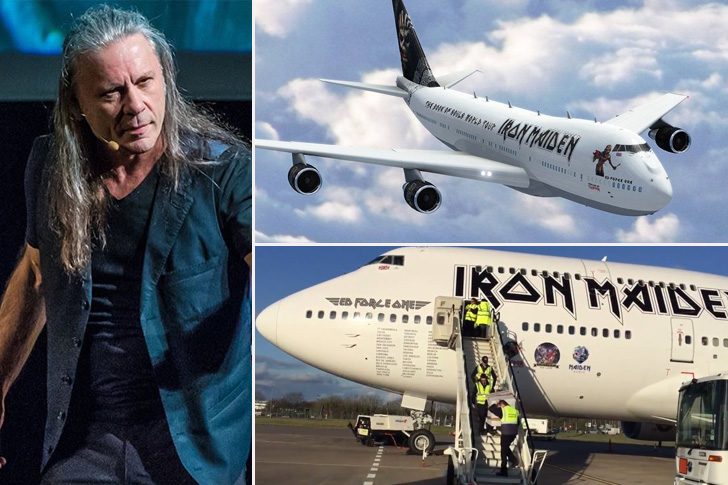 Being the lead singer of a popular rock band surely comes with a ton of perks. Bruce Dickinson is the lead singer for the popular metal band "Iron Maiden." Iron Maiden has done numerous tours and performances. Their choice of transportation? Their own private Boeing 757. You might wonder why they need such a huge plane for just one band? Well, Iron Maiden's performances involve numerous contributions from people behind the scenes. For the band, the 757 is just enough to make sure everyone gets to another country in a comfortable manner.
Bruce Dickinson deserves credit for being the face and voice of Iron Maiden throughout the years. Throughout his career, he has acquired a net worth of $115 million. His band members are also multi-millionaires as well. In turn, they should be able to split the maintenance costs for the Boeing 757 equally.
Celine Dion – Bombardier BD 700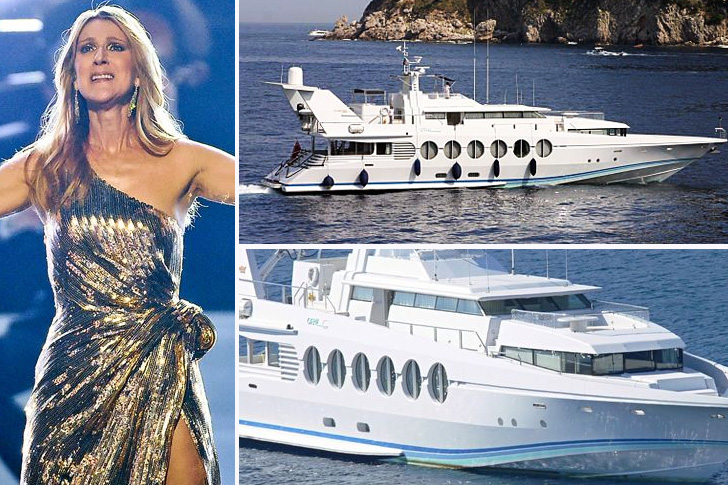 Celine Dion is one of the most successful artists and musicians in history. She has released countless successful albums and singles throughout her career. Celine Dion's decorated music career has allowed her to acquire a fortune of $455 million. Of course, she made it to the $400 million range doing numerous tours and performances. Apparently, she managed to get from one performance to another through her Bombardier BD 700 Global Express. Her financial advisor certainly approved of this purchase as it allowed Celine Dion to easily tour around the world for her performances.
After all, Celine's net worth alone could easily cover the $51 million price tag on this Bombardier Global Express private plane. This private plane has a luxurious interior design, which should allow Celine Dion to stay comfortable as she travels into another city and country. It's even spacious enough that the music superstar can invite friends to ride along.
Clint Eastwood – Aerospatiale A-Star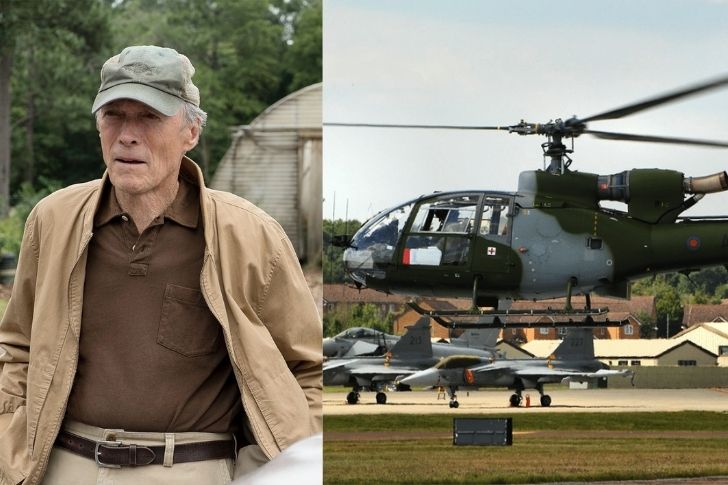 Clint Eastwood is one of the most successful and decorated actors in modern history. You may have seen Clint Eastwood's iconic performances in Mystic River, Unforgiven, and many more. He also has directing credits for several critically acclaimed movies. With his tenure in show business, it's only reasonable that he has a $375 million fortune. So, does Clint Eastwood own any luxurious plane or yacht? On the contrary, he loves flying, but he chooses to fly in his Aerospatiale A-Star Helicopter.
Clint Eastwood won't have any problems flying this $2.4 million chopper by himself. The legendary actor and director is also a licensed helicopter pilot for almost 30 years! In a 2016 interview, he said that he loves flying because his in-flight identification only goes by the code on his aircraft. It's certain that the A-Star helicopter from Aerospatiale would require maintenance costs to fly safely. However, we're sure that Clint Eastwood has that covered too.
Dennis Quaid – Cessna Citation II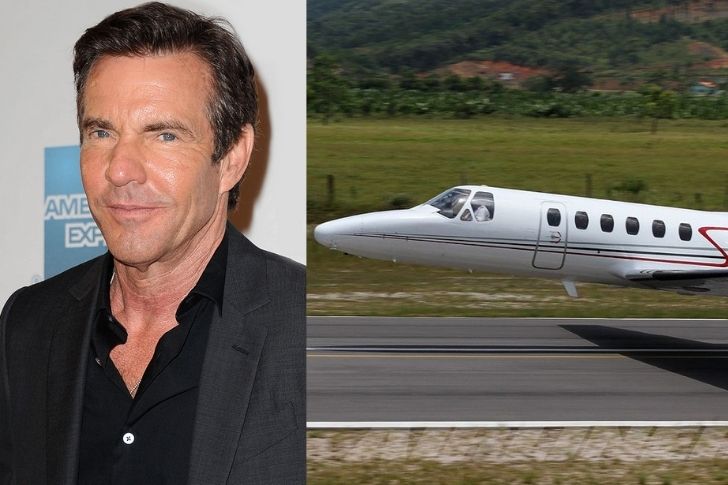 Dennis Quaid is an American actor who's widely known for his dramatic and comedic roles. Certainly, being an Actor comes with a few perks, and one of them is a lavish vacation tour. Dennis Quaid usually goes for relaxing vacations through his Cessna. One little known fact about Quaid is that he was afraid to fly at first. However, he conquered this fear of flying once he was preparing for his role as Mercury astronaut Gordon Cooper in The Right Stuff. Since then, Dennis Quaid has taken himself to fly over places like Belize, Nicaragua, Honduras, and even the Grand Canyon.
The Guardian dubbed Dennis Quaid as one of the best actors to never win a prominent award. Though he didn't receive credit for any awards, Dennis was able to accumulate a $30 million fortune. In turn, he could have easily paid for his $1.7 million Cessna Citation II.
Dave Coulier – Beechcraft Bonanza B35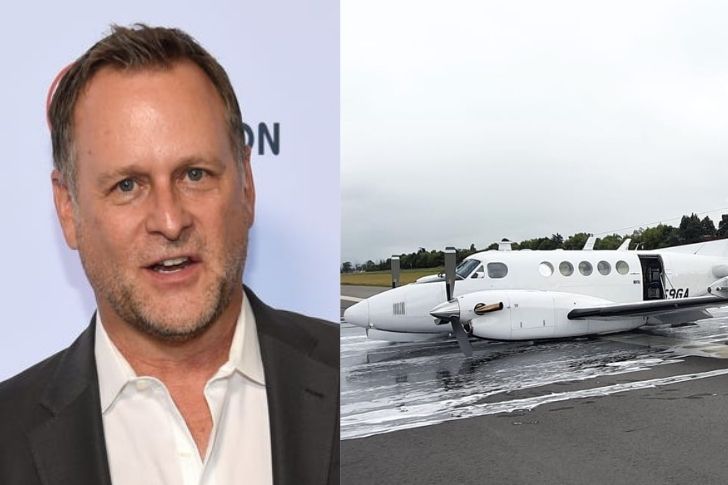 David Coulier is one American comedian that makes it to our list with his Beechcraft Bonanza B35. This comedian also does stand-up work and impressions. He's also a television host and has a license to fly. You can recall Dave Coulier in his role of "Joey Gladstone" on the hit ABC sitcom "Full House." He was also able to land a voice role for "Peter Venkman" in the cartoon adaptation of the Ghostbusters. He also played the infant incarnations of Bunsen and Animal on the Baby Muppets.
It's no secret that Dave Coulier has had quite a decorated TV career. And, he spends his free time flying in his own Beechcraft Bonanza B35. A Beechcraft Bonanza B35 typically costs around $500,000 to $1,000,000 today. Dave must really cherish his plane as he didn't need any money loans to pay for it together and its maintenance costs. He can easily fly to another place and spend time away from the Hollywood limelight.
Elvis Presley – Convair 880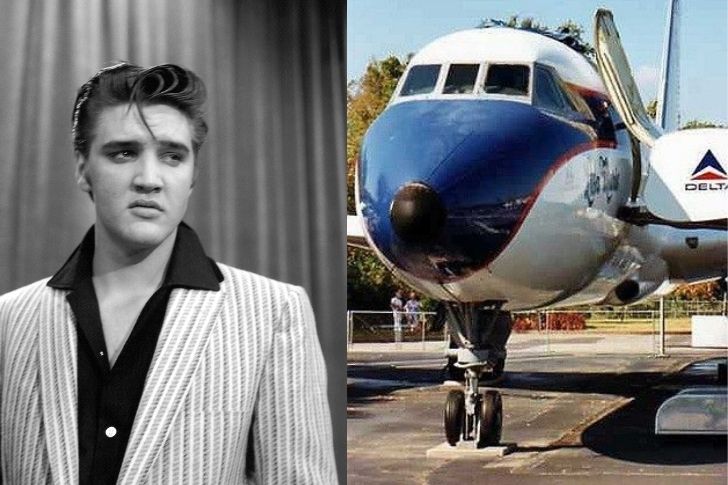 It's one thing to be a Rock 'n Roll artist, but it's another thing to be the "King of Rock 'n Roll." Everybody knew Elvis Presley at the height of his career a few decades ago. During his time, he has been known to purchase some of the best planes made. One plane in his fleet was the Convair 880 Jet. At his time, the Convair 880 costs around $250,000.
If Elvis Presley had a financial advisor, he surely wouldn't have minded the purchase as he had a net worth of $5,000,000, now equivalent to $20,000,000, at the prime of his career. Fans can take a tour of this Convair 880, where it currently resides at Graceland, Memphis. It'll certainly be an interesting experience to see how the "King of Rock 'n Roll" rolled around for his tours and performances back in the 50s.
Enrique Iglesias – Gulfstream IV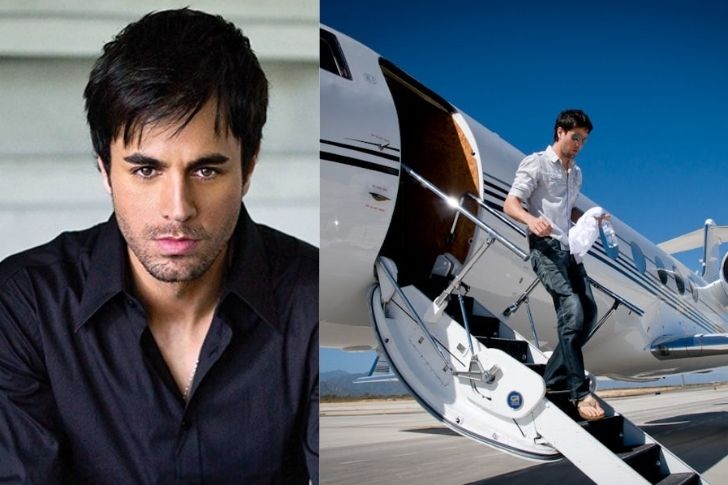 One cannot deny the popularity of Enrique Iglesias in the late 90s and the early 2000s. Iglesias has been dubbed the "King of Latin Pop," and his breakthrough into mainstream media certainly added to his worldwide popularity. Of course, with his worldwide presence at the time, he was bound to go on numerous tours to promote his studio albums. His choice for transportation was flying, and he flew in a luxurious way with the Gulfstream IV. The Gulfstream IV costs around an average of $2 million to $5 million. Enrique can certainly pay for this luxury plane together with its maintenance costs with his $100 million fortune.
Enrique Iglesias received credit for his popular singles like "Hero." He can certainly perform his popular song on any corner of the globe as he has a very reliable private jet. He can even fly his Gulfstream IV by himself! Enrique Iglesias has a pilot's license that allows him to fly small to medium-sized planes and helicopters.
Harrison Ford – Cessna 680 Sovereign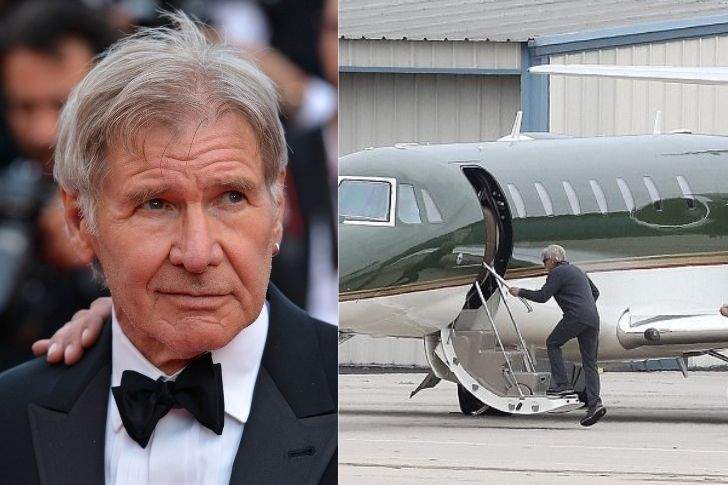 You're bound to be widely known as an actor when you've starred in the original Star Wars movies and played Indiana Jones on the big screen. Harrison Ford is one decorated actor who loves to indulge himself in planes. When he's not on set, he's often enjoying himself in a nice car, bikes, a helicopter, or in a plane! He used to own a Cessna 525B but later sold it and bought a Cessna 680 Sovereign.
Harrison Ford certainly won't have any problem acquiring the plane he wants as he currently has a $300 million net worth. Of course, he also has a pilot's license. Without a doubt, his financial advisor wouldn't mind much about the purchase as the 79-year-old has been taking a break from acting. There's nothing else for him to do but enjoy flying in his beautiful Cessna 680 Sovereign.
Hilary Duff – Hawker 800 XPR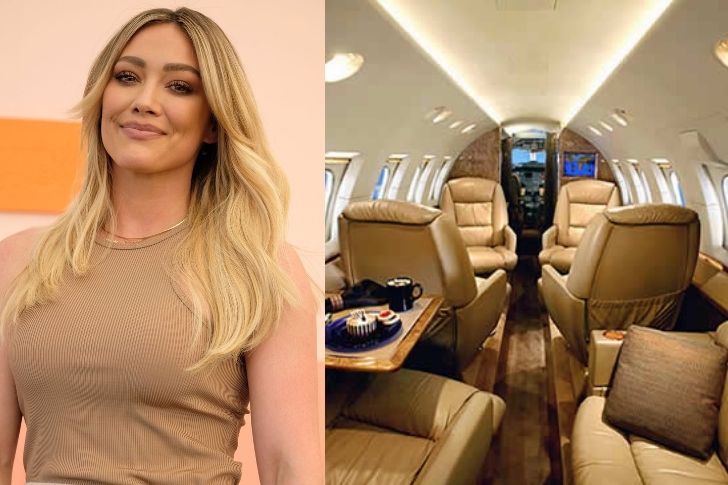 Hilary Duff is a popular American actress, singer, songwriter, producer, writer, and businesswoman. You might have known her for her roles in various movies back in the 2000s. Now, Hilary Duff is one of those child stars who didn't end up broke. She has a net worth of 25 million and has a Hawker 800 XPR jet in her arsenal. Hilary Duff has taken a break from acting and music for quite some time now, so we'd expect that the plane rides are meant for her business ventures.
Certainly, plane rides can also be just to spend time with her family and travel. Her financial advisor surely didn't mind the purchase as she can finance this private plane without any problems. The Hawker 800 XPR currently costs $2.2 million on average, a price that Hilary can pay for together with its maintenance costs.
Jay-Z – Bombardier Challenger 850
Jay Z or Shawn Carter is one of the most successful rappers, musicians, and icons in modern history. He has released countless singles and a good number of award-winning studio albums. Of course, he achieved worldwide popularity through his rap albums and career. With his influence, he was able to accumulate a fortune of around $1 billion. Carter is also married to Beyonce. In turn, his loving wife gave him a Bombardier Challenger 850 for a whopping $40 million! Both Jay Z and Beyonce could easily travel all the corners of the world in this private jet that has enough space for 15 to 19 passengers. They could even bring in a bunch of nannies if they wanted to! The luxurious gift has an elegant kitchen, living room, two bathrooms, and bedroom.
Jay Z hasn't been creating music for some time now, and Beyonce reduced her influence in the media. One would speculate that they have been enjoying their private jet by traveling. Surely, they won't need any money loan to pay for this $40 million jet's maintenance costs.
Jerry Seinfeld – Gulfstream V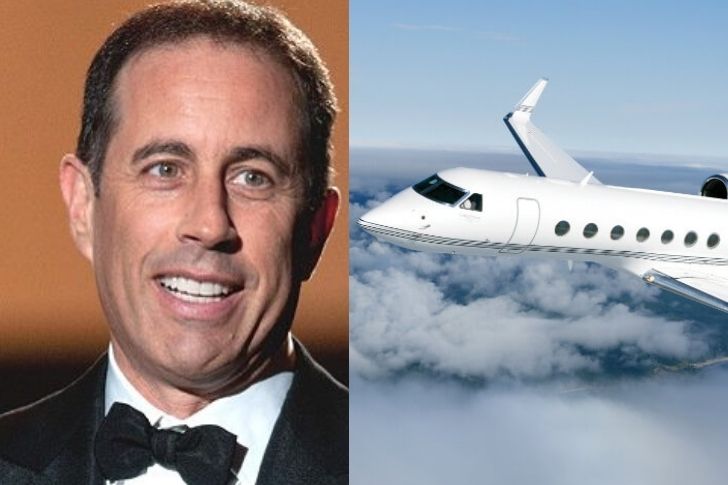 Like movies, TV shows have introduced us to many of the entertainment industry's talented celebrities. One such figure is the actor-comedian Jerry Seinfeld. His interest in stand-up comedy bloomed when he was still studying for his degree in communications and theater. At that point, he was already honing his comedic talents by performing in open-mic events. After garnering more and more attention, Jerry eventually got the chance to create, write, and star in his very own show, the now-famous TV sitcom Seinfeld.
With his fortune, Jerry has purchased many fancy items through the years, like more than a few of the world's luxurious cars. In fact, he has around 150 of them kept secured in his garage – this collection includes several units made by Porsche. With that said, he also has his very own private jet, the Gulfstream V, in case he needs to go to another state or country, whether it be for work or just for a vacation.
Jim Carrey – Gulfstream V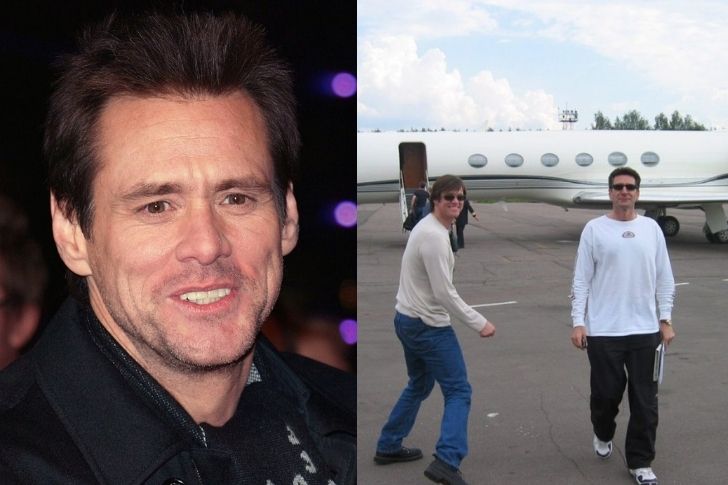 Among many of the industry's famous actors, Jim Carrey's rise-to-fame story is one that's undoubtedly inspiring. During his teenage years, besides working at a factory, Carrey utilized his sense of humor and performed stand-up comedy gigs to help his family with their mortgage loans. This natural talent of his to make people laugh, however, eventually gave him a chance to star in many of today's fan-favorite films, including the Ace Ventura movies, How the Grinch Stole Christmas, and, most recently, Sonic the Hedgehog.
Like the previously-mentioned comedian Jerry Seinfeld, Jim Carrey is also a proud owner of the Gulfstream V. Besides its estimated value of around $59 million, this flying mansion is also one of the fastest in the business, with an impressive top speed of 600 mph. Its cozy interior can accommodate up to 16 passengers, so it's safe to say that the actor has had the chance to share this ride with several friends – and perhaps share some laughs along the way, too.
John Travolta – Boeing 707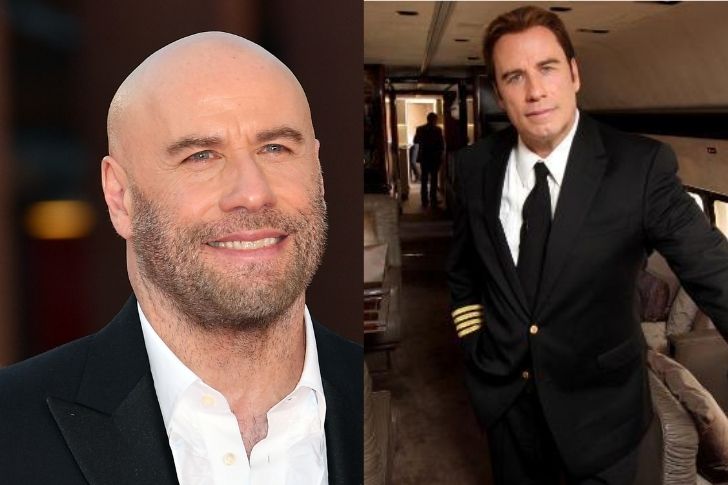 Seeing his mother possess an immense passion for all that is drama and theater, John Travolta, along with his siblings, also aspired to become successful actors themselves. Travolta's first stint in the business was as a stage actor, performing in musicals like Grease and Over Here. He later received widespread acclaim after landing a spot in the film version of Grease and for starring in Saturday Night Fever. Since then, he has worked in many of the industry's notable titles, including the award-winning TV show American Crime Story, where he portrayed the lawyer Robert Shapiro.
More often than not, our dream homes include either a large swimming pool, a playground, or a treehouse in our backyard. For John Travolta, however, his is an airport, where he also keeps his very own jet, a Boeing 707. In fact, besides being a talented actor, Travolta is also a certified pilot, having received his license when he was 22 years old.
Karl Lagerfeld – Boeing Business Jet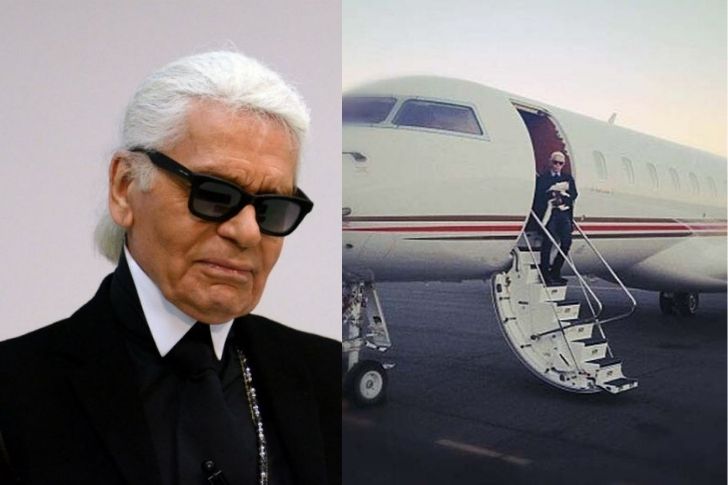 The fashion industry is never short of influential figures. One such person that made a significant impact among his peers was none other than Karl Lagerfeld. Throughout his time in school, Lagerfeld already developed a passion for the visual arts – he was often seen sketching while class was in session. He eventually became a fashion designer, worked for Fendi, made investments in his very own Karl Lagerfeld brand, and even brought Chanel back in business.
Throughout his career, Lagerfeld never failed to give a fashion show that's as flashy as its venue. In fact, one notable event was Chanel's Haute Culture show in 2012, which took place in a Boeing Business Jet. Like other luxurious aircraft, this jet has 5,390-cubic feet of space in its cabin, which is often divided into four compartments, including a board room, a lounge, a VIP bedroom, and a business room.
Kurt Russell – Socata TBM 700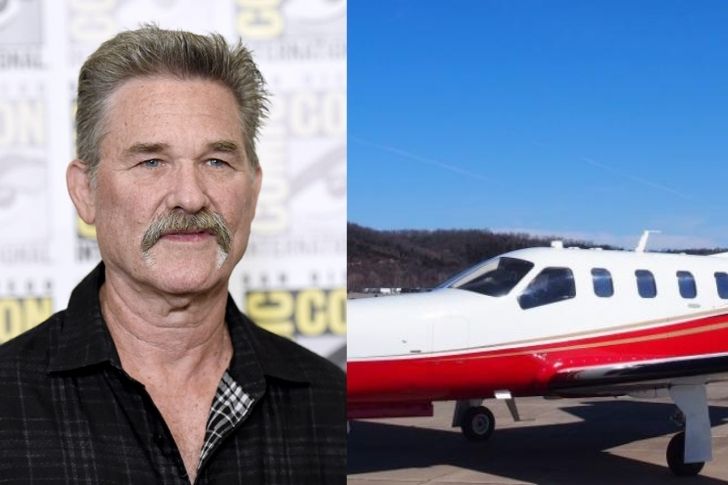 He began his career as a child actor, having appeared in shows like Our Man Higgins, The Fugitive, and even starred as the titular lead in The Travels of Jaimie McPheeters. With that said, Kurt Russell then gained even more recognition after he landed a ten-year contract with Disney, allowing him to work on projects like Follow Me, Boys, Lost in Space, and Guns in the Heather. Today, Russell is well-known for his acting credit in films like The Thing, Elvis, Guardians of the Galaxy Vol. 2, and Escape from New York.
Besides being a famous actor, Kurt Russell is also, in fact, an FAA-licensed private pilot. With that in mind, it comes as no surprise to know that he also owns a private jet, the Socata TBM 700. To make things even more interesting, the hangar where Russell keeps his precious aircraft in is just across Tom Hanks' hangar – it took them six years to realize that.
Matthew McConaughey – Bombardier Global 7000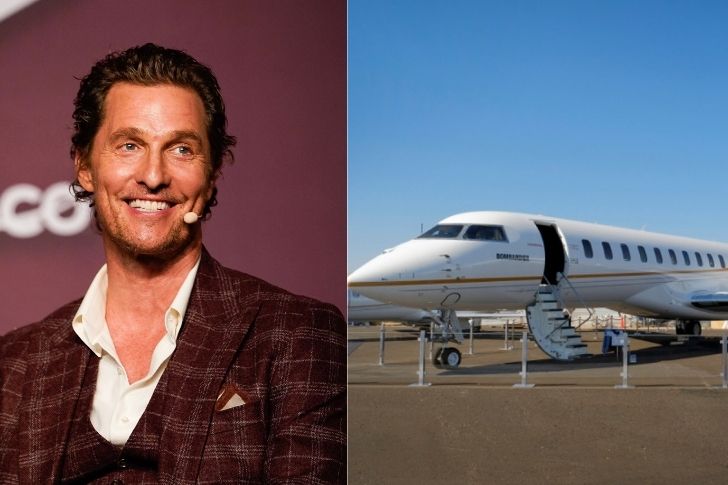 The beauty of acting, whether it be on-screen or on-stage, is that we can be anyone we want to be. After finishing his college studies, Matthew McConaughey initially planned to go to law school. Although he later didn't push through with it, McConaughey got to act as the lawyer Jake Brigance in 1996's courtroom crime drama A Time to Kill. Other movies the actor has since been known for include Contact, The Wedding Planner, The Wolf of Wall Street, Mud, Interstellar, and most especially, Dazed and Confused, his breakout role.
Thanks to his fame, the actor has also had the honor of introducing many of today's luxurious items. One example is this gorgeous business jet, the Bombardier Global 7000, with an estimated price of around $73 million. Besides its undoubtedly cozy amenities, the aircraft can reach up to Mach 0.9 speeds and is built to make little to no emission throughout its journey.
Michael Schumacher – Falcon 2000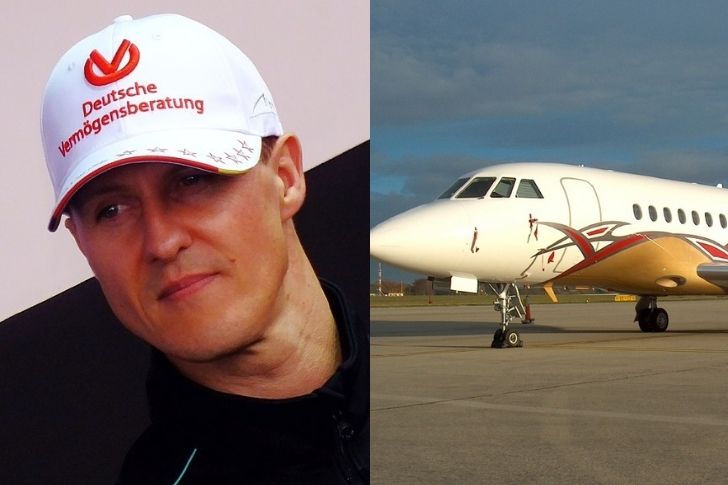 Ever since the invention of the first gas-powered automobile, competitive racing has always been a part of the industry. Over the years, it has introduced audiences to many talented racecar drivers. One such name that has received widespread recognition along the way is none other than Michael Schumacher. Throughout his time in the Formula One tracks, the now-retired racer has had the chance to work for well-known companies like Ferrari and Mercedes. To this day, he's still the titleholder for several records, with the most notable one being for winning the most number of races in a single season.
He once owned his very own private jet, the Falcon 2000. Throughout his racing career, it was reported that Schumacher would pilot the aircraft for around 300 to 400 hours a year. Around 2014, however, Schumacher and his family placed the Falcon up for sale with an approximate price of $27 million – Schumacher originally purchased it for $33.5 million.
Tom Cruise – Gulfstream IV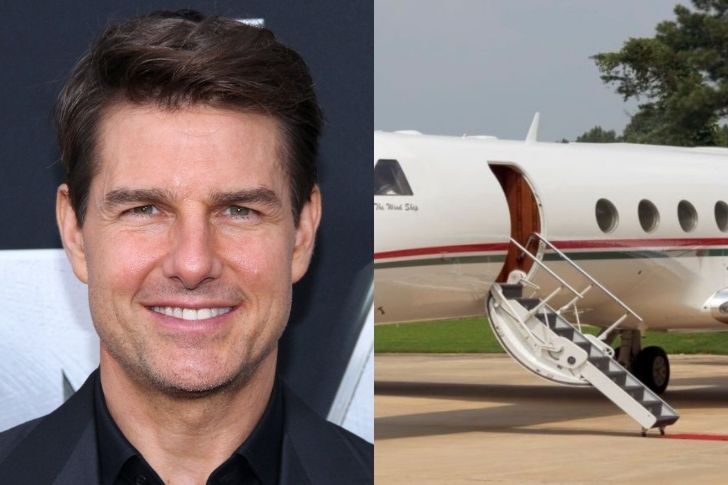 At just 18 years old, along with his parents' support, Tom Cruise began his pursuit for a career under the Hollywood spotlight. After landing a few minor roles here and there, Tom got the recognition he deserved with his role in films like Risky Business and Top Gun. Since then, he's got an acting credit for more than a few of today's favorites, like the Mission: Impossible movies, The Last Samurai, Oblivion, and Edge of Tomorrow.
Besides portraying a pilot in the Top Gun film, Tom Cruise is also a licensed pilot in real-life. In fact, the movie's upcoming installment, Top Gun: Maverick, will feature footage of the actor actually piloting a plane! With that said, it would come as no surprise that he also owns an aircraft of his own. For his ride of choice, Tom goes with the Gulfstream IV, worth $35 million and can reach up to Mach 0.80 speeds.
Paris Hilton – Boeing 747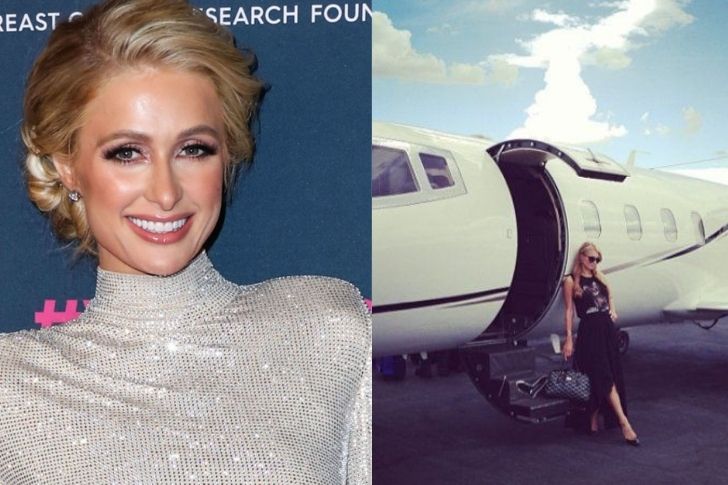 With her great-grandfather being the founder of the Hilton Hotels, it's safe to say that Paris Hilton already had quite a fortune before she could even start making any investments. Even so, that didn't stop this celebrity from finding her own source of living. Paris began her career as a model, eventually landing a spot in an issue of Vanity Fair before she found her way to starring in the reality show, The Simple Life. Along the way, she also found work as a DJ and performed in festivals like Tomorrowland and Summerfest.
With her and her family's fortune, Paris Hilton can afford to charter a ride on the gorgeous Boeing 747. With that said, Paris has also been spotted riding the $270 million aircraft more than once, with one occasion being when she went to South Africa to watch the World Cup. 
Peter Jackson – Gulfstream G550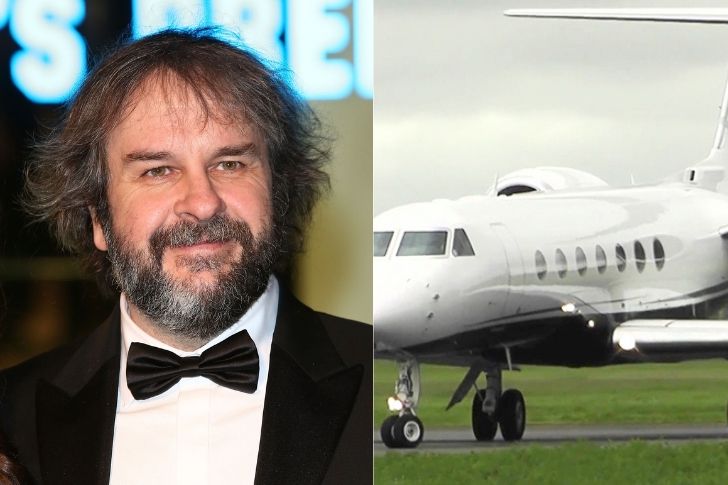 With plenty of hard work and determination, even a dream can become a reality. Throughout his childhood, Peter Jackson already had a passion for everything related to films. In fact, he even made a few short films with his friends back then, including a King Kong movie with his own stop-motion models. This passion later made him one of the most regarded filmmakers in the industry, taking credit for creating the now-beloved Lord of the Rings trilogy and The Hobbit trilogy.
Outside his work in the film industry, Peter Jackson is also a huge history buff. In fact, he owns around 29 World War I aircraft units, some of which are replicas. With that said, he also has in his possession a more modern vessel – the Gulfstream G550. Inside, the private jet has 16 seats, some of which can also be converted to beds in case Jackson and his party need to take a quick nap.
Phil Mickelson – Gulfstream V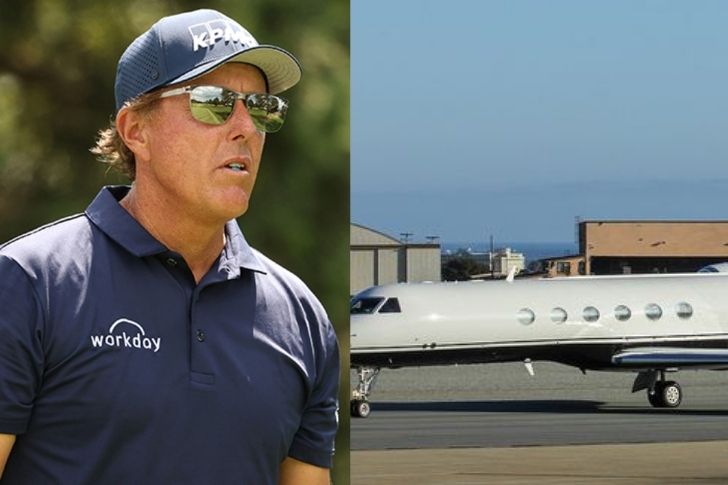 We often learn our first lessons, like walking and speaking, from our parents. Aside from the basics, they can teach us other things, too, some of which could eventually become our hobby – or source of living. Phil Mickelson, one of golf's talented players, learned the ins and outs of the sport at a young age, thanks to his father. Today, after years of improving, Mickelson has won 44 of the PGA Tour's events, including a PGA Championship and an Open Championship.
With the fortune he earns from golfing, Phil Mickelson eventually saved up enough investment money to get himself a private jet – the Gulfstream V. With a retail price of around $40 million, this 19-seater aircraft was designed to guarantee the comfort and safety of its passengers. With that said, it has cozy beds, a spacious galley, an ample amount of storage for beverages, and plenty of media options to keep Mickelson entertained throughout the flight.
Ralph Lauren – Gulfstream G650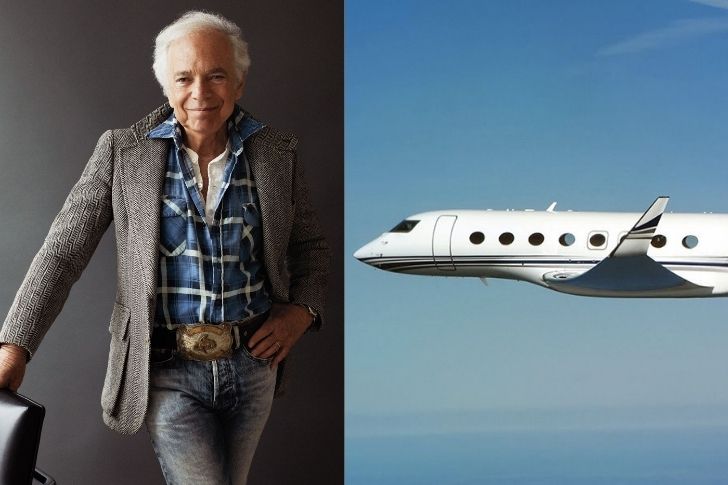 More often than not, many of the industry's wealthy figures began their journey at the bottom, eventually learning their way around as they climb to the top. One such case is the fashion scene's very own Ralph Lauren. Before making any investments in the now-multibillion-dollar enterprise, the Ralph Lauren Corporation, Lauren began as a sales assistant at Brooks Brothers. After a while, he started working on his first line of menswear called "Polo." From that point on, Lauren's journey had no other direction but forward. As of 2020, Ralph Lauren's net worth is approximately $8.2 billion.
Like many of us, it's safe to assume that the fashion designer also celebrates the achievements he has made through the years. With that said, one such gift he bought himself is the Gulfstream G650. This private jet has just about everything a person needs in their homes nowadays, including a wireless internet connection, a hi-tech entertainment system, and all-around comfort.
Sergio Garcia – Hawker 4000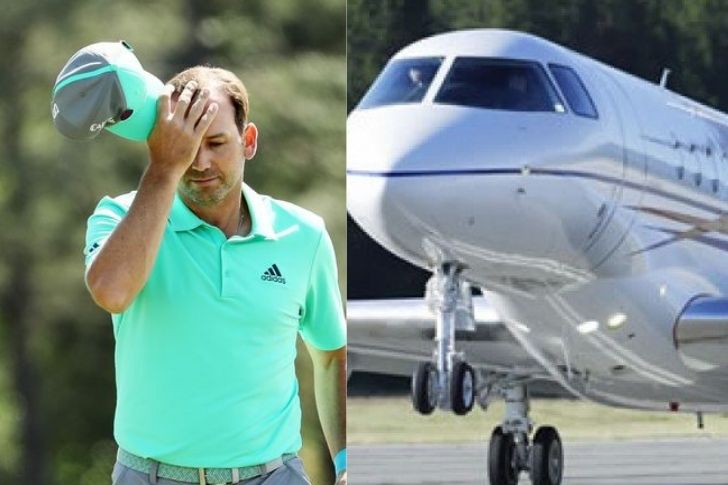 With his father being a professional golf player, it comes as no surprise that Sergio Garcia began his journey as a golfer when he was only three years old. Soon after, during his teenage years, Garcia took credit for being the youngest to win the European Amateur event. Today, after joining the professional league, Garcia has spent a good portion of his career within the sport's top 10 ranks and has won 36 international tournaments.
Although just about anyone can learn the ropes, golf is often considered a rich man's sport. Well, after stealing a glimpse at Sergio Garcia's private jet, the Hawker 4000, we now know why. This gorgeous beauty has eight seats, which can also be converted into four seven-foot beds, ensuring its passengers with all-around comfort throughout the trip. Besides this cozy mansion in the sky, the golf player is also a proud owner of a few of the world's fancy cars, including a BMW M3 and a Mercedes DTM race car.
Seth MacFarlane – Gulfstream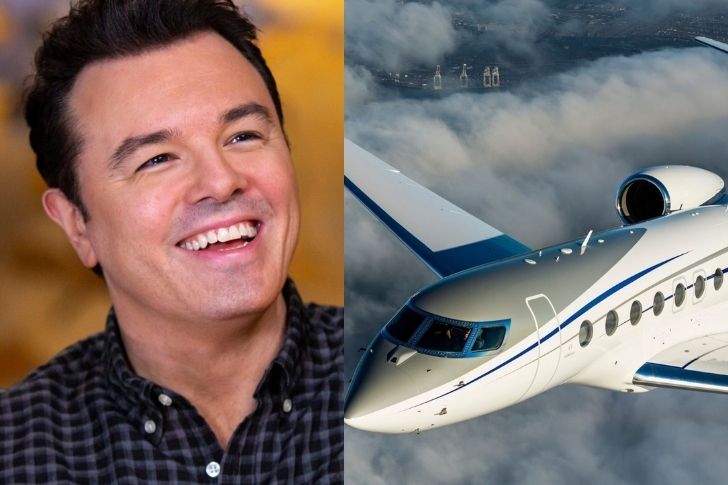 In one way or another, continually improving one's talents is already a significant investment. For Seth MacFarlane, this talent was drawing – he began drawing characters like Fred Flintstone and Woody Woodpecker when he was just two years old. Later on, he started his career in the entertainment industry, working on more than a few of Hanna-Barbera's cartoons, like Johnny Bravo, Dexter's Laboratory, and Cow and Chicken.
Along the way, MacFarlane starred in A Million Ways to Die in the West, a film he also directed and wrote. Besides working in front and behind the camera, he's also had a successful music career, having released six albums already. Thanks to his fortunes, MacFarlane eventually bought himself his very own private jet – a Gulfstream. With an estimated value of $50 million, the actor-singer-writer has since made the most out of it, traveling around the world in utmost style and comfort.
Tim McGraw – Cirrus SF50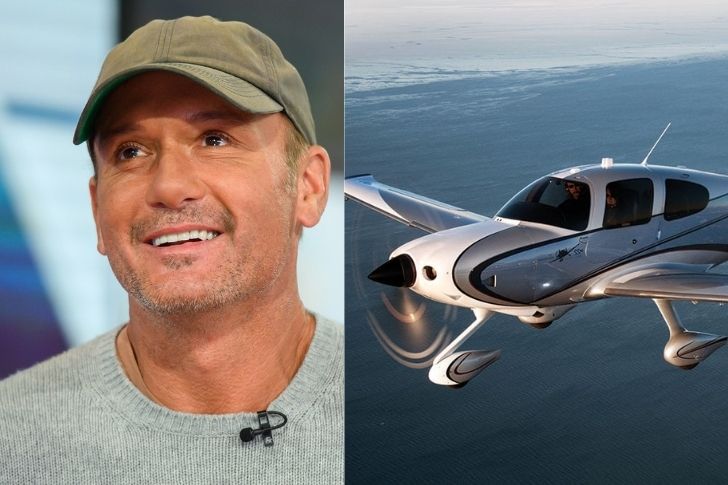 During his time in college, Tim McGraw taught himself how to play the guitar. Although he wanted to perform in front of his friends, his roommates often hid his stringed instrument of choice because they thought he sounded bad. Despite the friendly prank, McGraw continued with his passion and eventually became a successful artist in the music industry. Besides releasing more than a few of today's chart-topping records, he's also found success in films, landing an acting credit in The Blind Side, Friday Night Lights, and The Kingdom.
Besides developing a knack for singing, playing the guitar, and acting, Tim McGraw has also been quite fond of piloting an aircraft. In fact, he would even consider it his best way to relieve stress, a time he can spend away from work. To satisfy his hobby of traversing the skies, the country singer bought himself a Cirrus SF50.
Vince McMahon – Bombardier Global 5000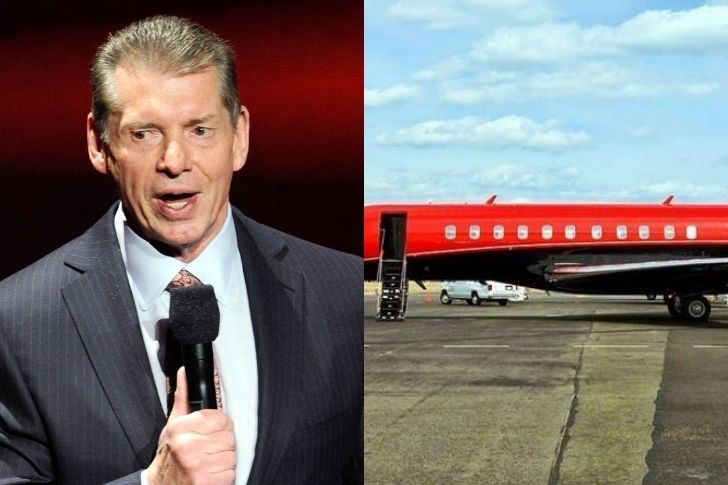 Believe it or not, Vince McMahon actually has his own personal yacht which he named "Sexy B*tch". A little bit offensive, right? Well, for someone as rich and popular as Vince McMahon, that shouldn't come off as a surprise! The yacht was purchased for an undisclosed amount, but it's assumed to be millions of dollars. He leaves this majestic beauty parked at one of his properties in Florida. It's rare that you'll see McMahon ever use this though, given that he's extremely busy with managing WWE and has hardly any time to take a break and relax.
In all honesty, purchasing this yacht was McMahon's way of showing that he's rich and that he's rich enough to buy things like these that he won't really ever use. Arrogant and cocky it may seem, it's just petty cash for him, and by the look of it, he won't be needing any help managing his finances from his financial advisor anytime soon!
You've Reached The End