What Vehicles Are Inside These Celebrities' Garage? Take a Look and be Amazed!
Celebrities like having their flashy cars around, especially when driving New York or Los Angeles streets. Yes, they are showy, but there are also times when they want to have some privacy. More importantly, it is one of the reasons why your favorite singer, actor, and actress have at least two cars in the garage. Indeed, when they feel like attracting the public's attention, such as when they have a project coming up, they would usually ride the more expensive, classy designs.
However, they have shown a preference for darker, tinted, and almost incognito vehicles during their day-to-day drive. Did you know, though, that one of the more prominent names in the industry has opted for a Toyota truck instead of the more popular GMC ones? Who among them do you think he is? Also, this famous model is very womanly but has a preference for the more muscular car—talk about defying societal expectations and girl power! Given the need to be flexible in the travel arrangements your favorite celebrity needs, it is only right they make investments in suitable vehicles. Read on to know more!
Adam Levine | Ferrari 365 GTC, Porsche 356, 1963 250 GT Berlinetta Lusso
Total Amount: Approximately $2.25 million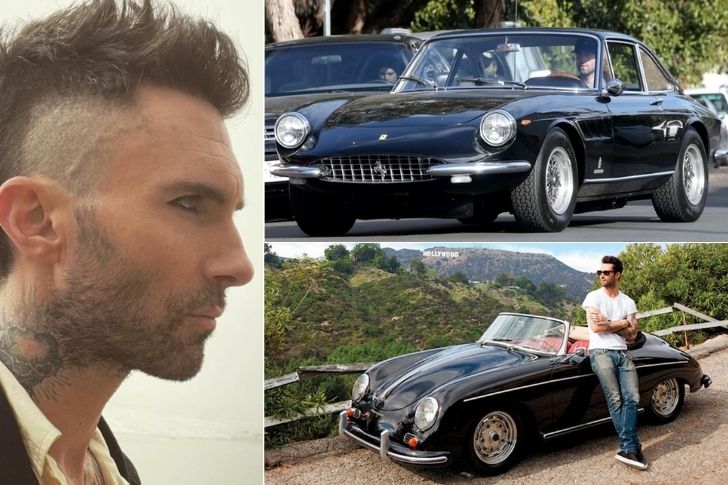 Let's start with Maroon 5's Adam Levine. Did you know that he has not always been part of Maroon 5? When he began in 1994, Levine was part of Kara's Flowers as its lead guitarist and vocalist. The band initially saw commercial failure, and after some degree of reflection, they disbanded, paving the way for Maroon 5. After that, the group established itself as one of the leading boy band groups in the world.
Levine recently participated in the fundraiser event involving the Save the Children organization, where he auctioned off his Ferrari Roma. However, it wasn't a surprise considering he is a lover of the brand and has several in the garage, including a 1969 365 GTC, 1966 330 GTC, 1971 365 GTB/4 "Daytona," 1965 375 GTB/2, 1963 250 GT Berlinetta Lusso, and recently a tailor-made F12tdf. His massive collection points to him spending at least $2.25 million.
Adam Sandler | Cadillac DTS, Cadillac Escalade Hybrid, Dodge Challenger SRT
Total Amount: Approximately $184,300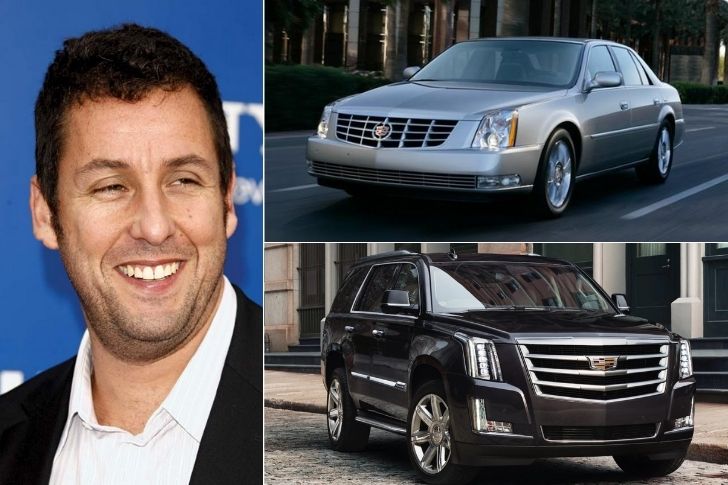 A former member of Saturday Night Live, Adam Sandler was off to a good start in Hollywood. This nighttime show has proven to be a good training ground for those who want to achieve stardom later in life. Sandler later fulfilled that when he established himself as an excellent comedian through films like The Wedding Singer, Billy Madison, and Just Go With It. He is grateful and gives thanks SNL for helping hone his craft.
Now, if Adam Levine is into Ferraris, it seems that Sandler prefers the American brand, Cadillac. Sitting in the garage and sometimes gracing America's roads is his Cadillac DTS and Cadillac Escalade Hybrid. He also has a Dodge Challenger SRT. Sandler's Escalade Hybrid, which partially runs on electricity, has a range of 525 miles on a single charge (combined with fuel as needed, of course). Estimates of his current collection are at about $184,300.
Adele | Volkswagen Sharan, Porsche Cayenne 4×4, Range Rover
Total Amount: Approximately $276,584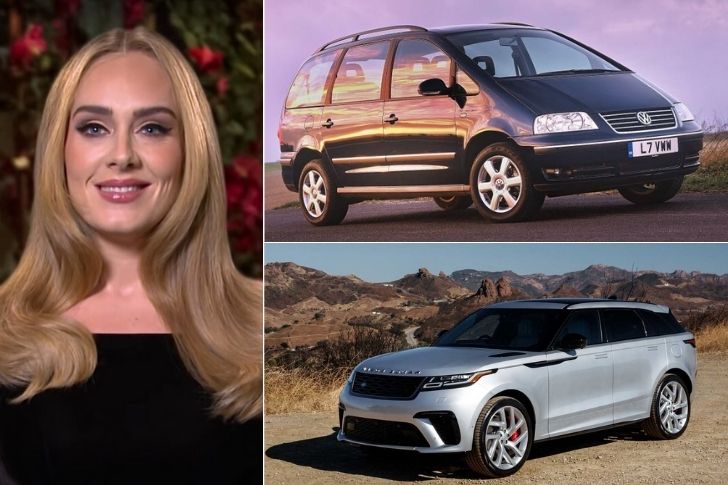 After Adele graduated from the BRITH school in 2006, she decided to sign with the record label XL Recordings. The following year, she was already earning awards, with her songs being rated 8x platinum and 3x platinum in the UK and US, respectively. That debut album contained a song she wrote when she was only sixteen, "Hometown Glore."
Adele saw no need to learn how to drive before, but she needed to make the required investments because of her busy life. She was so happy when she passed her driving test in 2013 that she shared the news right away on Instagram. Over the years, she has also acquired a number of flashy rides, including the ever-reliable Range Rover. This one is usually a favorite among celebrities, especially those in the music industry. Other vehicles in the garage include a Volkswagen Sharan and a Porsche Cayenne 4×4, a more recent purchase.
Alicia Keys | Lotus Evora GTE, Ford Mustang
Total Amount: Approximately $172,945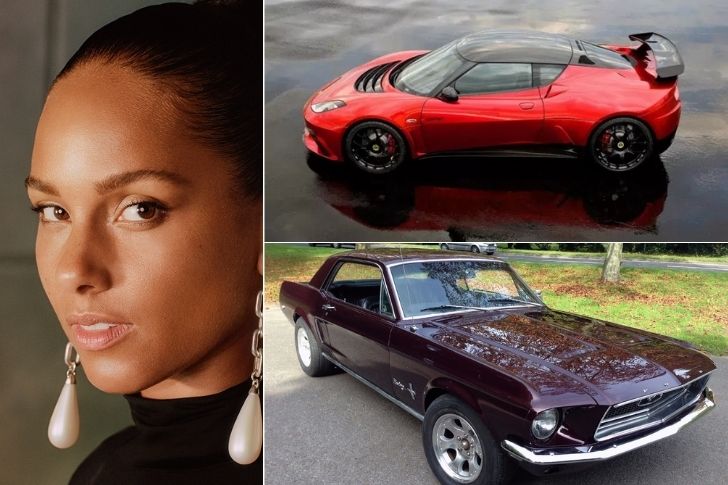 The first album made by Alicia Keys hit some snag before being released in 2001. Her succeeding albums' release was hitchless, and the singer eventually received the keys to success. For example, The Diary of Alicia Keys, her second one spawned the top-rated singles "You Don't Know My Name" and "Diary." Her song, "No One," alone sold more than 7 million copies worldwide. These songs made her one of the wealthiest musicians to date.
Several cars are in her garage, but many of them are under her husband's name, Swiss Beatz. Some of the vehicles protected by the home security system are her Ford Mustang, which she calls Black Cherry, and a Lotus Evora GTE. The former costs about $74,000, while the latter is about $98,945. It appears that the Black Cherry is the singer's favorite as she usually uses it when going about.
Anderson Cooper | Chevrolet Camaro
Total Amount: Approximately: $25,000
With an annual income of about $12 million from working as a journalist, Anderson Cooper is undoubtedly one of the luckiest ones in the industry. However, that's not to say he got successful through sheer luck–a great degree of hard work and sweat is what propelled him to be one of the most respected anchors and political commentators on CNN. When he was given his own show in 2001, Cooper had proven he was the right man for the job when he went on the ground covering Hurricane Katrina and the 2010 Haiti earthquake.
As a reward for himself, Cooper bought a line of vehicles, including a black Chevrolet Camaro. Very little information is available about what else is in the garage. Still, given his reputation of being a practical person, we believe he would muscle cars, like a Camaro. Its heated steering wheel and front and back seats can come in quite handy when traveling to and from the studio on a cold night.
Angelina Jolie | Cadillac Escalade ESV, Jeep Grand Cherokee, Volvo XC90
Total Amount: Approximately $737,250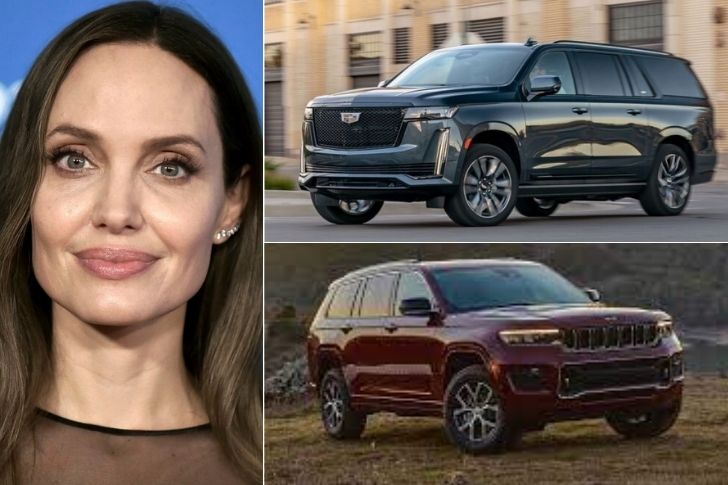 Whenever Angelina Jolie's name is given credit in a movie, it is usually a success. Her latest project that drew not only critical praise but also commercial success was Maleficent. Before that, she also appeared on Salt, Mr. and Mrs. Smith, and The Tourist. Many fans are also happy that she lent her voice to Kung Fu Panda and has also explored directing. Some of the movies she directed are Unbroken and In the Land of Blood and Honey.
Jolie is one of the wealthiest celebrities, and it is only fitting that she has several flashy cars in her garage. Sources point to her having at least 11 cars! Yes, and that includes a Ford Explorer, an Audi A8L, and a 2018 Mercedes Benz S 450, among others. The total estimate of the vehicles in Jolie's garage point to around $737,250, with her Lexus LS 460 F among the cheapest at $72,520.
Anna Faris | Mini Cooper, Ford Edge
Total Amount: Approximately $67,100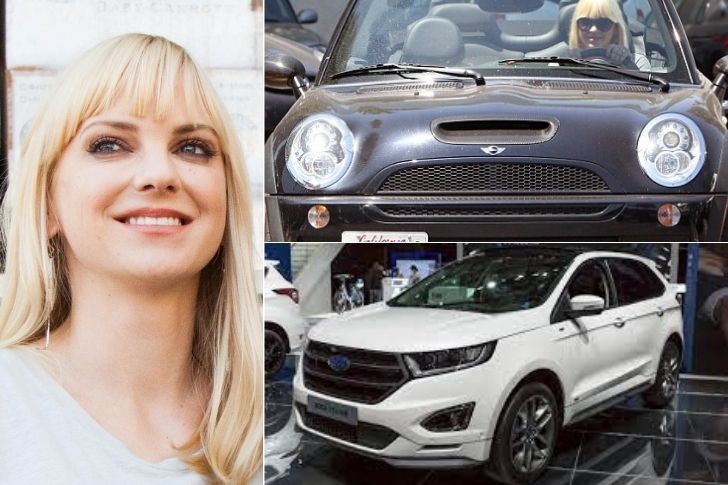 Considered as one of her generation's most talented comedy actresses, Anna Farris is indeed very skilled. She was a recurring character, as Erica, on the celebrated series Friends. The actress also starred in the sitcom Mom. Farris also lent her voice to several animations, Alvin and the Chipmunks and Cloudy with a Chance of Meatballs and its sequel, to name a few. The actress has also displayed excellent money management skills, saving as much as $15 million.
Even with such a considerable amount in the bank, Farris has chosen non-flashy cars as her ride. However, she does own an expensive Mini Cooper and a Ford Edge. Her Mini Cooper is the one she uses almost daily. We hope it gets its fair share of maintenance works. Meanwhile, with all the cargo hold, the more powerful Ford Edge is probably reserved when traveling with too many bags.
Ashley Benson | Bentley Arnage, Audi S5
Total Amount: Approximately $370,600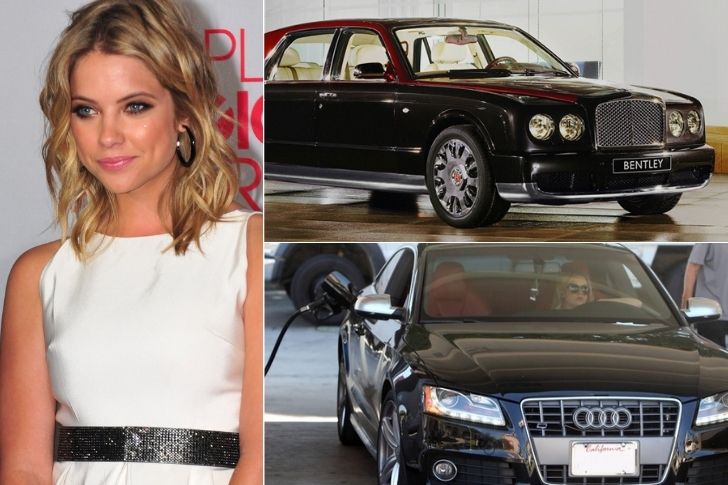 Born and raised in Anaheim, California, Ashley Benson did not go far to establish her career—right there in Hollywood! Benson is one of the best singers and actresses this generation has to offer. Her movie projects include Pretty Little Liars and Her Smell. The flexible celebrity had also tried new platforms when collaborating with CollegeHumor for an episode entitled "Secret Girl Language." She also received several offers to do brief appearances on a handful of music videos.
Benson is the proud owner of a Bentley Arnage and an Audi S5, but did you know she made a recent purchase? Her financial advisor might disapprove, but she went on to buy another muscle car, this time, a Range Rover Vogue. To her defense, she probably finds this more practical than the other two as it is bigger and has a spacious cargo, which comes in handy when traveling in a group.
Ashton Kutcher & Mila Kunis | Tesla, Lexus LS Hybrid, Mercedes SLK
Total Amount: Approximately $629,434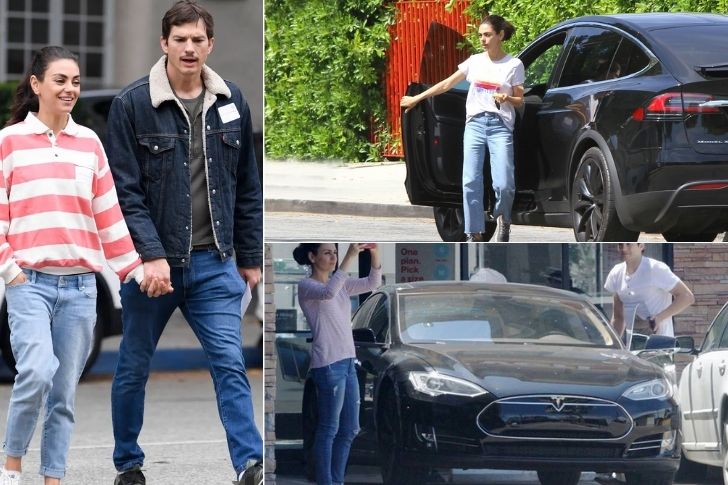 Playing Walden Schmidt in the sitcom Two and a Half Men brought much criticism to Ashton Kutcher than the iconic Charlie Sheen. Despite that, however, he persevered and did his best. Meanwhile, his wife, Mila Kunis, has been very supportive. These two have one of the cutest love stories, as they met on That '70s Show and did not fall in love until a few years after.
A quick look at the couple's garage reveals one thing—they are efficient people who love the environment. There are not many luxury cars in there, but a couple of vehicles run on electricity and fuel (a Fisker Karma and a Chevy Volt). But what could be Ashton's go-to vehicle when he rides out? As it turns out, it is the Mercedes SLK, as its sleek design allows for faster travel. He and Kunis could also travel with privacy.
Bella Hadid | Range Rover Sport, Porsche Macan, 1989 Rolls Royce Silver Spirit Convertible
Total Amount: Approximately $1.115 Million
Model of the Year Bella Hadid is among the many who have risen to prominence with the help of social media sites. She, alongside her older sister, Gigi, and younger brother Anwar, are all models. Also, one little known fact about the family is that through her father, real-estate developer Mohamed Hadid, Bella could claim she descended from Daher Al Omer, the Sheik of Galilee. Awesome, right?
Bella does not hesitate to drop a significant amount of investment money when it comes to collecting cars. There are several high-end vehicles in the garage, including the $500,000-worth 2007 Rolls Royce Phantom Drophead. We also included a vehicle she often uses— that of her boyfriend. This Bentley Mulsanne costs around $320,000. Also, there is a remarkable degree of favoritism that we can see for German cars as two of them, a Rolls Royce Silver Spirit and Phantom Drophead, sit in Bella's garage.
Bella Thorne | Chevy Corvette, Porsche Panamera, Nissan SUV
Total Amount: Approximately $390,000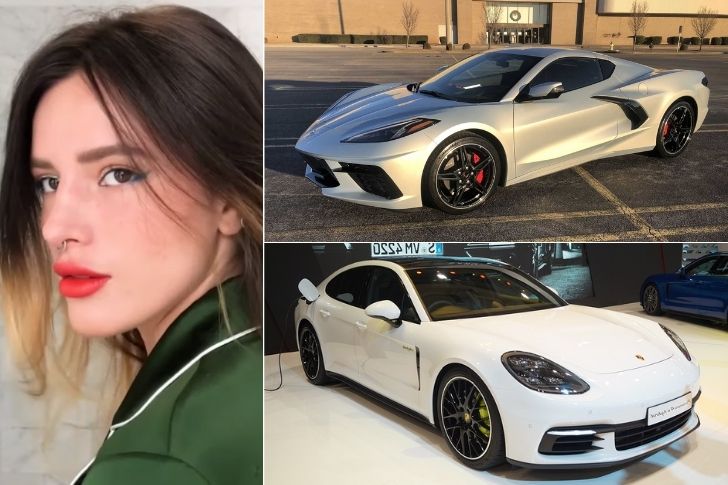 Despite being a newcomer in Hollywood and a young actress, Bella Thorne has already shown promise. Thorne's big break happened when she received a role in the series Dirty Sexy Money and My Own Worst Enemy drama series. Just a few years after starting, she was already getting traction, having seen two Teen Choice Awards nominations. Apart from acting, Thorne is also into making music and has already released a single, "Watch Me," in 2011.
She is still accumulating wealth, and now the actress has $12 million in the bank. More importantly, this is an achievement for someone who is just 23 years old. However, she does indulge now and then and chip away from her investment money to buy American cars, like a Chevy Suburban and a GMC Sierra. It also looks like her boyfriend is part of the decision-making process when purchasing cars, as most of those they bought are rugged muscle cars! Her Jeep is one badass!
Beyoncé | Rolls-Royce Silver Cloud, 1957 Chevrolet Corvette, Boat Tail Rolls Royce
Total Amount: Approximately: $35.6 Million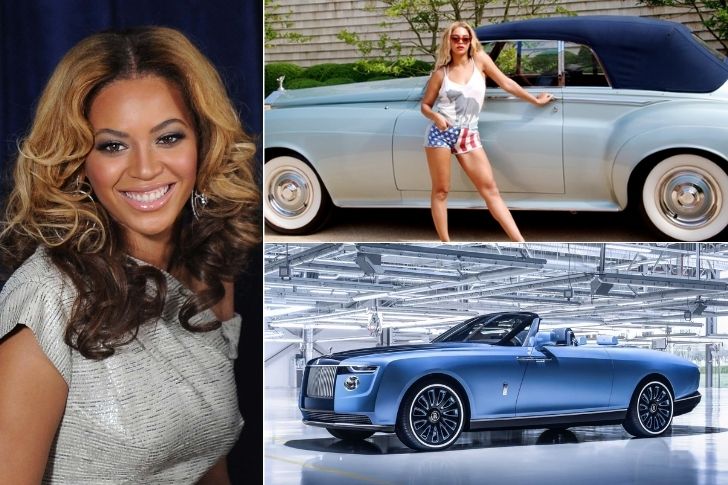 Beyoncé and her parents knew she had a talent for singing and dancing during her early childhood. When the 1990s came, her fame quickly rose, and she became the lead singer of Destiny's Child. Later on, she launched her solo career, which quickly took off. In the middle of a busy career, she also managed to marry Jay-Z, a fellow singer.
The couple is known to be car collectors, and did you know they have at least 15 cars in the garage? Sure, most of it belongs to Jay-Z, but they probably pay for the insurance cost and maintenance expenses as a couple, right? Some of the fantastic vehicles in their collection are a Tesla Model S, Pagani Zonda F, and Ferrari F430 Spider. Beyoncé and Jay-Z are investing in big and sturdy cars with a growing family, with the latest, one of the three Boat Tail Rolls Royce Fetching at least $23 million.
Bill Gates | Mercedes S Class, Tesla Model X, Chevrolet Corvette
Total Amount: Approximately: $1.3 Million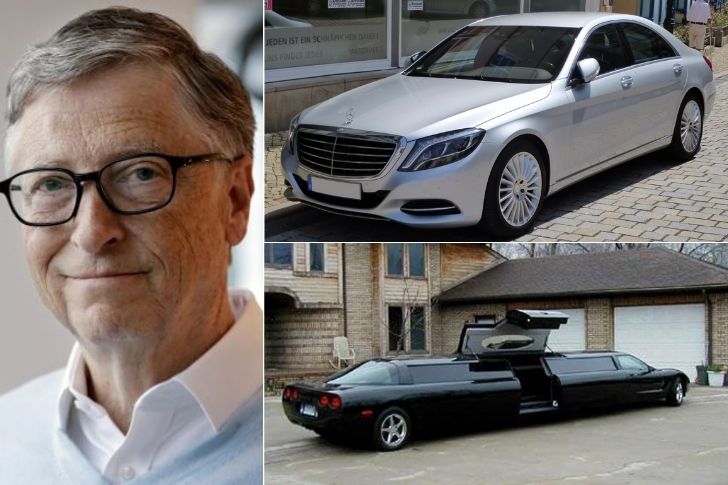 With ongoing separation proceedings going on, Bill Gates and his host of lawyers are probably busy nowadays. His tight schedule, however, would not prevent him from managing his daily affairs. With Microsoft now under the care of someone else, Gates has shifted his focus on taking care of his foundation. His philanthropic endeavors include starting an initiative, The Giving Pledge, where he and other billionaires promise to give up at least half of their money to charitable causes. On top of these efforts, he is also the founder and chairman of several firms, including Cascade Investments, BEN and TerraPower.
While the technology investor could buy any car he wanted, he actually has a relatively modest collection in the garage–with reports saying he only has six cars. There are several Porsche 911s and a line of Mercedes vehicles, too. What might surprise everyone is that Gates also owns a humble Ford Focus. Compared to the others it is not as expensive but is always reliable.
Brad Pitt | Tesla Model S, Camaro SS, Jeep Cherokee
Total Amount: Approximately: $1 Million
As a public figure, Brad Pitt has always been cited as one of the most influential people in the American entertainment industry. This is partly because of the work he and his former wife Angelina Jolie have done in philanthropic circles. The lead actor of The Curious Case of Benjamin Button has been active in supporting organizations like One Campaign and in donating to poverty-stricken countries.
Long before Pitt became a family man, he was an SUV lover, so there are many in his collection. Among those in the garage is a Chevy Tahoe, a Jeep Cherokee and a BMW Hydrogen 7. The last one was probably one of the most eco-friendly cars the actor had prior to purchasing a Tesla Model S. Also, when he is not in the mood for cars and not keen on spending too much on gas, he would use one of his many Ducatis and other motorcycles.
Bradley Cooper | Mercedes Benz G500, Toyota Prius, Ducati 1199
Total Amount: Approximately $500,000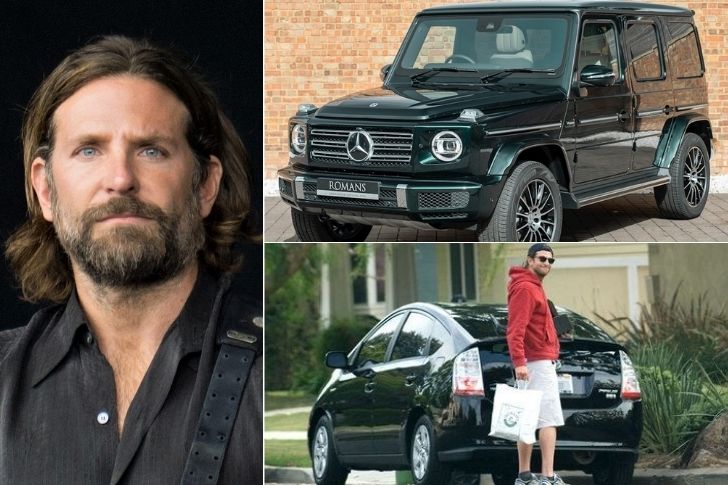 Bradley Cooper is a famous American actor. He's been able to enjoy a long-running and illustrious career, and he's been able to rake in a good number of awards and accolades. As an actor, Cooper has eight Academy Awards, a Tony Award, two Grammy Awards, and a BAFTA Award. He's appeared in several films, and he's managed to bring in a fortune worth $100 million.
It's no secret that Bradley can buy anything that he wants with his astounding net worth. Among those are fancy cars and motorcycles. Cooper owns several vehicles, including a Mercedes-Benz G500, Ford Mustang, Maserati Gran Turismo, and a Toyota Prius. He also has a steady collection of bikes in his garage, namely his Ducati 1199, Aprilia Mana 850 GT ABS, Red Triumph Thruxton, and a Vespa Scooter. We're not sure where he acquired these toys, but we're confident that he didn't need a money loan to do so.
Britney Spears | Mercedes Benz G55, Jaguar XK, Smart Car
Total Amount: Approximately $1.8 Million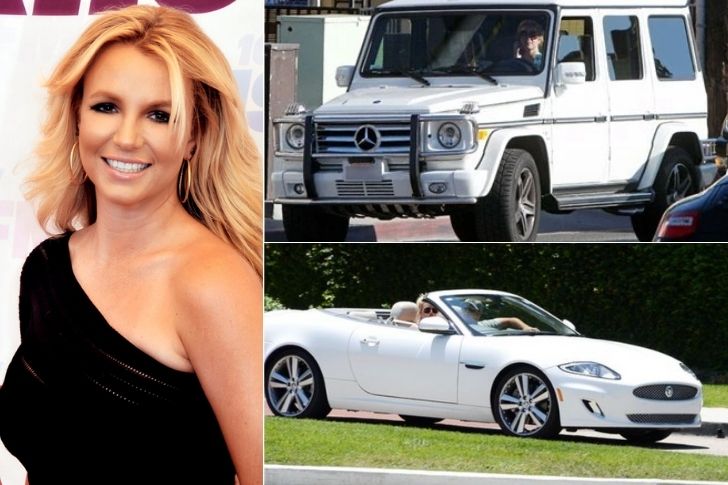 Britney Spears is one of the most successful pop singers of all time. Britney became incredibly famous through her hit singles "Baby One More Time" and "Oops! I Did It Again." She's the eighth best-selling female artist in the US, and she was once regularly included in the highest-paid entertainers in the world. During her peak, Britney was able to earn over $40 million per year from just her record sales and tours.
Britney's world tours alone have grossed over $500 million worldwide. Today, she comfortably sits on a fortune worth $70 million, and she uses it to purchase all the finest things that life can offer. Among those things are cars, and she keeps a costly collection of vehicles in her garage! Britney owns a Jaguar XK, Mercedes Benz G55, Smart Car, BMW 328i, Maserati Gran Turismo, and a Mini Cooper. Britney's car collection amounts to $1.8 million. The maintenance and insurance bill on her car collection should also be costly!
Jamie Foxx | Bugatti Veyron, Rezvani Van, McLaren 570S
Total Amount: Approximately $7 Million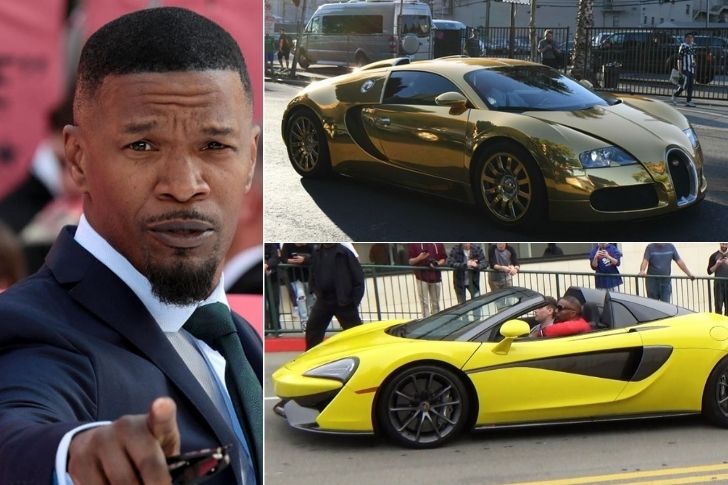 Jamie Foxx is an incredibly talented celebrity. He's an actor, singer, songwriter, record producer, and comedian. As an actor, he's been able to appear in several critically acclaimed movies. He has also won a good number of awards in his career. His achievements as an actor include an Academy Award, a BAFTA Award, a Golden Globe Award, and a Screen Actors Guild Award. Foxx is also one of the wealthiest celebrities in Hollywood today, with a staggering net worth of $150 million.
The actor is also known as "the King of Excess," and his car collection accurately defines his excessiveness. He has over 20 cars in his garage, and his car collection is valued at approximately $7 million. Some of the most sought-after vehicles in his garage are his Bugatti Veyron, McLaren 570S, Ferrari 488 Spyder, Lamborghini Gallardo, Rolls Royce Drophead Coupe, and many more. All of these cars are insanely expensive, but we're confident that Foxx didn't need to take out a personal loan to acquire each one!
Bruce Springsteen | 1957 Chevrolet Bel Air, 1960 Chevrolet Corvette C1
Total Amount: Undisclosed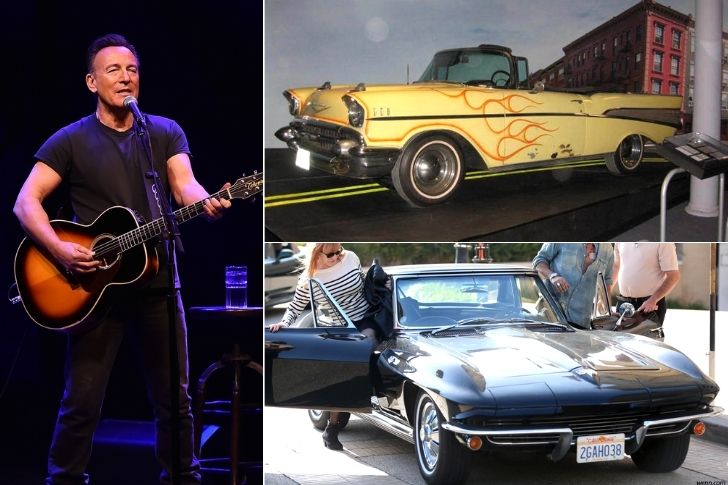 Bruce Springsteen is an iconic American musician who was born and raised in New Jersey. Springsteen is considered one of the greatest artists of all time, and he's been able to sell over 150 million records worldwide. Springsteen also has an incredibly decorated resume as he's managed to win 20 Grammy Awards, an Academy Award, two Golden Globes, and a Tony Award. Considering that he's one of the greatest artists of all time, it isn't surprising how he wound up with a net worth of $500 million.
With half a billion in his bank account, Springsteen can purchase the finest things in life, including cars. Some gems in his garage include a 1960 Chevrolet Corvette C1, 1957 Chevrolet Bel Air Convertible, 1963 Chevrolet Corvette Stingray, 1982 Chevrolet Z28 Camaro, and many more. It's hard to put a value on his car collection as all of his vintage cars undergo total restoration. We can only imagine that Bruce's car collection value is as high as his insurance and maintenance bill.
Cameron Diaz | Tesla Model S, Toyota Prius, Maserati Quattroporte
Total Amount: Approximately $200,000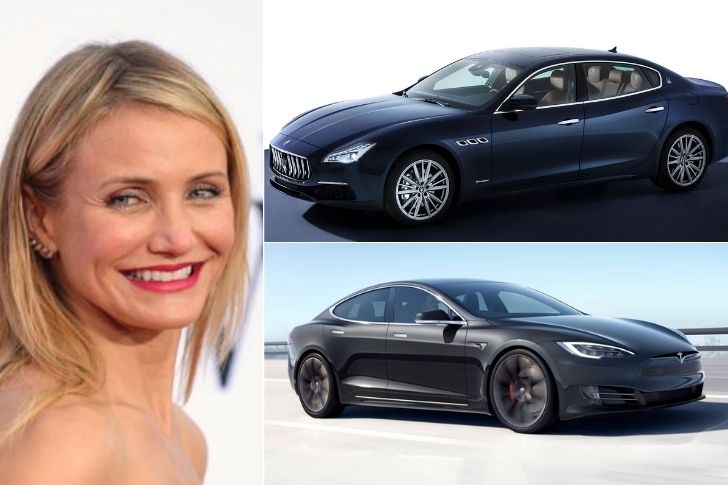 Cameron Diaz is a famous American actress who's appeared in several movies over the past few decades. Her most notable acting credits came in films like Charlie's Angels, Shrek, Bad Teacher, The Box, and many more. She's also won her fair share of awards, including four nominations for a Golden Globe Award, a New York Film Critics Award, and four Golden Globe Award nominations.
In addition, Diaz is also one of the highest-paid actresses in Hollywood, so it's not surprising that she currently sits on a fortune worth $140 million. You could say that she can acquire any fancy car that she wants and add it to her collection. Interestingly, Diaz manages to keep a humble car collection. Some of the vehicles in Cameron's garage include a Toyota Prius and Tesla Model S. She also has a Maserati Quattroporte, which is highly efficient for long drives.
Celine Dion | Rolls Royce Corniche, Maybach 62, Cadillac Escalade
Total Amount: Approximately $1 Million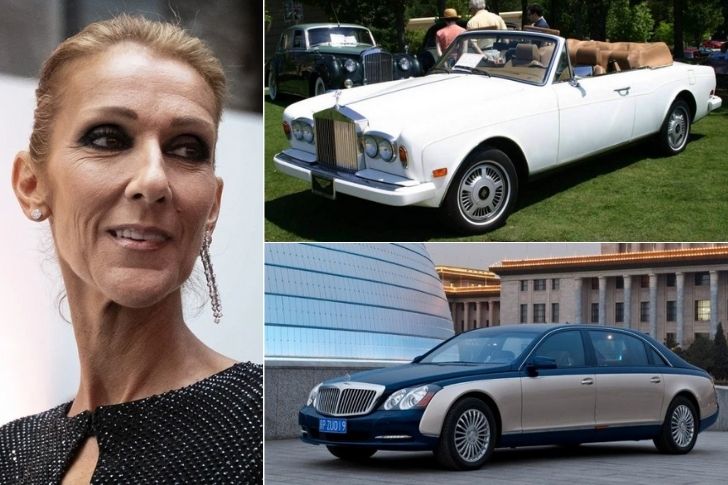 Celine Dion is a legendary music icon who's known for her powerful and exceptional vocals. She's released several albums throughout her career, and she's been able to gain a surmountable number of awards and recognition, including five Grammy Awards. Celine is also the second best-selling female artist in the US, and her successful music career allowed her to amass a fortune worth $800 million.
You could tell that Celine won't need to take out a personal loan before acquiring any car or automobile that she wants. She's not much of a car collector, but the cars in her garage are as elegant as her! Celine's garage's notable vehicles include a white Rolls Royce Corniche, a Maybach 62, and a Cadillac Escalade. As if that wasn't enough, Celine has a Bombardier Global Express Jet, and you could say that she loves to travel in style!
Cher | 1966 Ford Mustang Convertible, 1972 Ferrari Dino 246 GTS, Porsche 911
Total Amount: Approximately $600,000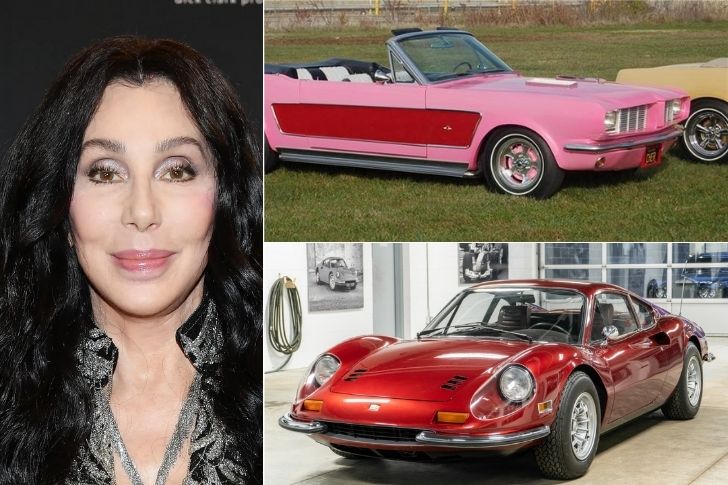 Cher is a well-known American singer, television personality, and actress. She's considered a cultural icon, and she has cultivated a presence in the entertainment industry for multiple decades. As a musician, Cher has been able to sell over 100 million records worldwide, making her among the best-selling musicians of all time. She's also managed to rake in dozens of awards, including a Grammy Award, an Emmy Award, several Golden Globe Awards, and an Academy Award.
Cher's successful and long-running career has allowed her to earn a net worth of over $360 million. With a fortune like that, you'd expect that she's got a few gems hiding in her garage. Interestingly, Cher keeps a steady collection of fancy cars to a certain degree in her garage, including a Porsche 911, a 1972 Ferrari Dino 246 GTS, and a couple of vintage Mustangs. All in all, Cher's collection is worth around $600K today.
Chris Rock | Lamborghini Miura, Maserati, Dodge Durango
Total Amount: Approximately $2.3 Million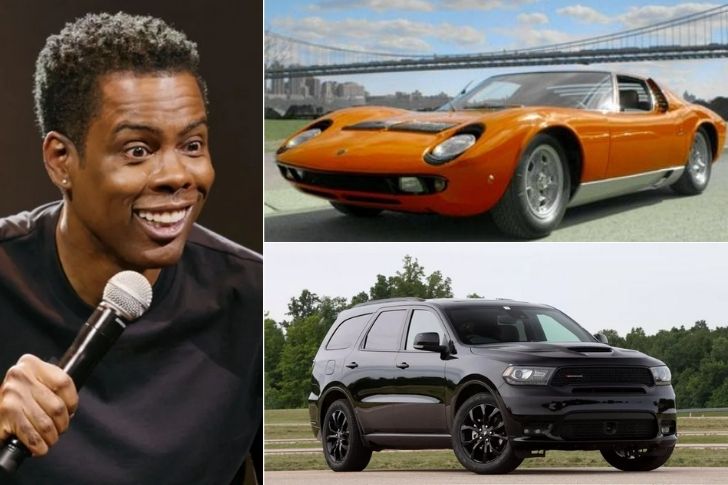 Chris Rock is one of the most successful standup comedians of all time. He's also a tenured actor, producer, writer, and director who's been able to enjoy a career that has spanned for several decades. Chris's most notable acting credits came in films like Grown Ups, Madagascar, The Longest Yard, and many more. He's also known for creating the hit television series Everybody Hates Chris.
Chris Rock is one of the highest-paid comedians globally, and he currently has a net worth of over $60 million. In turn, he encounters no problem in acquiring any car that he wants. Interestingly, Chris managed to collect a good number of gems throughout his career, and he's crammed them all up in his garage. Some of the cars in Rock's garage include an aggressive-looking Dodge Durango and a Maserati worth $200K.
Rod Stewart | Lamborghini Miura, 1977 Porsche 911 Turbo, 1977 Lamborghini Countach
Total Amount: Approximately $10 Million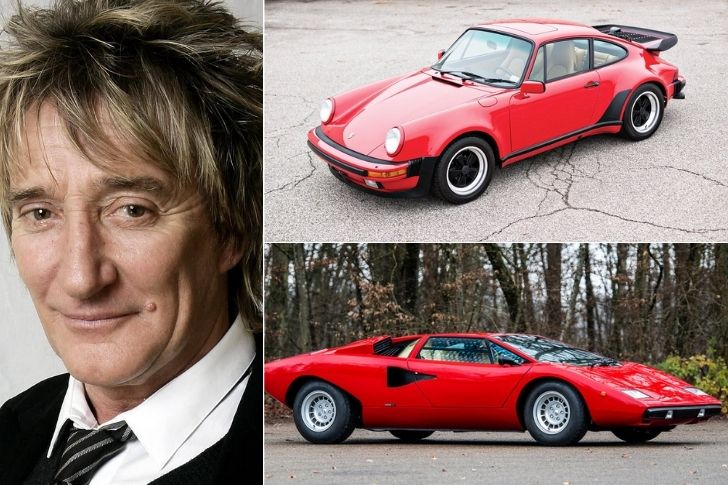 Rod Stewart is one of the greatest musical artists of all time. He has been able to sell over 120 million albums worldwide, making him one of the best-selling artists in history. He also has had 16 top ten singles on the US music charts, with four of those were able to reach the number one spot. Without a doubt, his iconic music career has allowed him to become an incredibly wealthy man.
As of this writing, Stewart has a net worth of $300 million. It's not a surprise to see his garage filled with highly sought-after automobiles. His car collection is estimated to be worth around $10 million, and it includes cars like a 1977 Porsche Turbo Carrera, 1977 Lamborghini Countach, 2003 Ferrari Enzo, and many more. He even owns a beautiful Lamborghini Miura, worth between $1 million to $2 million. With a ton of highly sought-after cars in his garage, he'll undoubtedly need a thorough insurance plan that can cover all of his precious toys!
Christina Aguilera | Range Rover Sport, Rolls Royce Phantom
Total Amount: Approximately $800,000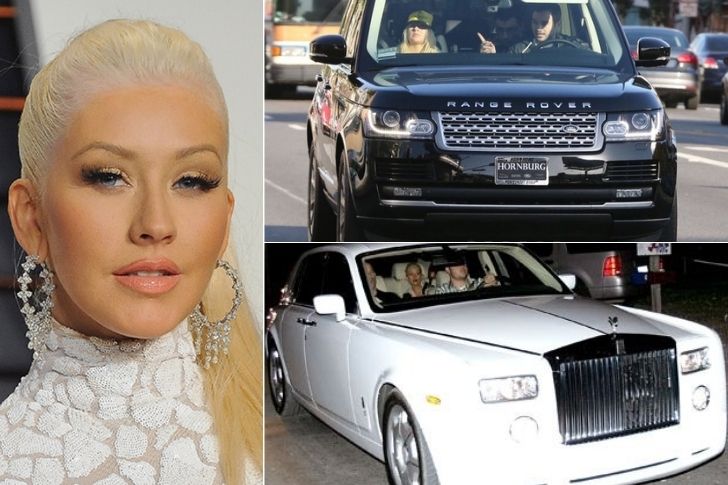 Christina Aguilera is a well-known American musician and entertainer. Aguilera is a five-time Grammy Award winner, and she's best known for exceptional vocal power. In addition to her successful music career, Christina also managed to venture into acting and television. She's got a good number of acting appearances in films, and she's currently the judge on the hit singing competition show The Voice.
Additionally, The Voice judge definitely makes it a point to cruise around town in style. She's got a good number of fancy cars in her garage, including two Range Rover SUVs. Whenever Christina wants to flex on her haters, she can easily take her stunning white Rolls Royce Phantom out for a spin. All in all, these cars reach a value of approximately $800K, and we're pretty confident that this pop superstar didn't need a money loan before she was able to drive them off the dealership lot.
Rowan Atkinson | McLaren F1, Land Rover Defender 90 Heritage, Jaguar MK7
Total Amount: Above $10 Million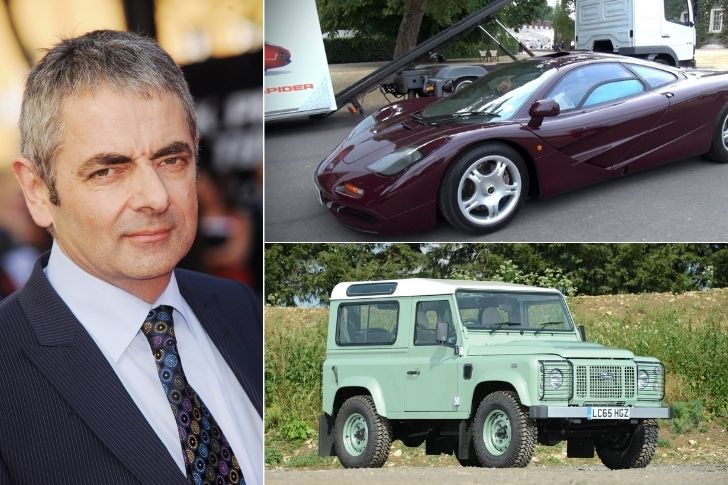 Rowan Atkinson is a well-known actor, comedian, and screenwriter. He's considered as one of the best when it comes to physical comedy, and he's best known for his character, Mr. Bean. Indeed, Atkinson has cultivated a career with more highlights than just his iconic comedy show. He's also had numerous acting credits in famous films such as the Johnny English franchise, Rat Race, and many more.
Off the set, Atkinson established a reputation to have acquired several fancy cars throughout his career. His car collection quickly totals more than $10 million! As a result, you'd often find sought-after automobiles in Atkinson's garage, such as the McLaren F1, a 1939 BMW 328, an Aston Martin Vantage, and many more. As you can see, he keeps a steady diet of vintage cars in his garage, and the prices on these gems can easily hit above $1 million each!
Clint Eastwood | Jaguar XK150, Ferrari 275 GTB, Austin Healey 100M
Total Amount: Approximately $5 Million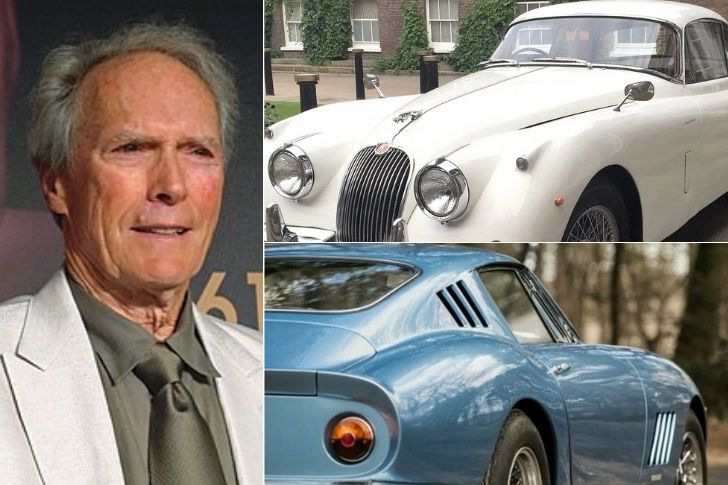 Clint Eastwood is a certified Hollywood legend whose career has spanned multiple decades. As an actor, he's been able to appear in several films throughout his career. He's also managed to carve a successful career as a producer, director, and politician. As we said, he's a legend and an icon in the entertainment industry, and he currently has a net worth of $375 million.
Eastwood has a reputation for acquiring fancy cars since the 1950s. You can expect his garage to have an expensive value, as it features automotive gems such as the Ferrari 275 GTB, the Jaguar XK150, the Austin Healey 100M, and many more. The prices on these vintage cars are incredibly high, and Clint's Ferrari alone has a value of over $3 million! You can only imagine how thorough his insurance plan must be to protect his prized possessions!
Sylvester Stallone | Ferrari F40, Bugatti Veyron, Bentley Continental GTC
Total Amount: Approximately $10 Million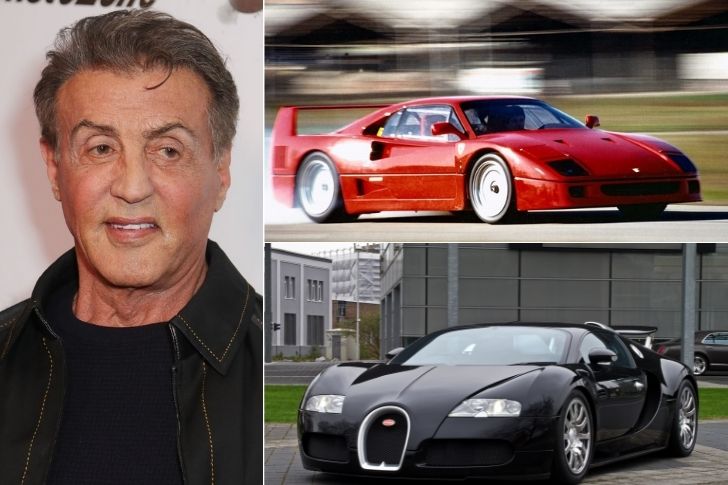 Sylvester Stallone is one of the most famous and most successful actors in the entertainment industry's history. He's appeared in several films, most notably in memorable movies such as Rocky, Creed, Rambo, The Expendables, and many more. Sly's movies have generated over $4 billion in global revenue. He's also one of the highest-paid actors during the peak of his career.
It was pretty routine to catch Sly behind the wheel of a sought-after exotic car. You could certainly expect that he has filled his garage up with expensive sports cars throughout his career. Sly's arsenal of fancy cars includes a Ferrari F40, Bugatti Veyron, and Bentley Continental GTC. He also has several Mercedes sedans, a Rolls Royce Phantom, a Camaro, and more Ferrari's. We can only imagine Sly's high maintenance and insurance costs, but we're sure that it's something that he can easily cover.
Courteney Cox | Jaguar S-Type, Porsche 911, Lexus ISC
Total Amount: Approximately $1.5 Million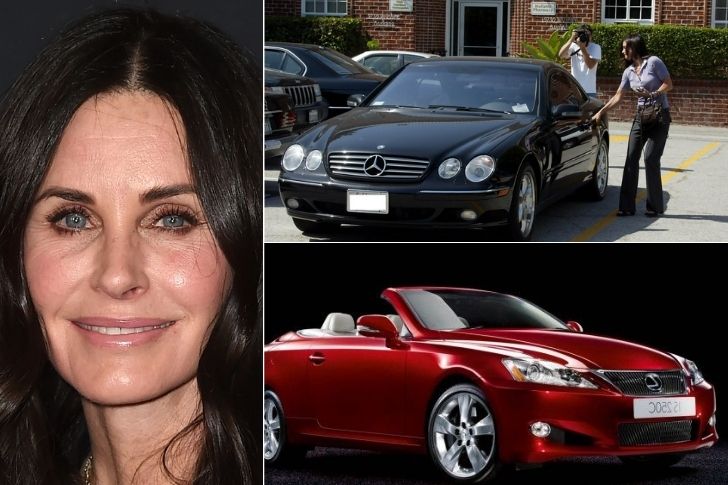 Courteney Cox is a famous actress who is best known for her starring role in the hit television sitcom Friends. Besides portraying Monica Geller on Friends, she also appeared in the iconic Scream horror franchise and the hit ABC sitcom Cougar Town. Cox has won her fair share of awards and accolades, including several nominations for a Golden Globe Award. She's also one of the wealthiest stars from the show, with a net worth of $150 million.
What does Cox do with her fortune? Well, she uses it to acquire the finest things in life, including cars! Cox keeps a nice car collection in her garage, including a stunning Jaguar S-Type, Porsche 911, and Lexus ISC. She also has a BMW 7 Series and a Mercedes-Benz ML-Class, which are just exceptionally luxurious. We'll undoubtedly have to give her a ton of credit for having impeccable taste in cars!
Robert Downey Jr. | 1965 Chevrolet Corvette, Audi R8, Ferrari California T
Total Amount: Approximately $5 Million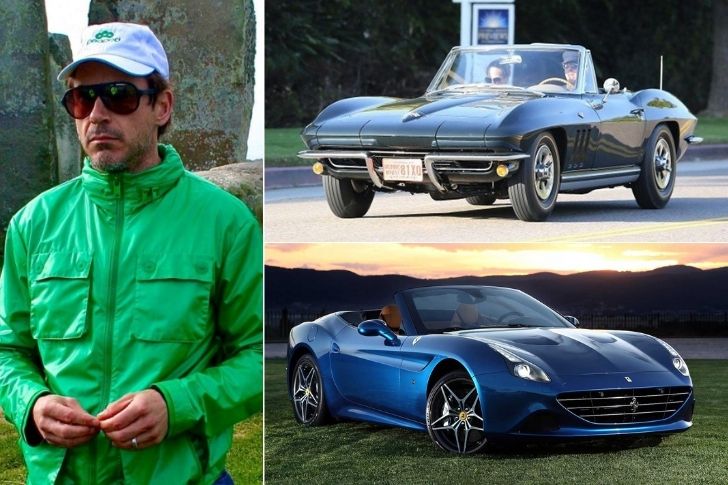 Robert Downey Jr. is a well-established actor in mainstream Hollywood action films. He's been able to put together an illustrious career as an actor, and he's best known for his roles in films like Iron Man, Sherlock Holmes, and The Avengers. RDJ's films have grossed over billions worldwide, and he's one of the highest-paid actors in the world today. RDJ comfortably sits on a net worth of $300 million, and it's a ton of dough that he uses to diversify his car collection.
RDJ bought several sought-after sports cars over the past few years. You'd certainly expect that his garage has several automotive gems. RDJ's a massive fan of Audi's, and he keeps a steady rotation of his three Audi R8s, A8 and A7. Of course, he has a couple of Ferrari's in there, a Porsche 993, a vintage Mercedes, and Corvette. His taste in cars is exquisite, and we're confident that he can quickly pay the insurance and maintenance bill of all the vehicles in his garage.
Steve Harvey | 2013 Ford Taurus SHO, Bentley Mulsanne, Rolls-Royce Phantom
Total Amount: Approximately $795,000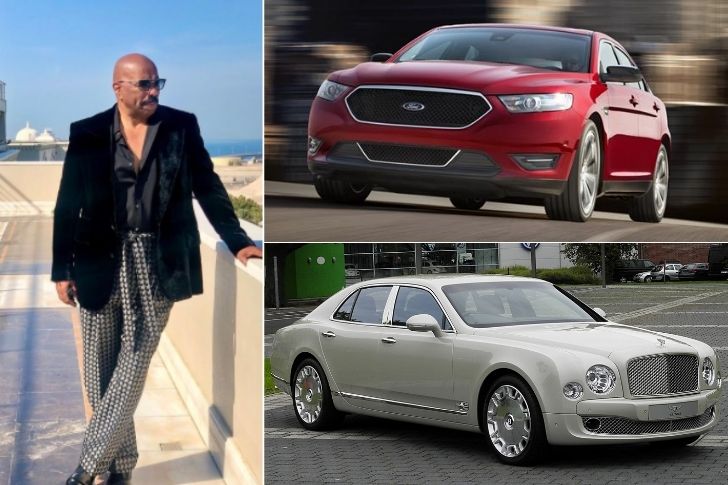 Like how numerous the shows he has already hosted, Steve also had many cars that he has driven. According to Hot Cars, the Family Feud host has a $40,000 2013 Ford Taurus SHO, a $305,000 Bentley Mulsanne, and Rolls-Royce Phantom with an estimated price of $450,000. Before we got to know him and before he had the funds to purchase these breathtaking investments, Harvey used to drive and lived in a 1988 Ford Tempo. Now, he has been using his platform to distribute cars to his fans and audience. One lucky winner received a Ford Focus, while a family won a Ford Edge!
Aside from Family Feud, Steve is also popular in hosting Little Big Shots, The Steve Harvey Morning Show, and Miss Universe on multiple occasions, not to mention the Miss Universe fiasco in 2015, where he mistakenly announced the wrong winner.
Dave Chappelle | Rolls-Royce Phantom Drophead Coupe, Lexus LS460, Porsche 911 Carrera S
Total Amount: Approximately $750,000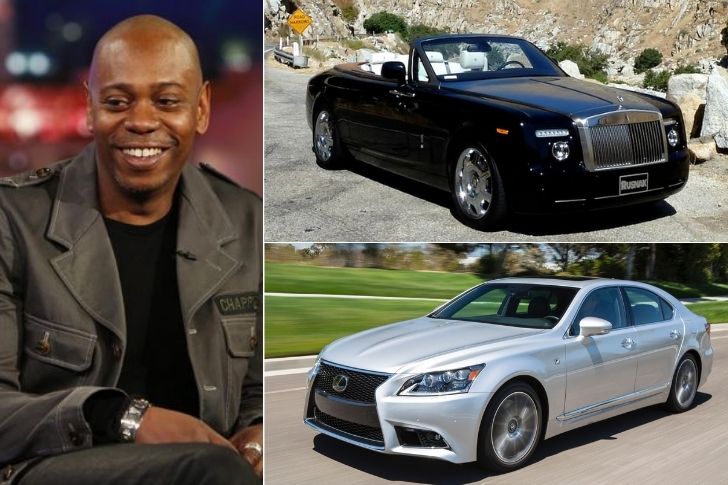 Dave is quite intelligent when it comes to choosing the best vehicle for him. According to Hot Cars, the actor has an impressive car collection that includes the classy-looking Rolls-Royce Phantom Drophead Coupe, Lexus LS460, and Porsche 911 Carrera S. The Royce reportedly twice the price of the remaining two combined — $533,000. The Lexus' price range, on the other hand, is $72,520-$120,400, while the Porsche still has an impressive price tag of around $120,000. Getting the sum of the three investments, the value of Chappelle's collection is approximately $750,000.
David Khari Webber Chappelle was born in Washington DC on August 24, 1973. Unsurprisingly, Chappelle is a Grammy award-winning comedian and is widely known for his standup specials in the subscription-based Netflix. More importantly, this is where he also received most of his fortune, amounting to $50 million. Between June 2016 to June 2018, he earned a staggering $82 million from the streaming giant.
David & Victoria Beckam | McLaren MP4-12C Spider, Ferrari 360 Spider, Porsche 911 Carrera Cabriolet
Total Amount: Approximately $1.1 Million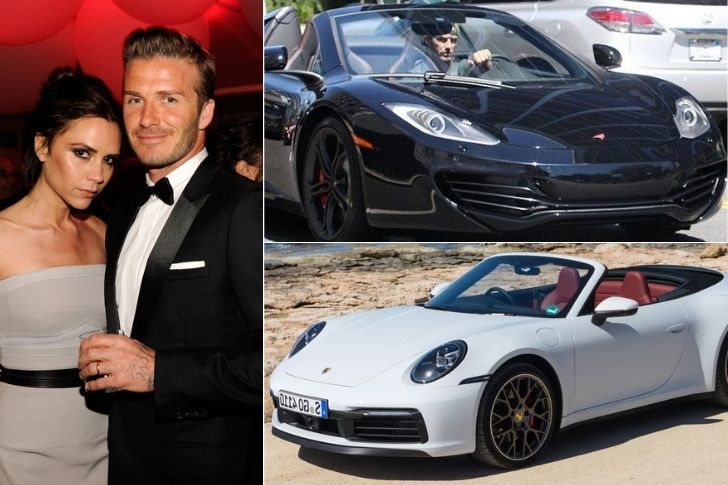 With the couples' combined net worth of $450 million, they already have driven different cars throughout their unbreakable marriage. David and Victoria tied the knot in 1996, and they now have four children. One of the cars they own is a McLaren MP4-12C Spider, a beast with the twin-turbo V8 installed, which can produce 592 hp and 443 pound-feet of torque. The 2013 version has a whopping price tag of $268,250. Second is a $162,000 Ferrari 360 Spider and a Porsche 911 Carrera Cabriolet that cost the Beckhams $97,300, which is probably less than their credit card limit.
Aside from these three stunning cars, they also played with a Ferrari 575M Maranello that costs $250,000, while the Bentley Continental Supersports Convertible could cost around $300,000. These five cars alone have an accumulated price of approximately $1.1 million and take note, and this list is still incomplete.
Dax Shepard & Kristen Bell | 1967 Lincoln Continental, 1994 Buick Roadmaster Station Wagon, Mercedes-AMG E63
Total Amount: Approximately $300,000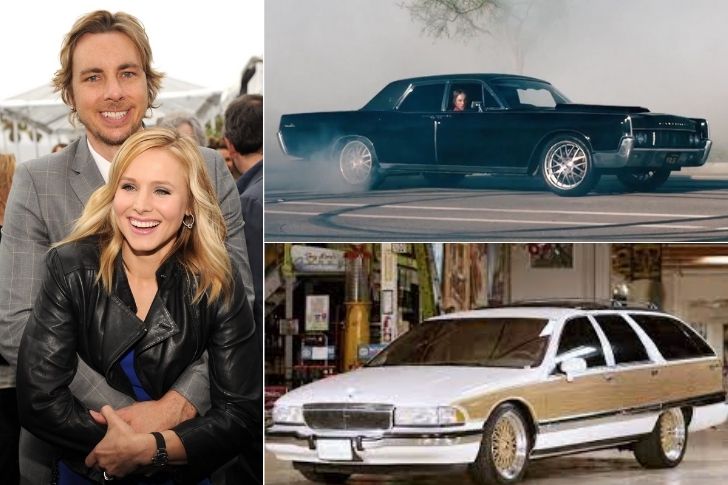 Dax and Kristel Bell have been married since 2000, and their union gave them two beautiful daughters, namely, Lincoln and Delta. According to Closer Weekly, this lovely family has lived in the Los Feliz neighborhood in California since they bought this sprawling 4,050-square-foot estate in 2017. Aside from the primary residence's four bedrooms and four-and-a-half bathrooms, it also comes with a detached garage which we presumed filled with their stunning car collection.
A famous pair like them in Hollywood certainly comes with multi-million-dollar net worth. However, the couple seemed not to be fans of sports cars and other luxury cars. Instead of investing in Rolls-Royce or Porsche, they have a vintage 1967 Lincoln Continental and a 1994 Buick Roadmaster Station Wagon. Both vehicles are customized but do not have a reported value. However, the first one could cost up to $165,000, the second $4,600. Apart from these two, their latest investment is a Mercedes-AMG E63 that could be valued at $100,000.
Demi Lovato | Mercedes Benz AMG GT C, Ferrari 458 Italia
Total Amount: Approximately $339,000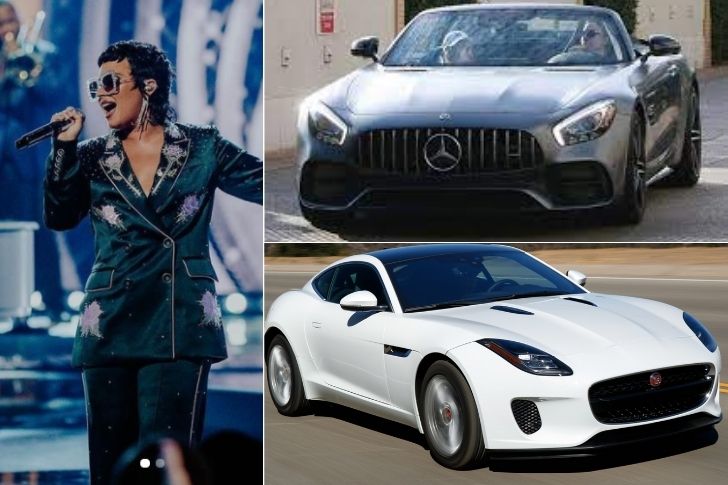 For her long-running career, Demi has established a name of her own and a fortune that gave her the means to drive some luxurious brands like this Mercedes Benz AMG GT C, and this car has a whopping price tag $114,000. This car boasts a 4.5L AMG V8 Biturbo engine that will help with the car travel from 0-60 mph 3.6 seconds and produce 562 hp. Apart from this stunning vehicle, she also put investment money for a Ferrari 458 Italia and Cadillac Escalade — these three automobiles have a combined amount of $225,000.
Demi Lovato was a child star turned singer responsible for hits like Sorry Not Sorry, Give Your Heart A Break, and Solo. Aside from Barney, they also appeared in several acting projects, including Camp Rock, its sequel Camp Rock 2: The Final Jam, and Smurfs: The Lost Village. Recently, they revealed that Demi is non-binary and requested for their pronouns to be they and their.
Demi Moore | Porsche 1965 356 SC, Mercedes-Benz's S-Class
Total Amount: Approximately $300,000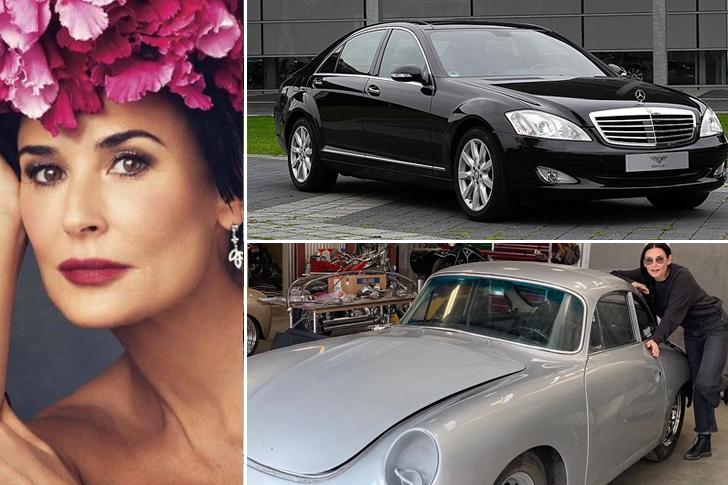 Demi is as beautiful as the wheels in her garage. Well, aside from driving a classy-looking Mercedes-Benz's S-Class, the famous actress is also a proud owner of vintage Porsche 1965 356 SC. This car might be a head-scratching choice for a celeb like her, boasting only 107 BHP of power, 90 Ft-Lbs of torque, and a top speed of 125 mph. However, depending on the condition, this car could cost from $21,998 to $315,700.
Moore is an actress and producer who has been in the entertainment industry since the 1980s. She is best known for several acting credits in films, including Bobby, Ghost, and If These Walls Could Talk. These cars might not be the last one she'll get hands-on the wheels as according to Celebrity Net Worth, she has $200 million to use to drive whatever car rhymes her name, whether it's a Bugatti, Ferrari, or Lamborghini.
Dolly Parton | No.2 Chevrolet Camaro, 1997 Cadillac D'Elegance
Total Amount: Undisclosed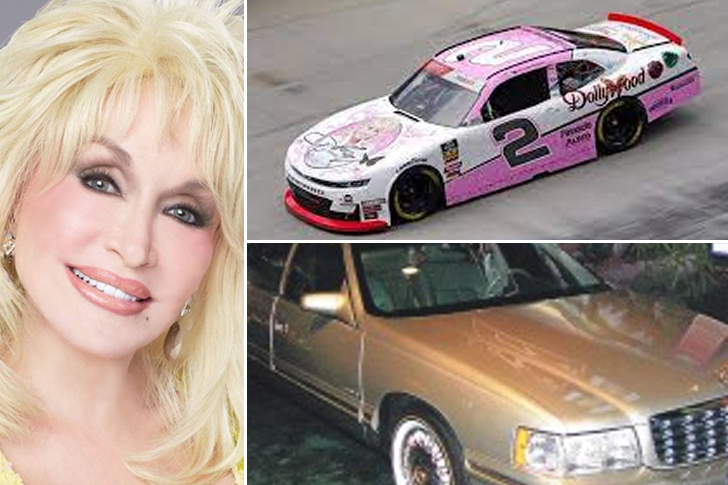 Dolly has this known love for old things, and she doesn't let go of them so quickly, even if she has the means to buy all the expensive investments she could think of. Just like the 1997 Cadillac D'Elegance, which is reportedly her personal favorite. Although this car is now in the care of the Hollywood Stars Car Collection in Gatlinburg, Tennessee, she still has the No.2 Chevrolet Camaro. There is no source about the price of these cars, but a unit of D'Elegance reportedly values around $40,000. However, just knowing the owner might cost a lot.
The legendary country singer has been in the music industry for more than half a century. A few of her long list of hits are I Will Always Love You, 9 to 5, and Islands in the Stream. It's uncertain where she parked this car, but she has a stunning estate in Brentwood, Tennessee, which she has lived in since 1999. Unlike known celebrities with multi-million houses, hers is worth $400,000.
Drake | 2004 Acura TSX, 2010 Bugatti Veyron Sang Noir Edition, 2018 Devel Sixteen
Total Amount: Approximately $4.8 Million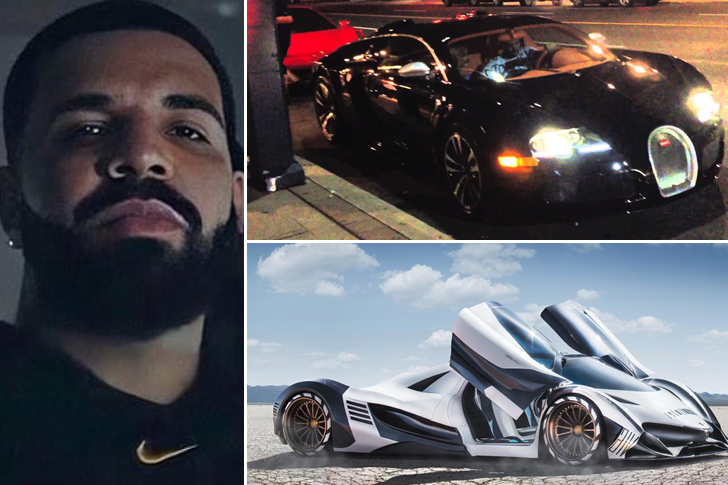 It's uncertain if Drake still has things that he wants to have, but he has everything a man needs based on how we know him. He has a $100 million mansion in Canada, multiple chart-topping hits, and a multi-million-dollar car collection. One car alone can suffice the annual salary of several people with finance degrees, and that is the 2010 Bugatti Veyron Sang Noir Edition. Its price tag is $2.2 million, and it has a quad-turbocharged W16 8.0-L engine that can produce 987 hp. GQ suggested that Drizzy might also own another beast, the 2018 Devel Sixteen, with a staggering price tag of nearly $2 million. However, before he got his hands on the wheels of these cars, he also used to drive a $27,000 Acura TSX 2004.
His collection doesn't end there. He also owns a 2010 Mercedes-Benz SLR McLaren and a 2015 Rolls-Royce Wraith, both with nearly $300,000 price tags.
Dwyane Wade & Gabrielle Union | Mercedes SLR McLaren, McLaren 720S Spider, McLaren MP4-12C
Total Amount: Approximately $2.2 Million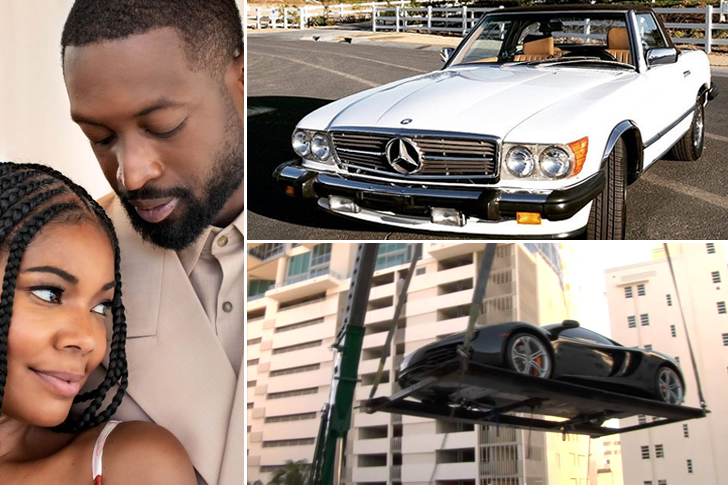 Dwyane has driven at least 15 cars, and there were times where he was driving down the road with his current wife, Gabrielle. Aside from his $260,000 2019 Ferrari GTC4Lusso T, Wade has an undeniable love for McLaren. He has played with a $500,000 Mercedes SLR McLaren, a McLaren 720S Spider, at least $315,000, and a $799,000 McLaren MP4-12C. In addition, he has also been at the back of the wheel of a Ferrari F12 Berlinetta. According to The Things, the basketball player acquired this car in 2013, without the exact price. However, a used one on DuPont Registry has a whopping price tag of $323,000, and reports said that it could cost nearly $400,000. These five cars alone cost an estimated $2.2 million.
Wade has to have a stunning home where he could park these vehicles from scoring magnificent car investments. In 2020, the retired NBA legend and his wife purchased a sprawling property in Hidden Hill, California, for $17.9 million with a 12-car garage.
Ellen Pompeo | Tesla Model S, Range Rover
Total Amount: Approximately $100,000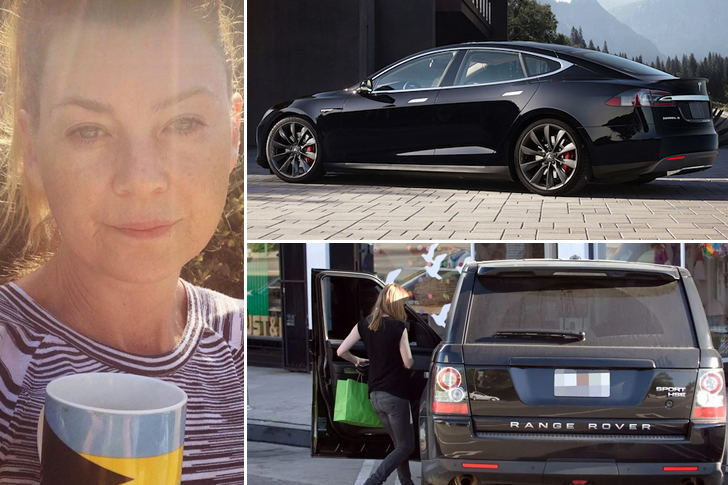 After starring in the medical drama Grey's Anatomy for almost two decades, Ellen Pompeo indeed has the means to buy cars that will fit the lifestyle of an established actress like her. According to Taddlr, the actress owns a Range Rover, which is a celebrity favorite. The reported price of the black SUV is $60,000. However, it's not surprising that she also has another car, a Tesla Model S P100D. This car runs on electricity, has a top speed of 155 mph, and can accelerate from 0 mph to 60 mph in 2.4 seconds. It's uncertain when and how much she bought her car, but she indeed dropped a considerable amount of money for this.
Over the years, Pompeo has accumulated a whopping net worth amounting to $80 million. According to Celebrity Net Worth, her yearly paycheck is $20 million or $550,000 per episode, excluding syndication royalties and revenue.
Elon Musk | 1978 BMW 320i, 2021 Tesla Cybertruck, 1997 McLaren F1
Total Amount: Approximately $1.07 Million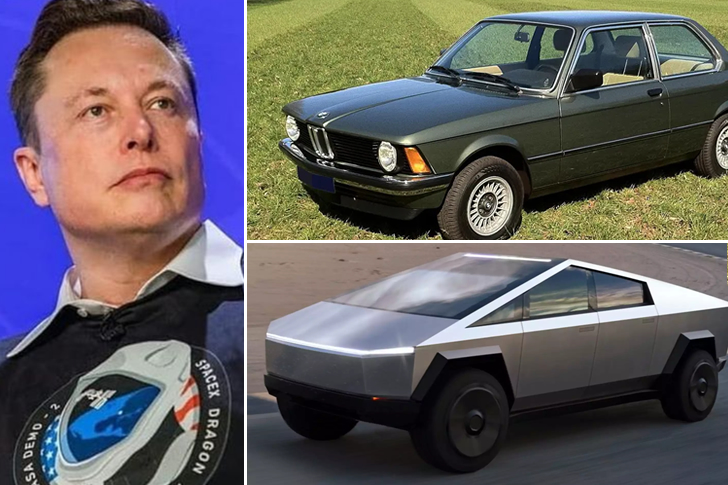 Before even building an empire and establishing his own car brand, Tesla, Elon also drives other luxury brands. Before Clon became a billionaire businessman, he drove a 1978 BMW 320i that he bought for only $1,400, which is also his first car. However, by the time that he could afford to buy a sports car, he dropped investment money for a 1997 McLaren F1, with a reported price of $1 million. Of course, he would not let his car brand down as he also drives the popular and the latest 2021 Tesla Cybertruck. This car could travel from 0 to 60 mph between a fast 6.5 seconds to the most rapid 2.9 seconds, depending on the variant. The price of this modern car ranges between $39,900 to $69,900.
It's uncertain where he will park these cars in the future as he promised to own no house. In 2021, Musk aims to sell his remaining house in San Francisco, California.
Emma Stone | Mini Cooper, Audi S6, Audi Q5
Total Amount: Undisclosed
Emma Stone has a net worth of $30 million; most of this figure came from her work as an actress. Of course, she has to have multiple cars that she could use to go on set, premiere nights, or just when she wants to go to the grocery. Stone reportedly owns a Mini Cooper and Audi S6. Aside from these small vehicles, she also owns a bigger one, which is an Audi Q5. It's unsure when she decided to purchase these cars, but they are undoubtedly stunning.
Emma is known for her credits in numerous films, including The Amazing Spider-Man, La La Land, and her latest film, Cruella, released in May 2021. The Academy Award-winning actress is now a mom after giving birth to a baby girl with Dave McCary. So someone is now filling the back seats of these cars.
Anne Hathaway | Audi A5, Audi R8
Total Amount: Undisclosed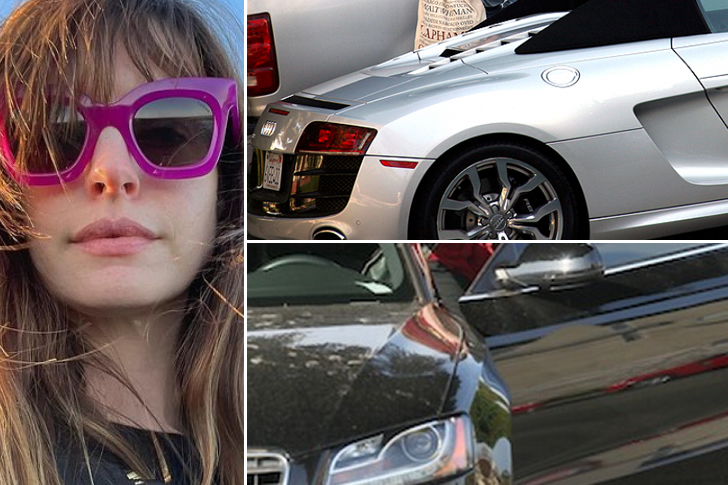 The famous actress indeed has a love for Audi. With her whopping net worth of $60 million, she reportedly owns an Audi A5 and Audi R8. Information about these cars, such as their year of purchase and price, is limited, but media reported Hathaway driving around a Porsche Carrera S and BMW i3. More importantly, these vehicles alone speak six digits on any price catalog.
Anne Jacqueline Hathaway came to be in Brooklyn, New York City, on November 12 of 1982. She became a popular actress in Hollywood who earned acting credits in various hit films such as The Devil Wears Prada, Les Miserables. Of course, we won't forget about her breakthrough film, The Princess Diaries. She already received numerous accolades throughout her long-running career, including an Academy, a Golden Globe, and a Primetime Emmy Award. She has nurtured a relationship with Adam Shulman since 2012 and received a blessing with two children.
Sheryl Crow | 1964 Corvette Stingray Convertible
Total Amount: Approximately $80,000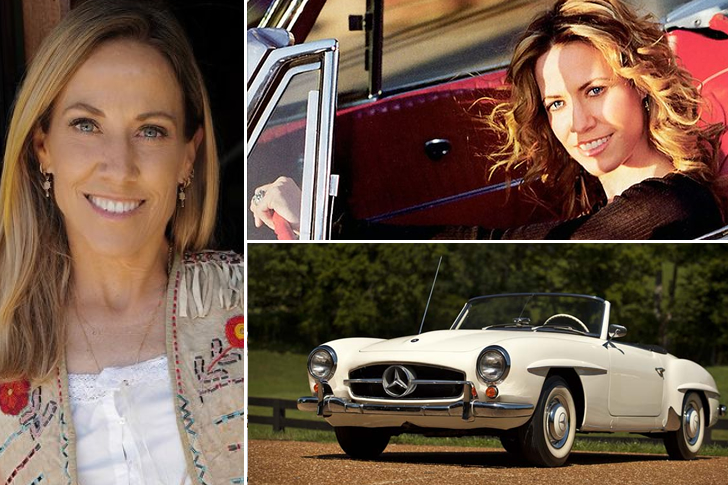 Crow used to drive several cars but sad to say, many of them have been in the garage of someone else. According to Pursuitist, the Grammy award-winning singer put her Mercedes-Benz 190 SL Roadster for auction with an estimated price of up to $80,000. Although she let go of this car, she mentioned in her interview with Vanity Fair that she still has a 1964 Corvette Stingray Convertible, which can cost between $4,037 to $61,900. In addition, she stated that she once drove a Chevy Camaro Z-28 when she was 16 after saving money, a 1971 Chevy Malibu convertible, and a couple of Corvair convertibles.
Aside from being a singer who already released numerous albums and won nine Grammys, Sheryl also earned acting credits in various TV shows such as NCIS: New Orleans, 30 Rock, and Hannah Montana. Indeed, Crow is one of the most respected celebrities of her generation.
George Clooney | 1959 Chevrolet Corvette V8 C1 convertible, 2008 Tesla 'Signature 100' Roadster, 1993 Porsche 911 Carrera 2 964 Speedster
Total Amount: Above $500,000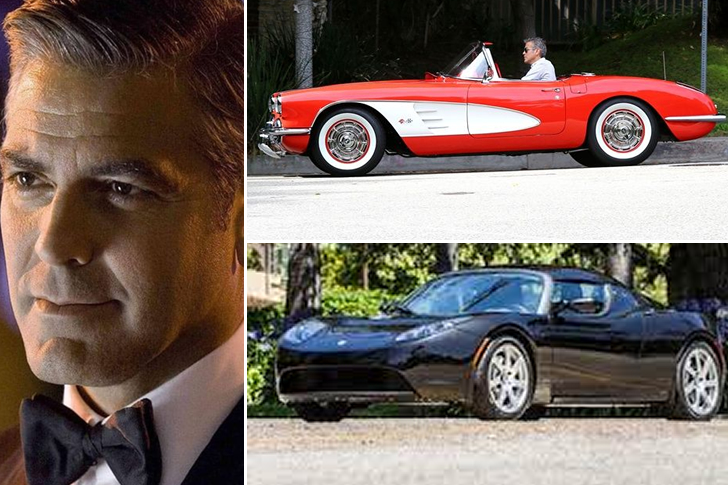 George has a net worth amounting to $500 million, but surprisingly, he has been driving vintage cars instead of brands that are considered status symbols such as Bugatti, Ferrari, or Lamborghini. To be more specific, he drives a vintage 1959 Chevrolet Corvette V8 C1 convertible that has a 4.6-liter engine and can deliver 290bhp. Unfortunately, the price of this one is unknown. The next car he used to drive was a Tesla Signature 100 Roadster 2008. He mentioned that he used to have this car but had to auction it for charity instead as he always ends up stuck on the side of the road. A similar unit was sold in January 2021 for $182,000, but it's uncertain how much his car cost.
According to GQ, the ER actor and former owner of the tequila brand Casamigos also owns a 2012 Lexus LS, which cost him between $68,000 to $113,000. In addition, he might've used his credit card for a 1993 Porsche 911 Carrera 2 964 Speedster, which has a reported price of €232,000 or around $275,000.
Chris Evans | Lexus ES 350, Chevrolet Suburban, 1967 Chevrolet Camaro
Total Amount: Approximately $636,000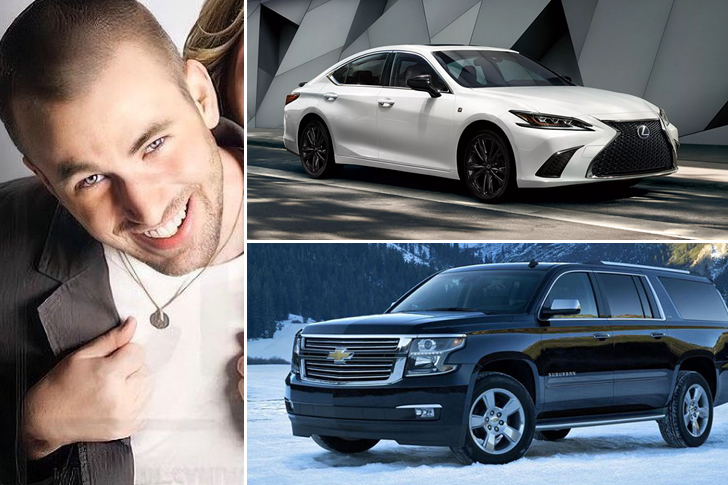 Widely recognized as the superhero Captain America in the Marvel Cinematic Universe, Chris Evans started his television series like Opposite Sex in 2000. After several appearances in teen movies, such as Not Another Teen Movie in 2001, Evans gained attention for his portrayal of Human Torch in Marvel Comic's Fantastic Four in 2005. Soon after, he appeared in several films before playing the characters of Captain America and Steve Rogers in MCU's film series. Throughout his career, Evans has established himself as one of the highest-paid actors in the world.
As Evans' net worth grew over the years, he bought several cars for his collection, including the Audi A8 L, one of his favorites, and Audi R8—indeed, all the vehicles have insurance. On the other hand, Evans is also a Buddhist student, a fan of the New England Patriots, and adopted a dog from a shelter.
Chris Hemsworth | Audi Q7, Cadillac SRX, Cadillac Escalade
Total Amount: Approximately $218,000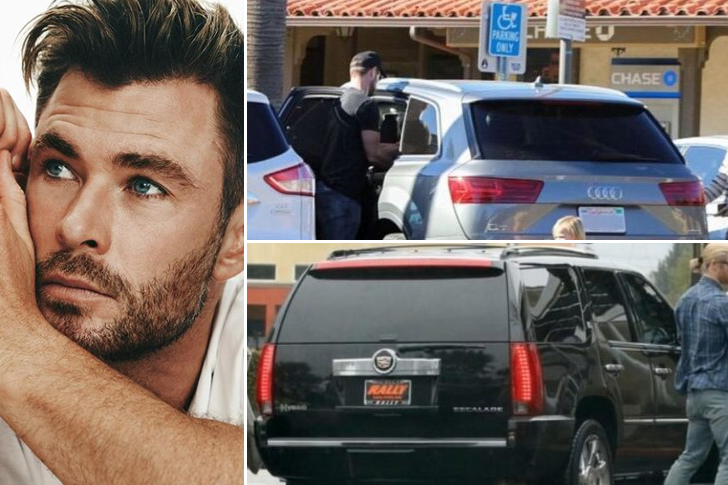 Chris Hemsworth is notable, in most cases, for his portrayal of Thor in MCU's film series such as The Avengers and Thor. Early on in his career, he rose to prominence in Australia for playing Kim Hyde on the television series Home and Away from 2004 to 2007. Years later, he began his career in Hollywood with the abovementioned movies and characters. Hemsworth is among the highest-paid actors in the world—credit to his acting skills. His other films include Star Trek, Snow White and the Huntsman, Blackhat, Rad Dawn, Men in Black: International, and Rush.
Like any other successful celebrity, Hemsworth also has his own car collection, including an Acura MDX worth $45,000, among many others. It's fitted with a 3.5-liter V6 engine with a power output of 290 horsepower and a maximum torque of 267 pound-foot that can accelerate the car to a top speed of 243 km/h.
Gordon Ramsay | Aston Martin DB7 V12 Vantage, Land Rover Defender 110 SVX 'Spectre' JB24, Porsche 918 Spyder
Total Amount: Approximately $4.3 Million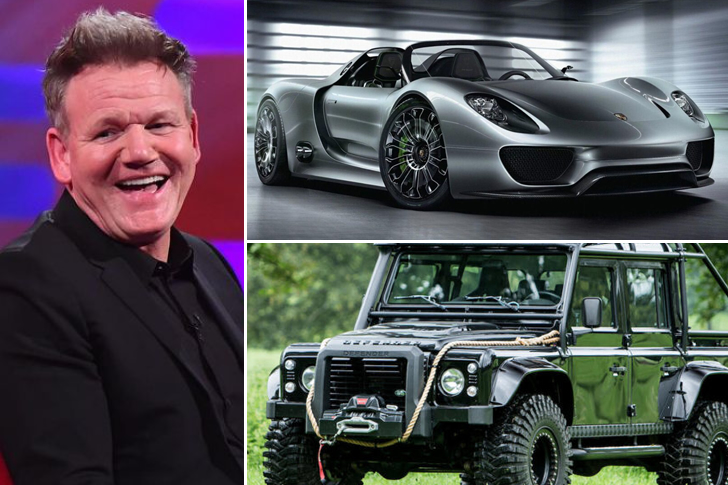 British chef, writer, restaurateur, and television personality Gordon Ramsay founded his Gordon Ramsay Restaurants global restaurant group in 1997. Currently, it holds seven Michelin stars. It has been awarded a total of 16 in the past. Following his rise to fame on the British television miniseries Boiling Point in 1999, Ramsay became one of the most respected and best-known chefs in the UK by 2004. Ramsay is famous for his bluntness, strict demeanor, and fiery temper in the kitchen. The chef is also known for representing reality cooking competitions on television such as Ramsay's Kitchen Nightmares, MasterChef, Kitchen Nightmares, and MasterChef Junior, among many others.
Ramsay has achieved a tremendous degree of success in his overall career, clearly evident with his net worth of $250 million. As an avid car enthusiast, he collects a fleet of vehicles, including a 2019 Ford GT, Mclaren Senna, Aston Martin DBS Superleggera, and Mclaren 675LT.
Gwen Stefani | Mercedes-Benz G-Wagon, Porsche Panamera, Maserati Quattroporte
Total Amount: Approximately $396,000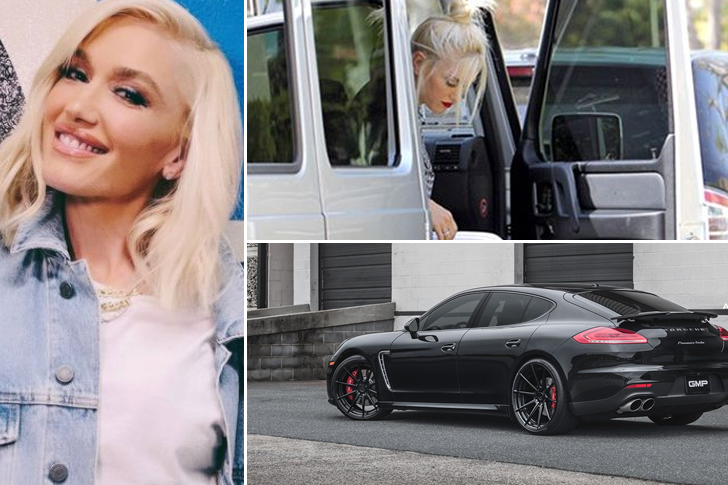 Gwen Stefani is most notable for being the lead vocalist, co-founder, and primary songwriter of the rock band No Doubt, whose breakthrough album Tragic Kingdom and It's My Life spawned the hit singles Don't Speak, Just a Girl, and Spiderwebs. In 2004, Stefani ventured into a solo career during the band's hiatus and released her debut studio album Love. Angel. Music. Baby. With hit singles Hollaback Girl, Rich Girl, and Cool. The former single reached the top spot of the Billboard Hot 100 chart and became the first US download to sell over a million copies.
With her success throughout her career, Stefani achieved a great degree of achievement in her chosen profession. As her net worth increased, she bought expensive cars over the years, including a Range Rover Sport, among others. The popular SUV boasts a 4.4-liter V8 engine with a maximum power output of 282 horsepower and 325 pound-foot of torque to accelerate the SUV to a top speed of 209 km/h.
Gwyneth Paltrow | Mercedes-Benz G550, Range Rover, BMW SUV
Total Amount: Approximately $396,000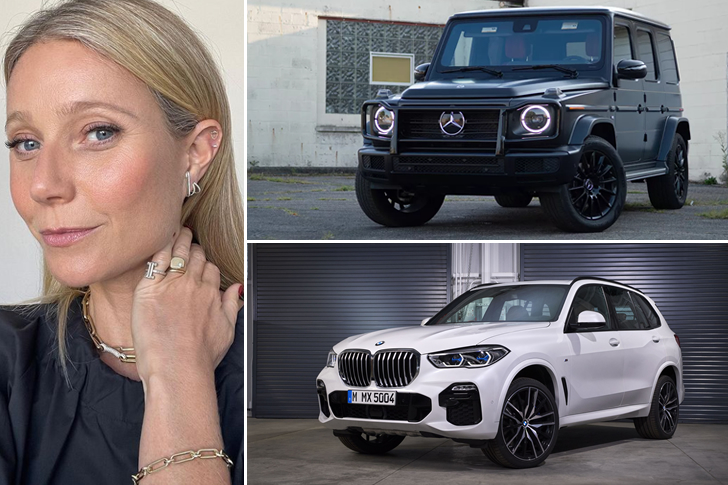 American businesswoman, actress, writer, and model Gwyneth Paltrow has received multiple awards and recognitions throughout her run in the entertainment industry, including an Academy Award, Primetime Emmy Award, and Grammy Award and Golden Globe Award nominations. She gained notice for her early works in films Emma, Seven, and Sliding Doors. In the 1998 movie Shakespeare in Love, Paltrow gained wider recognition and was credited with several recognitions, including an Academy Award for Best Actress.
The multi-awarded actress has a net worth of $150 million and bought several cars like her FJ G40 and Lincoln Navigator. The Lincoln boasts a 3.5-liter V6 engine with a maximum power output of 450 horsepower and 500 pound-foot torque. Using its ten-speed automatic transmission, the SUV can accelerate to a top speed of 251 km/h. On the other hand, the G40 has a 4.0-liter V6 engine that generates 228 horsepower with a five-speed manual transmission and a top speed of 190 km/h.
Halle Berry | Lexus RX450, Honda CR-V, BMW 740i
Total Amount: Approximately $238,000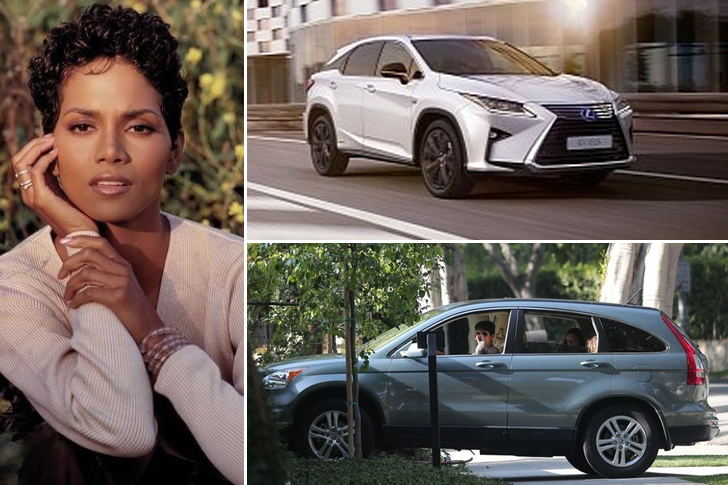 Halle Berry started her journey as a model and competed in several beauty contests. She won first runner-up in the Miss USA pageant and sixth in the Miss Word 1986. In 1992, Berry made her breakthrough role in the romantic comedy Boomerang. Her performance in that movie led to several other films such as The Flinstones, Bulworth, and Introducing Dorothy Dandridge. Moreover, Berry takes credit for a Golden Globe Award and Primetime Emmy Award for these films. She won her Grammy Award in the romantic drama Monster's Ball in 2001.
The award-winning actress has achieved considerable success in her career, raising her net worth to $100 million and buying several vehicles through the years, including her Lincoln Navigator, which can reach a maximum speed of 251 km/h 3.5-liter V6 engine. It has a ten-speed automatic transmission, a torque of 500 pound-foot, and can generate a maximum power output of 450 horsepower.
Harrison Ford | Tesla Model S, Jaguar XK140, Austin Healey 300
Total Amount: Approximately $400,000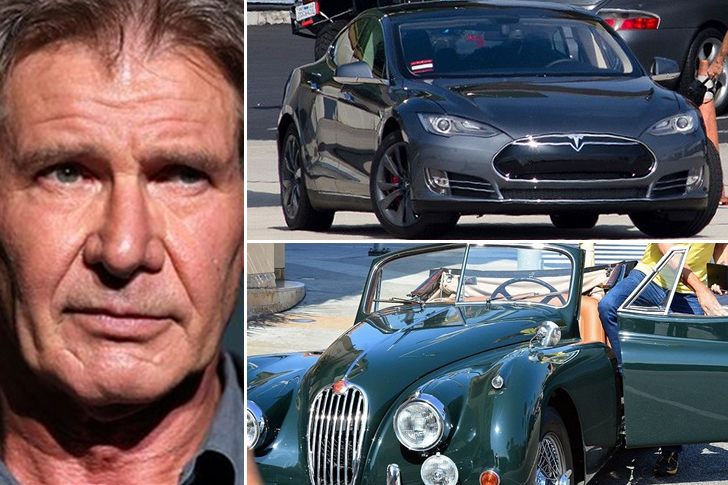 American environmentalist and actor Harrison Ford is number four on the list of the highest-grossing domestic box office stars, with a worldwide gross of over $9.3 billion and $5.1 billion domestically. With that said, the actor takes credit for numerous awards and recognitions, including three Saturn Awards, Cecil B. DeMille Award, and an Academy Award, among others. After starring in the 1977 epic film Star Wars, Ford gained global fame. He would go on to reprise the role over 42 years for its four sequels. He's also widely recognized for his performance in the titular film Indiana Jones.
Following his success portraying the archeologist Indiana Jones, Ford serves as a General Trustee on the Governing Board of the Archaeological Institute to support professional archaeologists. In his extensive career in the industry, he has achieved tremendous success and increased his net worth to $300 million. He bought several planes, motorcycles, and cars, including a Mercedes-Benz S Class and Mercedes-Bez E Class Wagon.
Jay Leno | 289 AC Cobra, 427 Shelby Cobra, Acura NSX VIN 003
Total Amount: Approximately $52 Million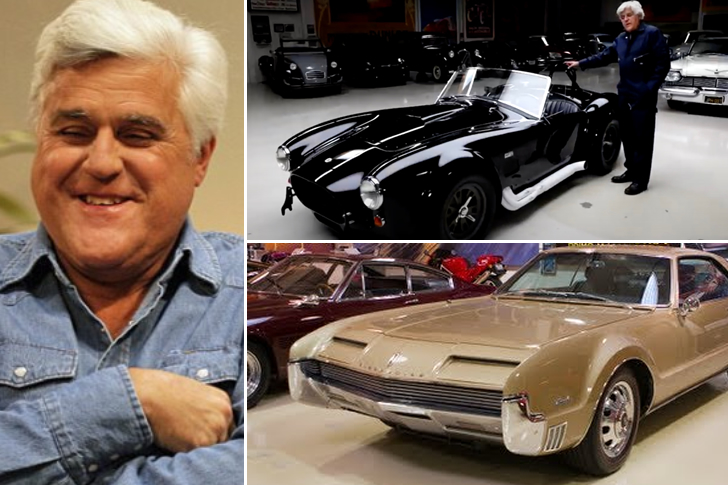 Jay Leno is widely famous for his primetime talk show, The Jay Leno Show, which aired on the NBC network in 2009, and he received induction into the Television Hall of Fame in 2014. That same year, he started to host his own series titled Jay Leno's Garage up to the present day. He also writes regular columns in Popular Mechanics giving automotive advice and showcasing his car collection, and occasionally writes "motormouth" articles for The Sunday Times.
As Leno's net worth grew throughout his long career in the entertainment industry, he bought numerous cars featured in his series, Jay Leno's Garage. In his garage, one can find a 1906 Advance Steam Traction Engine, 1941 American LaFrance Series 600 pumper V12 Firetruck, Buick Roadmaster, Bugatti Type 37A, Cadillac Type 57, and DeTomasso Pantera, among his mind-boggling 181 cars. Indeed, insurance companies would line up outside his garage for these vehicles.
Hugh Grant | Ferrari F12 TDF, Audi R8, Ferrari California
Total Amount: Approximately $2.1 Million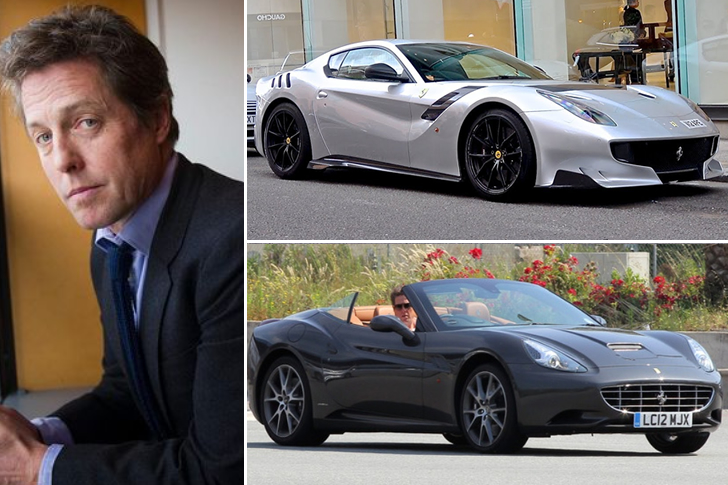 English actor Hugh Grant first received attention for his performance in costume dramas such as Maurice, The Remains of the Day, Sense and Sensibility, and Restoration. He attained worldwide recognition after appearing in the romantic-comedy film Four Weddings and a Funeral in 1994. He takes credit for a Golden Globe Award and British Academy Award. Following the movie's success, Grant starred in several films that further increase his global fame, such as Notting Hill, Bridget Jones's Diary, About a Boy, Two Weeks' Notice, Love Actually, and Music and Lyrics.
Grant has achieved considerable success throughout his career and increased his net worth to $150 million, enabling him to buy his favorite cars, including an Aston Martin Vanquish Volante. Powered by a V12 DOHC engine, it can generate a power output of 565 brake horsepower and 457 pound-foot torque. Using its six-speed touch-tronic transmission can accelerate the car to a maximum speed of 294 km/h.
Iggy Azalea | Ferrari 458, Jeep Wrangler, Range Rover Vanguard
Total Amount: Approximately $486,000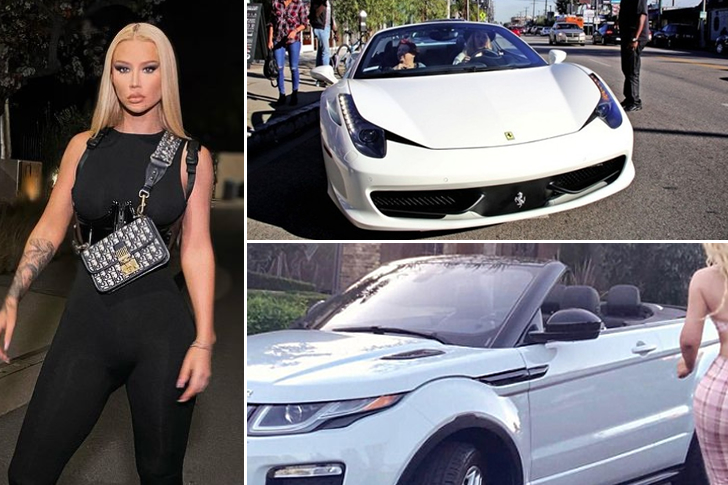 Australian singer, rapper, songwriter, and model Iggy Azalea moved to the United States from Australia to pursue a career in music. Later on, she earned recognition after releasing the music video for her songs Two Times and Pussy on YouTube and gained popularity rapidly. In 2011, Azalea released her debut mixtape, Ignorant Art, after signing a recording contract with the American rapper T.I.'s Grand Hustle label. Her debut studio album, The New Classic, reached number one on Billboard Top R & R & R & R&B/Hip-Hop Albums and made her the first non-American female rapper to earn the chart's top spot.
Among the rapper's awards and accolades credited to her include MTV Video Music Award, ARIA Award, Teen Choice Award, Billboard Award, a several Grammy Award nominations. As her career flourished, Azalea's net worth also increased, which enabled her to buy many cars like her Range Rover Evoque Convertible. The vehicle boasts a 2.0-liter Turbo Inline-4 gas engine that generates a power output of 237 horsepower and 251 pound-foot of torque that can accelerate the car to a maximum speed of 215 km/h.
Dakota Johnson | Audi Q5, Porsche 911 Carrera, Porsche Cayenne
Total Amount: Approximately $473,000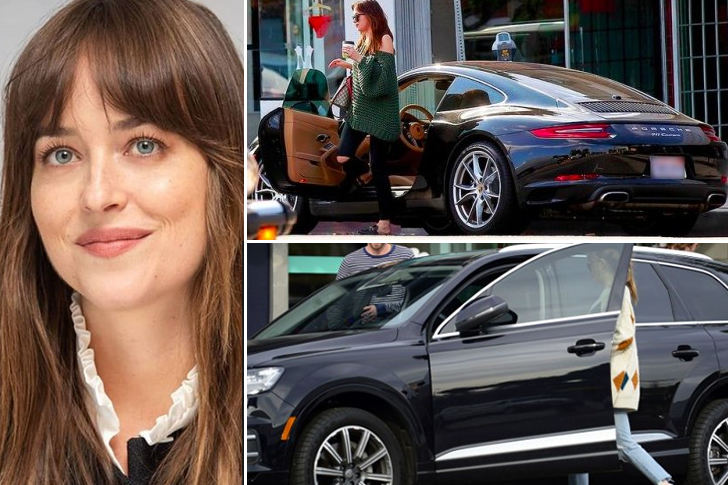 Dakota Johnson made her film debut at the tender age of ten with a minor role in Crazy in Alabama in 1999, a dark comedy film with her mother, Melanie Griffith. She began auditioning for roles in Los Angeles after graduating high school, eventually getting cast for the 2010 movie The Social Network. Following that film, she had supporting roles in the comedy 21 Jump Street and in the independent comedy Goats, as well as the romantic comedy The Five-Year Engagement, all of which were made in 2015. That same year, she landed her first leading role in a movie as Anastasia Steele in Fifty Shades of Grey. She was credited with a BAFTA Rising Star Award nomination for her performance in the movie.
As Johnson's career flourished over the years, her financial gains also increased, and she bought a number of cars, including her 1966 Shelby GT350. It's fitted with a 4.7-liter V8 engine that can generate 306 horsepower and 330 pound-foot of torque, which can propel the muscle car up to 210 km/h.
Jamie Oliver | Ford Capri, Land Rover Discovery, 1966 Shelby GT350
Total Amount: Approximately $350,000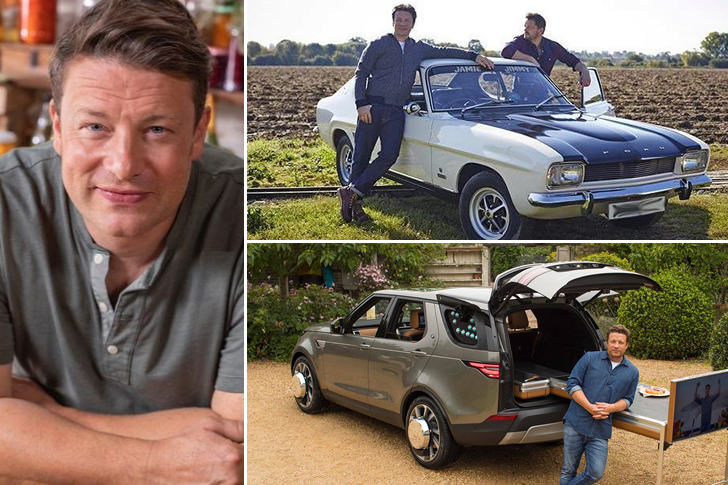 British restaurateur and chef Jamie Oliver is best known for his approachable cuisine, which has led him to numerous television show appearances. He worked as a pastry chef in Neal Street restaurant, owned by Antonio Carluccio, after finishing his education in London. Oliver was noticed by Patricia Llewellyn, a managing director and producer from Optomen while serving as a sous-chef at the River Café. Soon enough, in 1999, his television cooking program The Naked Chef aired on the BBC network. This was followed by a first cookbook that became a number one UK bestseller.
For his documentary television series, Jamie's Kitchen, it gained him an invitation to visit 10 Downing Street by former British Prime Minister Tony Blair. In 2003, Oliver was credited as a Member of the Order of the British Empire. As his career soared to great heights, so as his net worth that is currently estimated at $300 million. Some of the luxuries he bought include a Range Rover Evoque, among others. It's fitted with a 2.0-liter turbocharged four-cylinder engine with a nine-speed automatic transmission that can accelerate the vehicle up to 206 km/h.
Michael Strahan | Porsche Carrera GT, Mercedes-Benz SLR McLaren Roadster, Rolls-Royce Drophead
Total Amount: Approximately $2.66 Million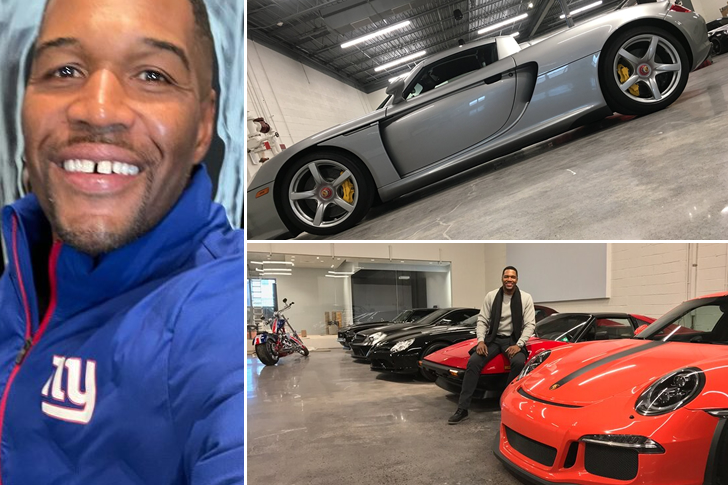 Michael Strahan played his entire 15-year career in the National Football League (NFL) with the New York Giants. In 2001, he set the record for most sacks in a season. Also, he helped the Giants win the Super Bowl XLII against the New England Patriots in his final season back in 2007. With his outstanding career in American football, he was admitted into the Pro Football Hall of Fame in 2014. After retiring, Strahan became a media personality, serving as a football analyst on Fox NFL Sunday and a co-host of Good Morning America on ABC network, as well as the syndicated daytime talk show, Live! with Kelly and Michael.
With a successful career in the football and entertainment industry, his net worth grew to $65 million. He then purchased several cars, including a 2015 Porsche GT3 RS, Mercedes SL65 Black Series, 1966 Mercedes-Benz 600, and 1990 Lamborghini LM002—credit to his skill and charisma.
Jason Derulo | Rolls-Royce Phantom, Porsche Panamera, Lamborghini Gallardo 550-2
Total Amount: Approximately $989,000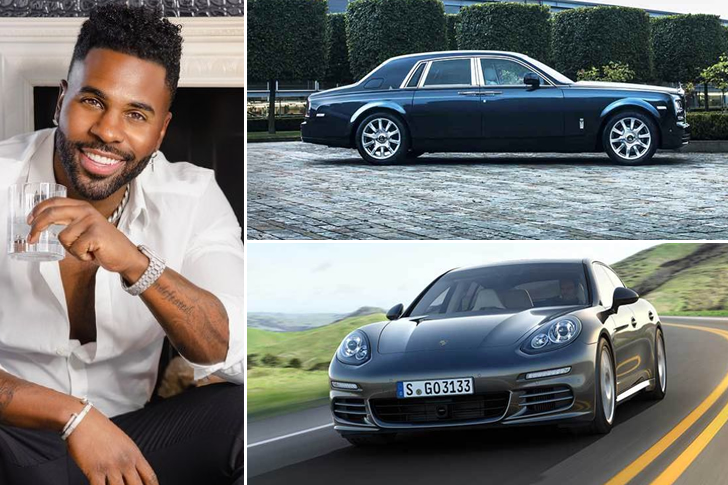 American singer, songwriter, and dancer Jason Derulo started his solo career in 2009 and sold over 30 million singles worldwide. He achieved eleven Platinum singles, including Wiggle, Talk Dirty, Want to Want Me, It Girl, Trumpets, In My Head, Ridin' Solo, and Watcha Say. Following his songwriting for other music artists, Derulo signed with the Beluga Heights recording label. In 2020, he released the single Savage Love (Laxed – Siren Beat) and went viral on TikTok. Later on, the Korean boy group BTS made their remix of the song, which eventually reached number one in the US, becoming Derulo's second chart-topper in the region.
Apart from his singing, the singer-songwriter also ventured into acting and starred in several films, including Turn the Beat Around, Everybody Dance Now, Empire, Lethal Weapon, The Voice of Germany, and Drop the Mic, among others. Throughout his career, Derulo attained a great degree of success in the entertainment industry, thus, considerably increasing his net worth. Cars were some of the luxury things he bought, including a BMW i8, among other cars. It's powered by a 1499cc turbo electric motor that generates 369 horsepower with a torque of 236 pound-foot that can accelerate to 120 km/h.
Jason Momoa | Land Rover Defender Series 3, Ford F-150 RV, Range Rover Vanguard
Total Amount: Approximately $478,000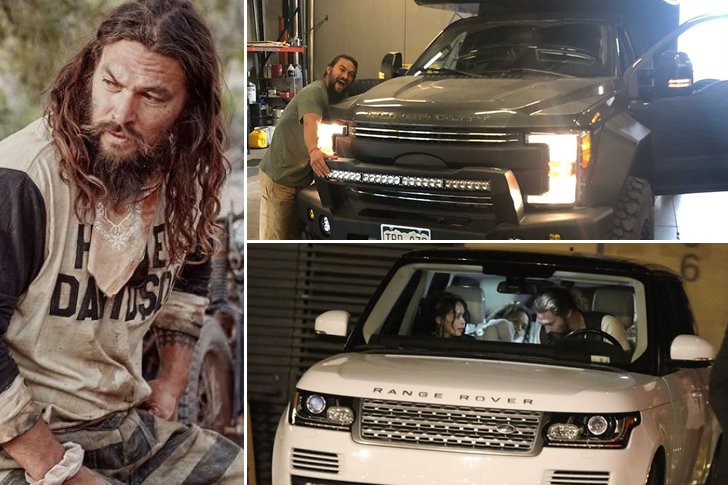 Jason Momoa made his debut in film on the syndicated action-drama series Baywatch: Hawaii as Jason Loane, which was followed by the science-fiction Stargate Atlantis as Ronon Dex. He gained wider popularity by playing the character of Khal Drogo in the fantasy drama series Game of Thrones and on Discovery Channel's historical drama series Frontier. Outside television, Momoa has portrayed Arthur Curry/Aquaman since 2016 in the DC Extended Universe. Among the awards and recognitions credited to him include CinemaCon Award, Screen Actors Guild Award, Canadian Screen Award, Teen Choice Award, and MTV Movie & TV Award, among others.
In the course of his career in the entertainment industry, Momoa has achieved considerable success, which also increased his net worth to $15 million. As luxury comes with money, he bought several vehicles, including an Aston Martin DB5U and a pink Cadillac.
Jason Statham | Audi R8, Jaguar E-Type, Lamborghini Murcielago LP
Total Amount: $806,400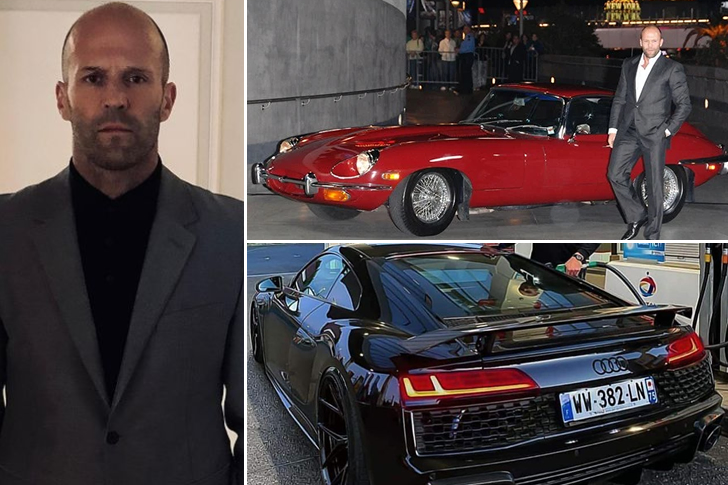 An action movie is defined by a series of events that usually include physical feats, heart-wrenching fighting, almost impossible rescues, and, not to mention, cool cars! Gas and adrenaline go together like peanut butter and jelly. It is no wonder why a lot of our action heroes tend to appreciate these cars in real life. Jason Statham is one of them. Before he took the roles of famous anti-heroes, he used to be a member of Britain's National Diving Team.
As a connoisseur of cars, he has the following cars in his collection. First is a set of Audi R8s. You heard that right. He has two in his collection, one in black and another in white. These magnificent beasts are powered by a 430-horsepower engine that can accelerate to 60 mph in less than 5 seconds! Next is the Jaguar E-type, which is perhaps a reflection of Statham: timeless and limitless. It is a classic car, but it can run just like the new ones.
Jeff Bezos | Ferrari Pininfarina Sergio, Lamborghini Veneno, Koenigsegg CCXR Trevita
Total Amount: $12,800,000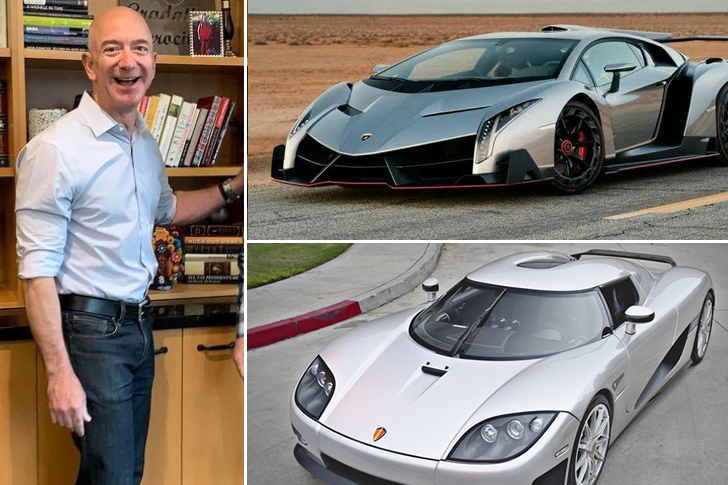 Imagine owning a news company and the largest e-commerce company in the world, which makes about $300 million per day. Perhaps your biggest problem would be thinking of where to make investments or which car to drive to work every day. You'd have enough change of cars for one whole week, if not, then probably more! This is true for the richest man in the world, Jeff Bezos. He drives to work using these elegant cars.
One of the most elegant cars in his garage would probably be his Ferrari Pininfarina Sergio. This car is considered to be the "cheapest" from Bezos' collection. With a price of $3 million, this beast is one of the most expensive cars recently. The second is his Lamborghini Veneno. In contrast to his Ferrari, this badass is the most expensive from his collection. This performance sports car costs approximately $5 million. Finally, his Koenigsegg CCXR Trevita is the fastest from Bezos' collection and one of the fastest cars on the planet reaching, speeds of 254 miles per hour.
Jennifer Aniston | Range Rover, Audi A8, Bentley Continental GT
Total Amount: $516,400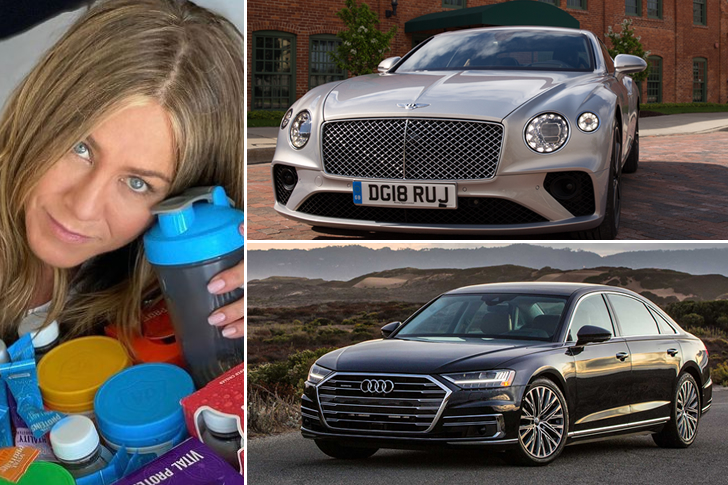 Jennifer Aniston's rise to stardom was fueled by, of course, her credit role in Friends. Along with her co-stars, the show's success ensured that Aniston was among the highest-paid television actresses. With so much wealth to her name, thousands of dollars spent on cars could not make her less wealthy.
One of her cars is a Range Rover. Based on numerous reports, Aniston seemed to own two of these cars, one in black and another one in gray. The latest Range Rover's price starts from $100,000 to $218,000. Her love for SUVs is undeniable. However, the actress also keeps a sedan in her collection: an Audi A8. This machine is powered by a V6 engine that can deliver 335 horsepower and can run from 0 to 60 mph in just 5 seconds. For a lover of SUVs and luxury cars, a Bentley is on the must-have list. Aniston also has in her collection a Bentley Continental GT, which costs approximately $218,000.
Jennifer Garner | Lexus LS, Mercedes-Benz S63, Tesla Model S
Total Amount: $335,850
Alias star Jennifer Garner rose into stardom because of her lead credit role in this television series. She played as an agent who works for the CIA, which garnered her four consecutive Emmy nominations and Outstanding Lead Actress in a Drama Series. Garner has also starred in Elektra, 13 Going on 30, and Dude, Where's My Car?
It is implied that in being a celebrity, Garner seems to have no scarcity of luxury cars in her garage. One of which is her Lexus LS. This sedan is the flagship model of Lexus, built to deliver comfort, performance, and safety. Garner owns a gray one and costs approximately $80,000. Another one in her collection is the Mercedes-Benz S63 armed with a V8 and can accelerate to 60 mph in just 3.5 seconds. This ride cost Garner approximately $173,000. Lastly, her Tesla Model S tops the electric car class because of its range and has the quickest acceleration among electric vehicles, and costs around $80,000.
Jennifer Lawrence | Audi Q7, Cadillac CTS Coupe, Chevrolet Volt
Total Amount: $189,260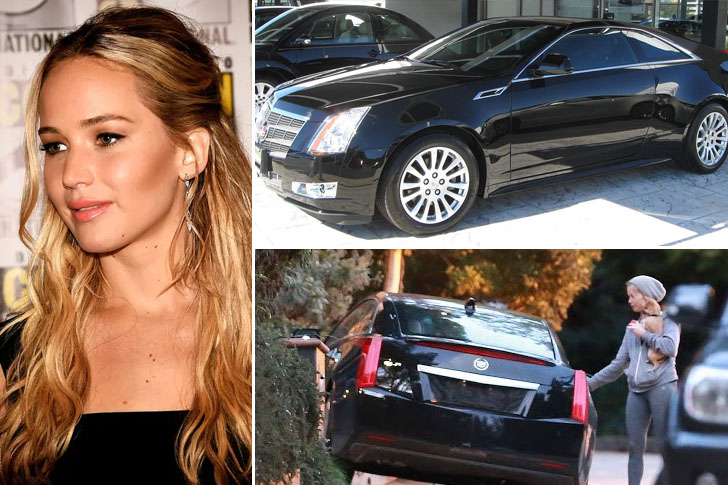 As a rising actress and top female movie earner in 2015 and 2016, Jennifer Lawrence's prowess was radiated when she starred as the protagonist in The Hunger Games. With all these earnings, most of us wonder how she plans her investments. Most notable of these is launching the Jennifer Lawrence Foundation, which is mainly focused on children's most important needs. Aside from this, Lawrence also has an exceptionally modest taste in cars.
Being an on-the-go actress can leave Jennifer with little energy to spare. Her Audi Q7 car can offer her two driving modes to choose from: comfort mode or dynamic mode. Appearing sharp with an elegant cabin electronics interface, her Cadillac CTS Couple foregoes practicality and is ahead in aesthetics. Finally, Jennifer's knack for SUVs can certainly be noticed by now. The Chevy Bolt is the most modern gem from her garage, which boasts its electricity-powered engine.
Jennifer Lopez | Aston Martin DB7, Rolls Royce Ghost, 911 Carrera GTS Porsche
Total Amount: $1 million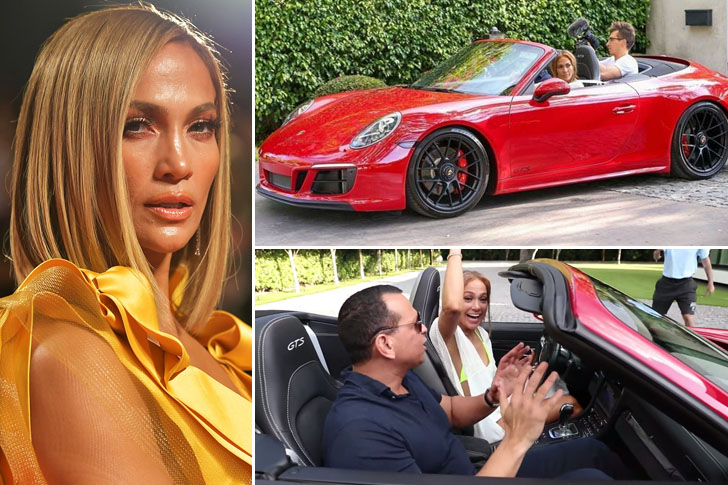 Jennifer Lopez, commonly known as J-Lo, sang and danced her way to the entertainment industry with her album On the 6 in 1999. Credits to her snappy movements and rhythmic lyrics, Latin pop movement began surfing the sound waves of American music. With over 400$ in net worth, a few cars surely can't nudge her bank account.
A high-performance entertainer like J-Lo should also have a high-performance vehicle. The Aston Martin DB7 car is as quick as her foot movements, accelerating from 0 to 60 in just a few seconds. The next car is described by enthusiasts as quite an exotic ride. The Rolls Royce Ghost is reminiscent of J-Lo's exotic beauty. This surely explains the gravity of her attraction to this ride. Moreover, her 911 Carrera GTS Porsche features a blazing red paint job, which she received on her 50th birthday.
Jerry Bruckheimer | Shelby Mustang GT500 Eleanor, Ferrari 348 TS
Total Amount: $727,000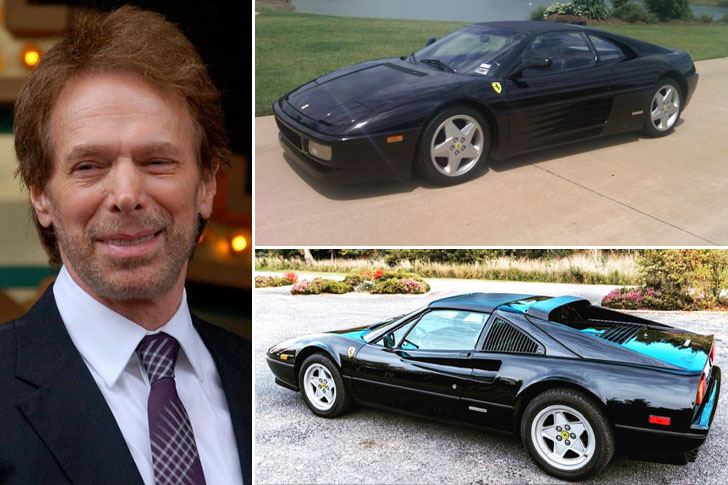 The present generation is highlighted by our fixation on the aesthetic and the external. When it comes to movies, the viewer's attention is mainly focused on the actors, which is not entirely a bad thing. However, it is important to note that the actors are just parts of a whole. Oftentimes, due credit is not given to the details that make a movie great. This degree of greatness can only be achieved by good production. This is where Jerry Bruckheimer comes in. He gave life to amazing films such as Top Gun, Black Hawk Down, and National Treasure.
His attention to detail surpasses movies and is also prominent in his cars. For example, his Shelby Mustang GT500 Eleanor is a vintage beauty that appeared in the Hollywood movie Gone In 60 Seconds and has been an eye-candy for lovers of classic cars. Next is his Ferrari 348 TS. This beast is a reflection of Bruckheimer's movies: superb in appearance and performs optimally at high speed.
Jerry Seinfeld | 1959 Porsche RSK Spyder, 1964 Porsche 911, 1983 Porsche 959
Total Amount: $3,300,000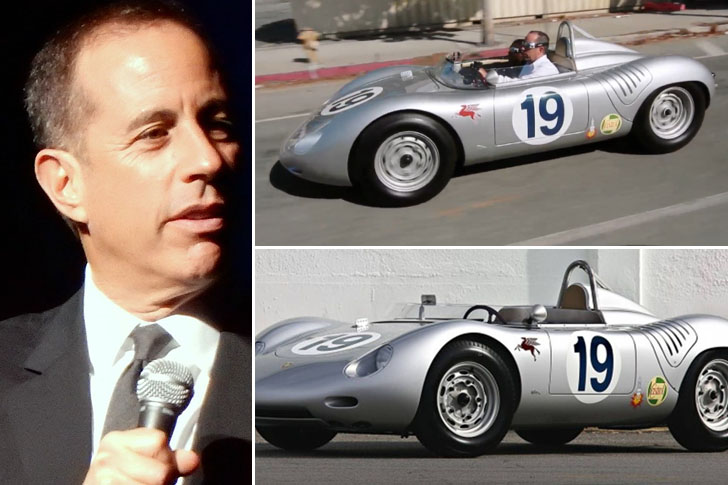 For respectable men like Jerry Seinfeld, their choices in clothes and cars are more refined than the majority. He achieved fame by making people laugh their hearts out with his witty lines as a stand-up comedian on The Tonight Show in 1981. He brought the same, if not more, amount of recognition to his sitcom Seinfeld six years after. This became the most loved show in the US, airing until 1998, and brought the comedian more investment money.
Aside from being a comedian, Seinfeld is a Porsche aficionado. Take, for example, his 1959 Porsche RSK Spyder. This beauty takes the spot as Seinfeld's most expensive ride yet. In his show Comedians in Cars Getting Coffee, Seinfeld drove around the city with fellow comedian Kevin Hart. Another one in his collection is his 1964 Porsche 911. Just like how he tweaks the details of his witty lines, Seinfeld also gives the same amount of attention in furbishing his classic Porsche 911 by doing much of the work himself. Lastly, his 1983 Porsche 959 mainly stays in his garage because it is illegal to roam the streets riding this badass ride. It is worth noting that Bill Gates attempted to smuggle this vehicle once.
Jillian Michaels | Mercedes Benz G Wagon
Total Amount: $150,000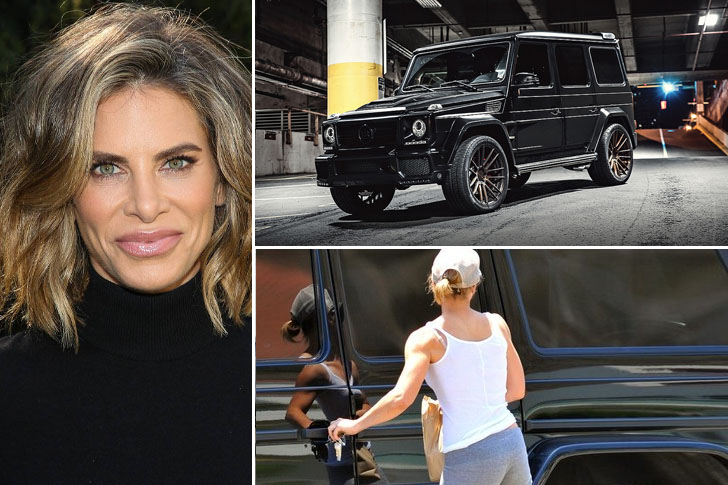 Jillian Michaels is the epitome of thriving after a series of life-changing decisions. Her health status has always bothered her since her childhood—she was the typical child who loved to eat anything she could get her hands on, which eventually caused her to pack up more weight than usual. She became aware of these bad habits and decided to change the way she lived during her college years. From the child who ate a lot, Jillian strove to change her lifestyle by being trained, and later on, she became a trainer herself.
She used her experiences as her jumpboard to fame, writing books, streaming routine workouts, and appearing on The Biggest Loser. Presently, she navigates from place to place with her Mercedes Benz G Wagon. With Michels' active lifestyle, she will surely need to get around most of the time. The G Wagon offers enough versatility and power to get things done.
John Travolta | 1970 Mercedes-Benz 280SL, Rolls-Royce Phantom, Jaguar XJ6
Total Amount: $600,000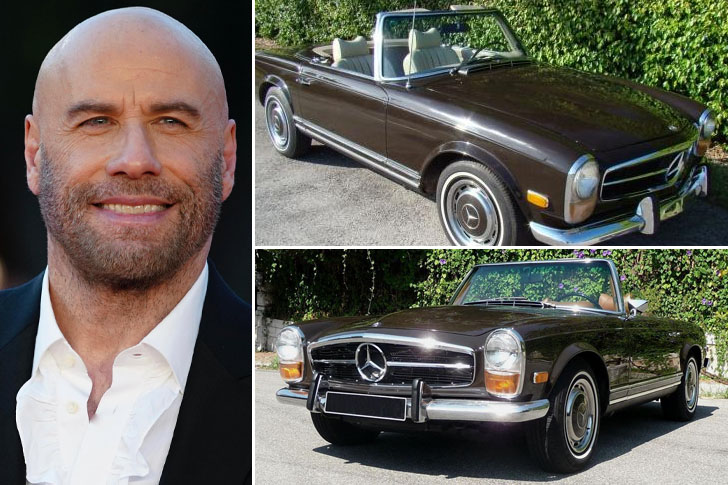 If you are a millennial who loves scrolling casually on the internet, there is a high probability that you have encountered the "Confused Travolta" meme circulating prolifically. This was taken from a scene in the 1994 movie Pulp Fiction, where it became the top-grossing Indie film, making more than $213 million worldwide.
Aside from acting, Travolta is also drawn to engines. He owns a couple of jets (and knows how to fly them!) along with a stunning car collection. First on the list is his 1970 Mercedes-Benz 280SL. This magnificent vintage vehicle is estimated to be $100,000. Unfortunately, this was stolen when Travolta was talking to a car dealer. Next would be his Rolls-Royce Phantom, which radiates class and regality, a reflection of Travolta and his attraction to the finer things in life. Another one in his collection is his Jaguar XJ6, which is one of the actor's prized possessions. The XJ6 was the last masterpiece designed by William Lyons, the brains behind Jaguar.
Julia Roberts | Toyota Prius
Total Amount: $32,375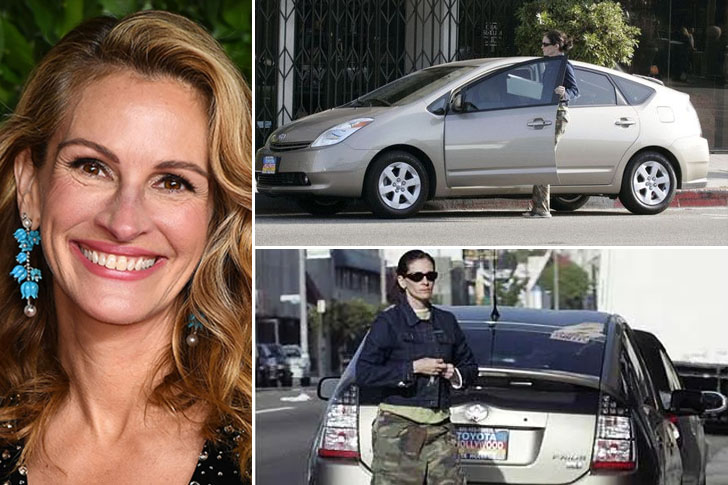 $25 million—this is how much Julia Robert makes PER MOVIE, which is a feat that has not yet been attained by other actresses. In the salary competition, Roberts easily outranks them by a few million dollars. Her present value is estimated to be $140 million; this number undeniably categorizes her as one of the finest actresses that Hollywood and the world have ever seen. She shook the world of entertainment by starring in Pretty Woman and was credited with an Oscar for her performance in Erin Brockovich. Roberts was recognized as one of PEOPLE's Most Beautiful People, not just aesthetically, but from the inside where her goodness overflows. She has invested a significant amount with UNICEF, American Red Cross, and Global Fund.
Despite all the fame and wealth, she prefers to live a modest life. Compared to other celebrities, she drives a Toyota Prius. This vehicle does not get enough attention; it can get to 100 km/hr in a matter of 12 seconds and is environment-friendly.
Justin Bieber | Ferrari F430, Audi R8, Ferrari 458
Total Amount: $2,643,000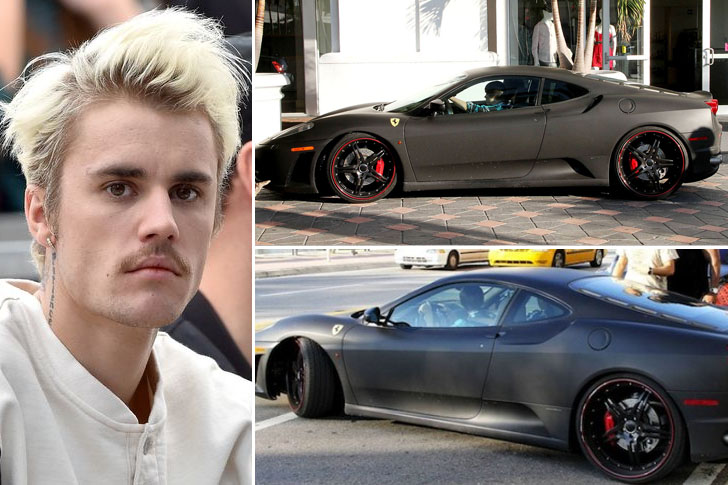 Armed with dashing good looks and a voice that can appeal to the hearing of millennials, Bieber slowly permeated the music scene when his mother posted a video of his performance on YouTube. The video was originally intended for family members who couldn't come when he joined a local singing competition. This young star's talent was irresistible to Usher that the famous artist helped sign him to a recording contract.
Presently, Bieber has a number of albums to his credit, which includes Purpose and Changes. This enormous recognition has also enabled him to accumulate millions of dollars, some of which he invested in cars. The first would be Bieber's Ferrari F430. He bought this beast when he turned 16, which is the legal driving age in the US. Priced at $330,000, this beast is equipped with a V8 engine and might just be the best supercar available today. Next in line is his Audi R8, which is wrapped with leopard print. Lastly, his Ferrari 458. As opposed to the leopard-print Audi Justin owned, this beast was kept pure and untouched.
Kaley Cuoco | Range Rover, Mercedes-Benz SLS AMG GT
Total Amount: $243,500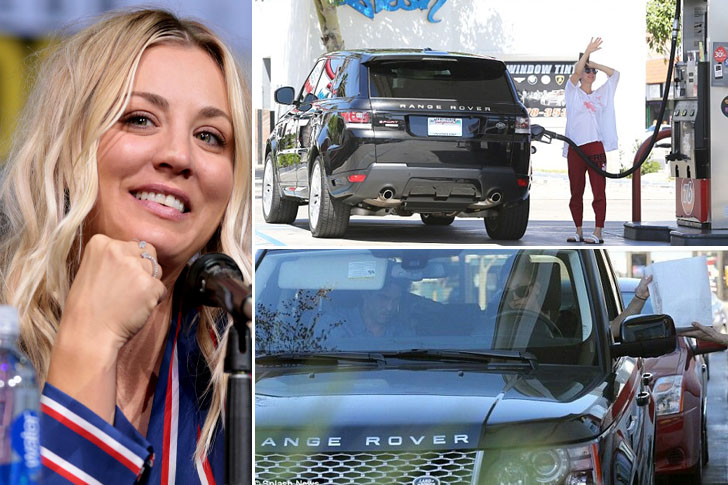 Kaley Cuoco's beautiful face and charming humor is best beheld in CBS's The Big Bang Theory, where she portrayed the credit role of Penny, a stunning waitress who was befriended by her neighbors, who are quirky scientists. This show gained more recognition later on and eventually became one of the most-loved shows and took a spot at one of the longest-running TV shows, which aired for 12 seasons.
Her exceptional performances had brought her great fortune, earning almost $1 million per episode in The Big Bang Theory, and this is prominent when she's going around town with her Range Rover as she is sometimes seen cruising with this beauty off-camera. Sometimes, the TBBT actress drives around town in her Mercedes-Benz SLS AMG GT. No matter how gorgeous this silver gleaming beauty is, Cuoco's radiance cannot be overshadowed by this beast. Unfortunately, the SKS AMG GT is no longer in production today.
Keanu Reeves | Volvo 122, Ferrari California T, 2006 Dodge Charger SRT8
Total Amount: $240,790
Keanu Reeves' internet fandom is perhaps an overflow of his exceptional character. On a certain website (keanuisimmortal.com), his fans claimed that "he doesn't age", that "he lived through time with many identities", and that "his kindness can only be acquired in a long and wise life." Besides being a great actor in phenomenal films such as The Matrix and John Wick, Reeves was also deemed to be a great human being by his fans.
Beyond these that define Reeves as a person, he is also a gearhead. The first car on our list in Reeves' collection is his Volvo 122. The young actor used to ride this vintage vehicle around and named him "Dumpy." With enough pocket money and gas, he used this car to travel from Toronto to Los Angeles. Another would be his Ferrari California T. When he test-drove this car, he said: "It's like it's tailored around you, an extension of your body and your mind. There's no doubt about it: Ferrari is the dream." This is no doubt the best recommendation a car would have from any celebrity. The last on our list is his Dodge Charger SRT8. This bad boy took the spotlight in 2008 as it appeared in Street Kings, one of the films Reeves starred in.
Kelly Clarkson | Ford Mustang
Total Amount: $32,000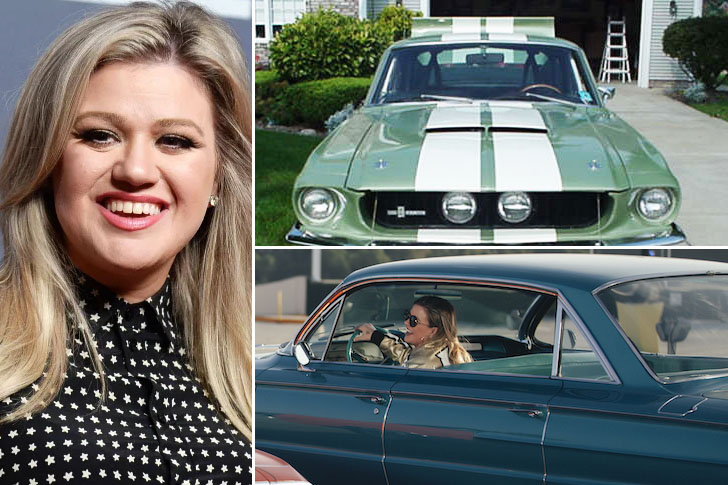 It's already been more than a decade when the young and idealistic Kelly Clarkson has captivated the hearts of her viewers. Her stories of emotional struggles, professional setbacks, and investments have made her even more deserving of winning the first season of American Idol in 2002. It also goes without saying that she has a powerful voice. Her victory didn't just stop in Idol since her exceptional talent has brought her success that included three Grammy's, an Emmy, and more than 25 million dollars in sales. In an interview with Glamour UK, Clarkson said: "I'm very confident and I've been forced to find that in myself. I've been forced to at a very early age. … So, you just take your cards you're dealt, and you do the best you can with them."
In her free time, Clarkson navigates around the city using her Ford Mustang, which was gifted to her by Ford.
Kevin Costner | Toyota Tundra Platinum, 1966 Mustang Cobra GT 350H
Total Amount: Approximately $195,295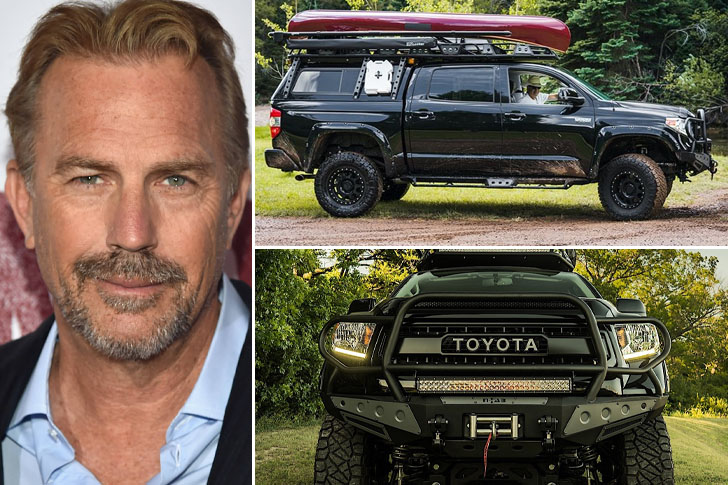 Waterworld actor and co-producer Kevin Costner has been in the limelight since 1972, giving his name credit in many films across the decades. Among them are Message in a Bottle, No Way Out, and The Upside of Anger. While many of his projects are on the big screen, he also made appearances on several TV programs, including the miniseries Hatfields & McCoys, which won him a Primetime Emmy Award.
Costner, unlike many stars, who have a preference for high-end cars of German, American, or Italian origin, the actor has opted for a Japanese brand. He has been very satisfied with his Toyota Tundra Platinum as it could do the job whenever he's driving in rough road conditions, which is something he does all the time. Its towing power is also at 9,400 pounds, enough for hauling heavy stuff. He also fell in love with a 1966 Mustang Cobra GT 350H, which usually sells for over a hundred grand.
Harry Styles | Range Rover Sport | Jaguar E Type | Audi R8 Coupe
Total Amount: Approximately $616,000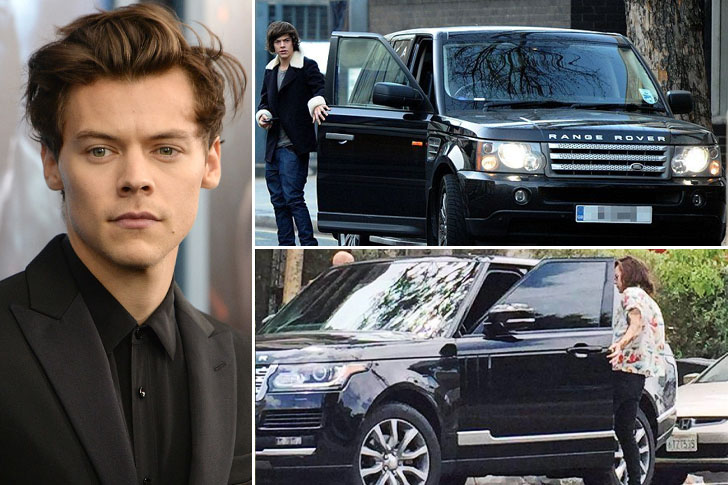 When the musical career of Harry Styles began in 2010 as a solo contestant on X-Factor, he probably did not realize he would be engaged in several controversies down the line. Well, being the subject of talk from among the fans is expected, but that really has not stopped this One Direction boy band member. In fact, he was headstrong, and when he released his album in 2017, it became an instant hit.
Quite the car collector himself, Styles has more than enough in the garage. He has a full line of Jaguars, Ferraris, and Audis, not to mentions the Benzes. One thing is evident when looking at his garage—the singer has an eye out for the classics and the vintage cars. He also likes driving around in coupes while flooring the pedals. His collection is estimated to be worth at least $616,000, and that already includes the classic Mercedes-Benz in the mix.
Rebel Wilson | Toyota Prius
Total Amount: Approximately $251,295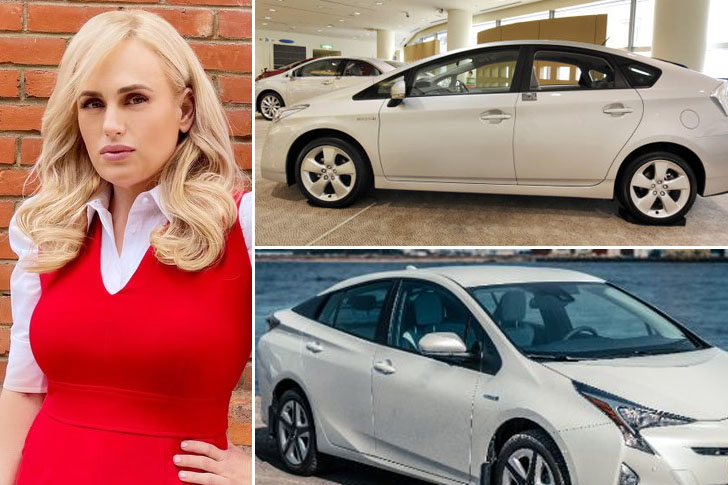 Born Melanie Elizabeth Bownds, Rebel Wilson has become an icon among those who wanted to lose weight. She has been very diligent in documenting her weight loss journey and posting updates on Instagram. Recently, however, her fans showed some degree of concern as it appeared she was overdoing it. Fans were quick to remind her to hydrate and eat properly, despite trying to shed some pounds.
Wilson is usually seen in her Toyota Prius, which is a very practical car, but there are several more in the garage. The Pitch Perfect star seems to have a favorite—Mercedes-Benz, that is. There are two of them in her collection, an E-Class Coupe and a G-Wagon. She is also the proud owner of a Jeep Liberty, which she uses when expecting uneven roads and dangerous terrain.
Kylie Jenner | Rolls-Royce Cullinan |  LaFerrari Aperta | Bugatti Chiron
Total Amount: Approximately $5 million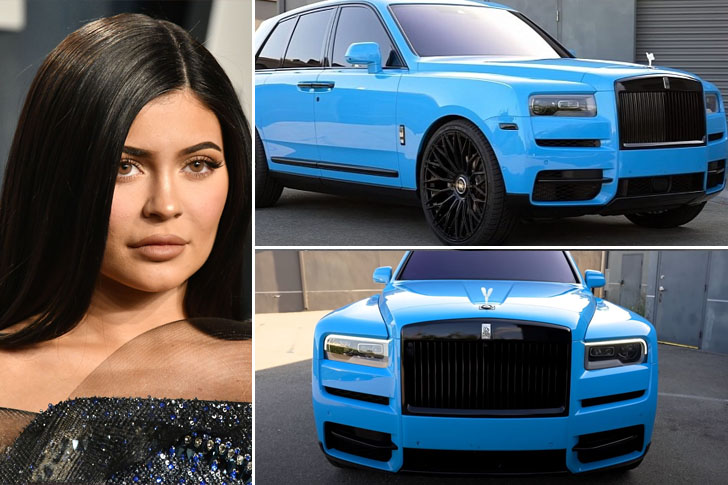 It appears that recently, Kylie Jenner and Travis Scott are back on. The two were spotted in New York City on a night out with daughter Stormi. The two were together for two years before they parted ways. If they are back on, it would be good news for their child and even the businesses that Jenner as Scott could help manage them. Jenner is one of the most-followed people on Instagram, and interestingly enough, any business she starts becomes a huge success.
Reports indicate that there are at least 15 vehicles in the young model's garage—which is a sizable collection. This celebrity has dropped some serious investment money to get a hold of a rare LaFerrari Aperta. She also recently added a pink Rolls Royce to her collection, a gift for her daughter and the ultimate mom car. The usual price for a Rolls is about $300,000, but hers probably was higher with custom work done.
Lady Gaga | Lincoln Continental Convertible | Lamborghini Huracán LP 610-4 coupe | Rolls-Royce Corniche III
Total Amount: Approximately $630,000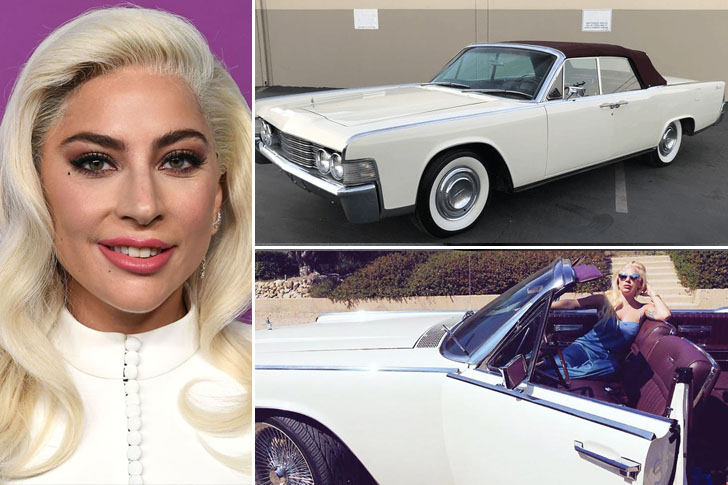 With a new man in her life, does that mean Lady Gaga is going to be more inspired and create more astonishing music? What we know is that in a relationship or not, the singer has always done her best, albeit in her own eccentric ways. History has shown that Lady Gaga's first six albums were all commercially successful, lending a great degree of confidence in the singer's musical style and preferences.
When it comes to selecting cars, the singer has chosen something that also reflects her unique character. She is very particular about the year and make of the vehicle she adds to her collection, showing a preference for 1960s-era rides like the 1965 Lincoln Continental Convertible, the 1967 Ford Bronco, and the 1969 Chevy Nova SS. She has at least ten cars in the garage, with the total value estimated at $630,000.
LeBron James | Lamborghini Aventador Roadster | Porsche 911 Turbo S | Mercedes Maybach
Total Amount: Approximately $2.5 million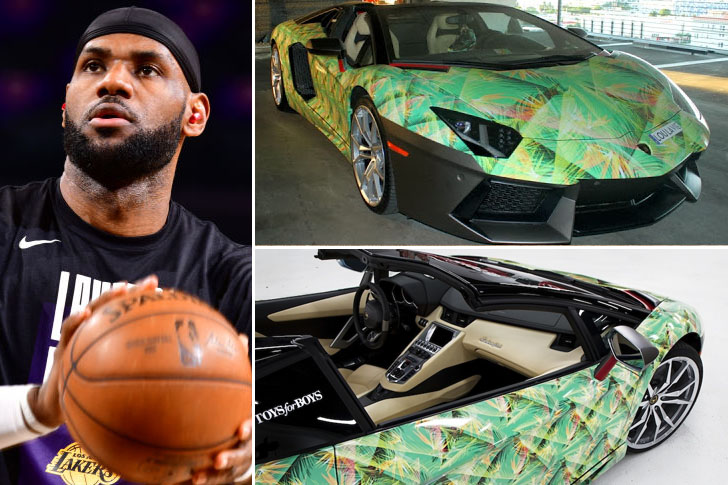 The number four seems to be the lucky number for Lebron James, despite his jersey number being "23". This is because, over the course of his career, his accomplishments included four NBA Championships and being given credit as the Most Valuable Player Awards and Finals MVP Awards four times. James has also accrued more wealth and fame outside of the court than most stars due to his various brand endorsements and various investments.
It is these contracts with big companies that necessitated having flashy cars. The frequent meetings with big names meant that first impressions matter, and a good ride is, without a doubt, a good reputation. Among the many vehicles in his estimated $2.5 million collections is a line of Ferraris such as a 458 Spider, a 599, and a customized F-430. He also has a Rolls-Royce Phantom, which usually retails for at least $450,000—certainly among the most expensive.
You've Reached The End